Bruce expects to return to lineup Tuesday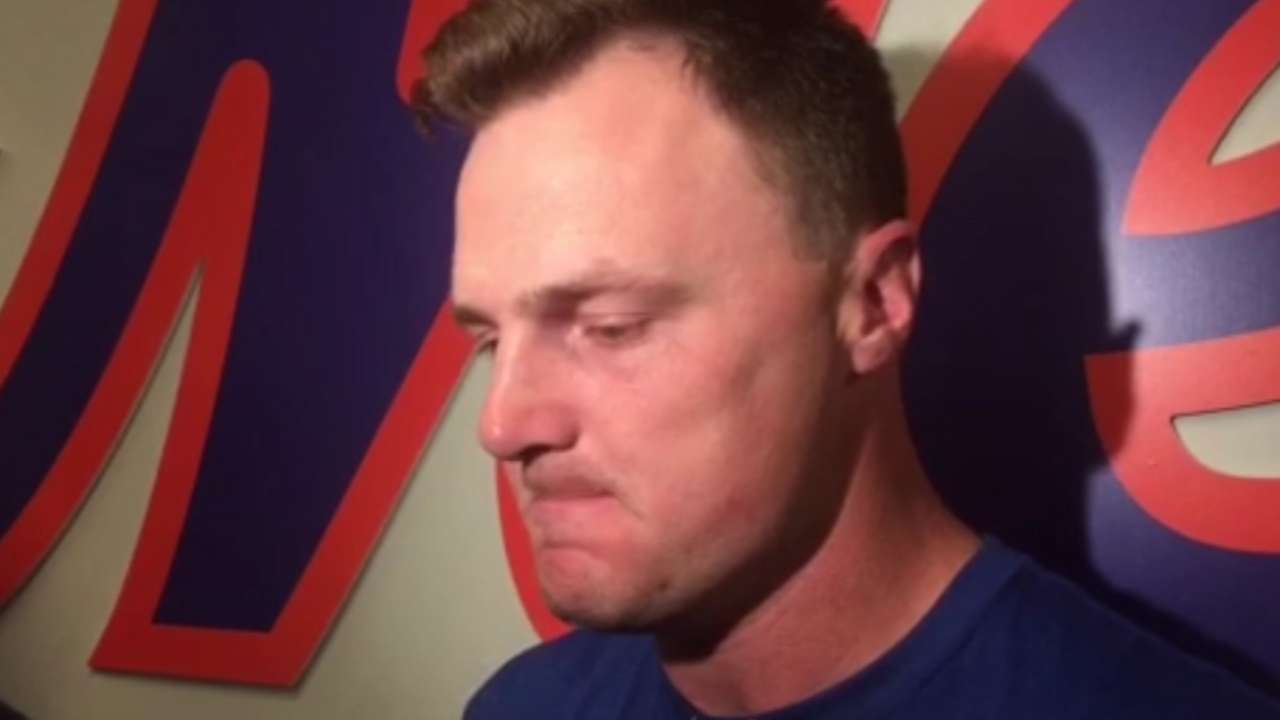 NEW YORK -- Jay Bruce's absence from the Mets' lineup Saturday and Sunday against the Dodgers was due to a stiff neck, Mets manager Terry Collins revealed before Sunday's series finale at Citi Field.
Bruce did not believe the injury to be serious and said he's "very confident" he will be in the lineup Tuesday, when the Mets host the Rangers after an off-day on Monday.
"There's been improvement, working with the medical staff, doing what I can," Bruce said. "Like I said, there has been improvement. I think with the treatment, and tomorrow off, I should be ready to go."
One day after suggesting Saturday was simply a rest day for the lefty-hitting Bruce, Collins said he did not disclose that information at the time because of his desire to keep that piece of information out of the Dodgers' hands. Collins started right-handed-hitting Wilmer Flores at first base Saturday against left-hander Rich Hill, and he wanted the Dodgers to have to account for a possible Bruce pinch-hit off the bench.
"I just didn't want the Dodgers to know [Bruce] wasn't available yesterday, that's why I didn't bring it up," Collins said Sunday. "He feels better today."
Although Bruce isn't sure how the stiffness came about, he speculated that the flight from Denver on Thursday was a potential culprit. He has recently spent more time at first base following the Mets' trade of Lucas Duda, especially when the Mets face righties. The move to the infield allows Collins to keep Curtis Granderson in the lineup. The Dodgers started lefty Hyun-Jin Ryu on Sunday, so Flores was again a natural option at first base.
In 101 games this season, Bruce leads the team in home runs (29) and RBIs (75), while hitting .260. He also experienced back issues in May, but only missed one game.
"I want to be careful with it," Bruce said. "Because I don't want this to turn into a long-term situation."
Worth noting
• Matt Harvey on Sunday completed his first bullpen session since going on the disabled list June 16 with a stress injury in his right shoulder. Although originally scheduled to throw another bullpen session Wednesday, Harvey will instead throw live batting practice Tuesday, according to Collins.
"He's making good strides," Collins said.
• Mets third-base coach Glenn Sherlock was not with the team Sunday following the death of his mother, Elizabeth. First-base coach Tom Goodwin assumed Sherlock's duties, while bench coach Dick Scott moved into Goodwin's role. It's unknown how long Sherlock's absence will be.
Chris Bumbaca is a reporter for MLB.com based in New York. This story was not subject to the approval of Major League Baseball or its clubs.