LA sweeps Mets behind Ryu-led 1-hit shutout
NEW YORK -- The dominating Dodgers added to their astonishing string of achievements on Sunday with an 8-0 win at Citi Field that completed their first season sweep of the Mets, as Hyun-Jin Ryu allowed one hit in seven innings and Cody Bellinger and Justin Turner homered.
Ryu (4-6) struck out eight and allowed only one baserunner, Travis d'Arnaud, who singled leading off the third inning. The lefty retired the next 15 batters. Ryu now carries a 15-inning scoreless streak, dating back to the fifth inning of his start against Minnesota on July 24. The Mets' only other baserunner on the night was Brandon Nimmo, who drew a rare walk from Kenley Jansen in the ninth.
"Tonight, Hyun-Jin set the tone," said Dodgers manager Dave Roberts. "From the first pitch to his 90th or whatever [actually 96], he was very aggressive. We talk about having that conviction and attacking the strike zone, which he did with his entire mix. Outside of one hard-hit ball by d'Arnaud, a lot of soft contact."
• Ryu feeding off LA's intra-staff competition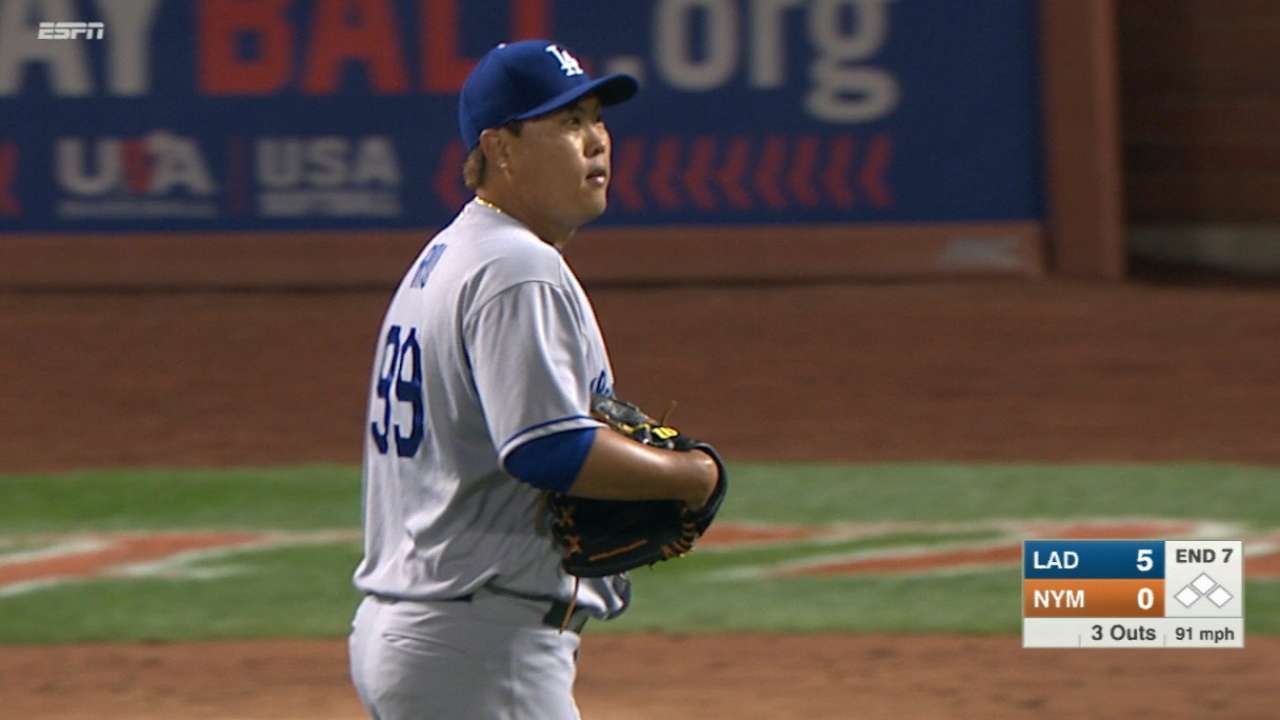 The Dodgers have won 13 of their last 14, 24 of 27 since July 4 and 44 of 51 since June 7. They have won 14 consecutive series and have 15 series sweeps. They are 47 games above .500 for the first time since 1962 and on pace to win 115 games, one shy of the all-time record. To win 100, they need to finish just 21-30.
The Dodgers got the jump on Mets starter Steven Matz in a three-run first inning, with three stolen bases setting up a two-run, seeing-eye single up the middle by Logan Forsythe and an RBI double by Austin Barnes.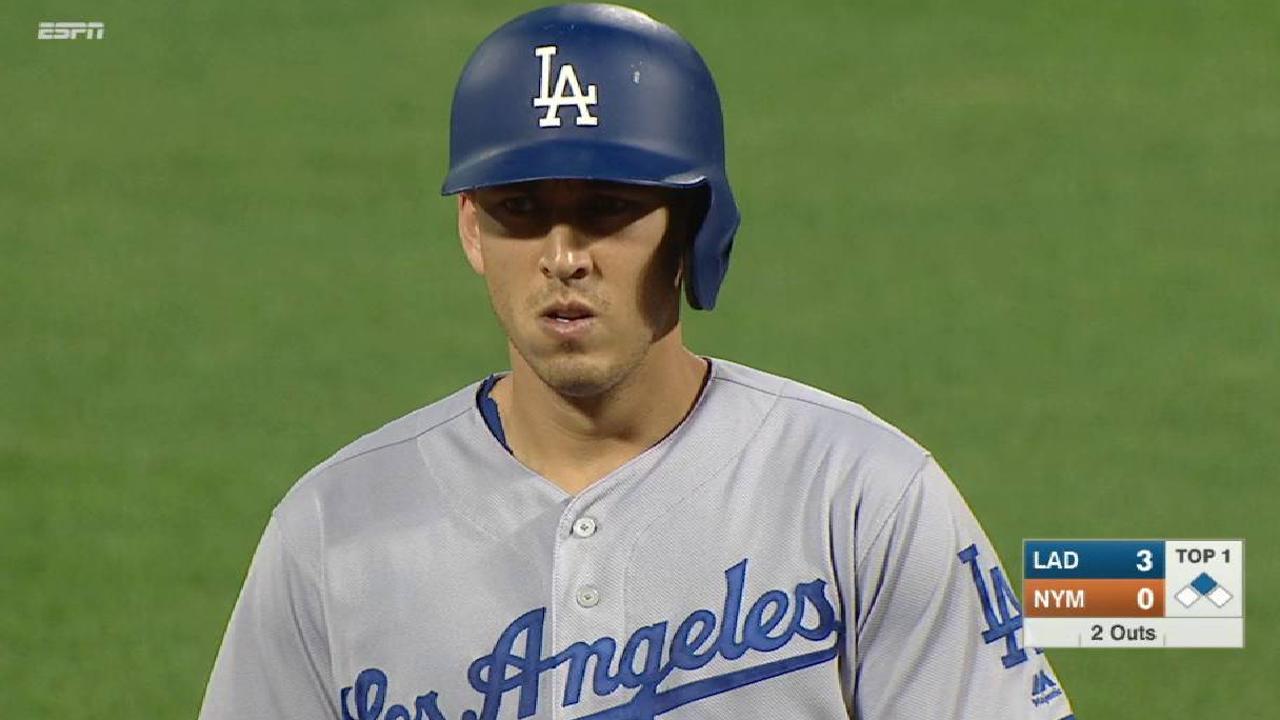 Turner, a former Mets infielder, stole two of those first-inning bases and slugged a two-run homer in the third inning and doubled in the eighth.
"I was in a little bit of a rough patch for a while," said Turner, who went 15 games without a home run before going deep Saturday and Sunday. "I made adjustments, lowered my hands a little after talking with Turner [Ward, hitting coach], after seeing something on video. Seemed like my last at-bat in the first game [a sacrifice fly to right field] kind of turned the corner."
Matz is 2-5 on the season and 0-4 with a 7.34 ERA over his last six starts.
"It's shocking. This guy's got way too good of stuff," Mets manager Terry Collins said of Matz's recent struggles.
The Mets fell to 49-60, 11 games under .500 for the first time since July 5, 2014.
MOMENTS THAT MATTERED
Watch the runners: With two outs and runners on first and second in the first inning, Matz ignored baserunners Turner and Bellinger and they pulled off a double-steal without a throw.
"We had a lot of [scouting] information on that guy [Matz]. He's real slow, especially on guys that don't run a lot, like me, and we wanted to take advantage of that," said Turner, who entered the game with two stolen bases on the season, then swiped two bags in the first inning.
Turner and Bellinger both scored on Forsythe's bouncer up the middle. Before Bellinger had reached via walk, Turner stole second when a challenge overturned an out call that would have ended the inning with the score still 0-0. Instead, the Dodgers rallied to an early 3-0 lead.
"I was staying composed, it just comes down to making better pitches when you're in those situations," Matz said. "Those are the most important pitches of the game, when you've got runners on, especially in scoring position."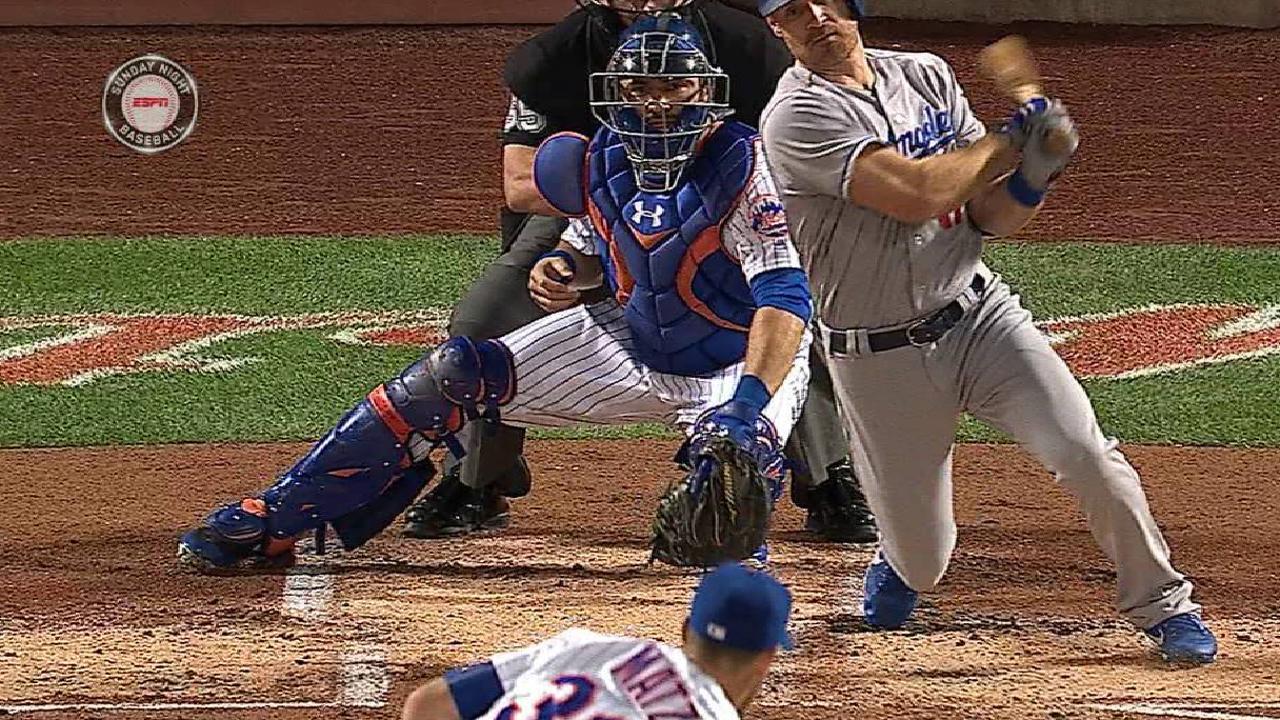 Bellinger's blast: In the eighth inning, Bellinger's 32nd home run was estimated by Statcast™ at 447 feet, the longest of his young career. The 22-year-old has four home runs in six games on this trip and is three home runs short of Mike Piazza's record for a Dodgers rookie. He's 17th on the all-time list for rookie home runs. Five of his homers are against the Mets.
"That one felt good," said Bellinger of No. 32.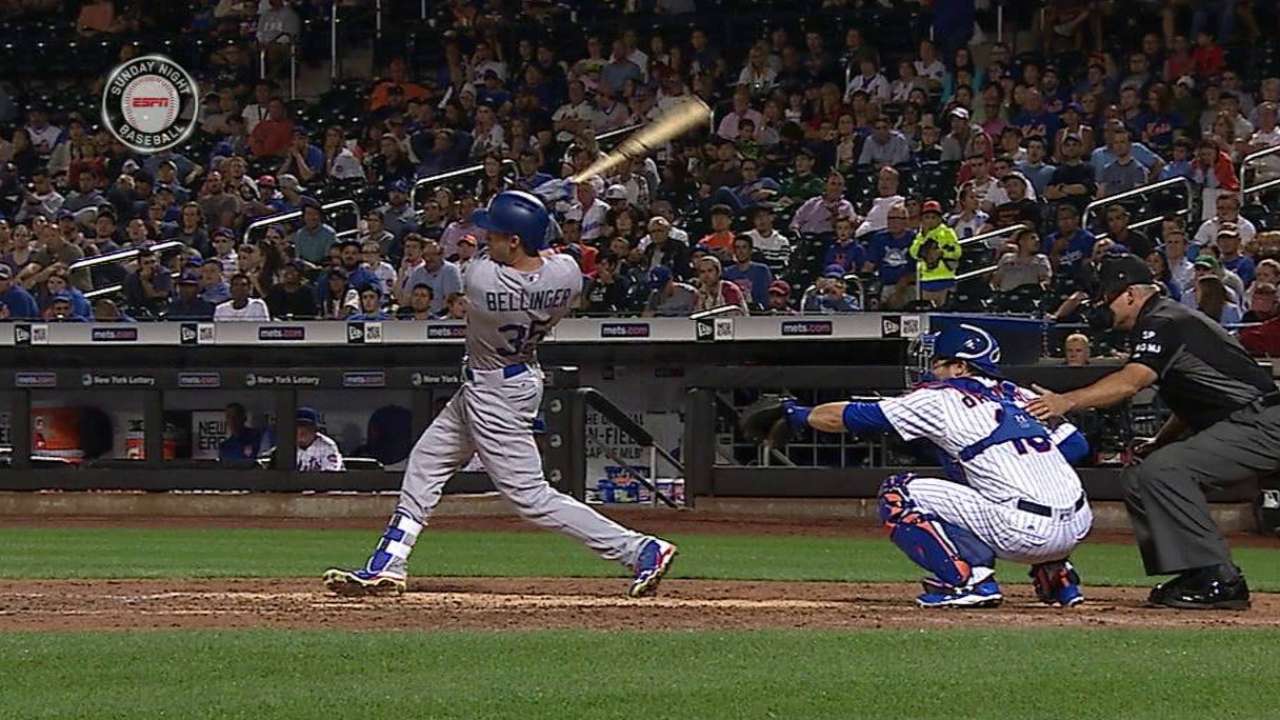 SOUND SMART WITH YOUR FRIENDS
Jansen pitched the ninth inning, despite the eight-run lead, striking out the side despite issuing the walk. The Dodgers' closer said he needed the work, even though he warmed up Saturday without entering the game. He last pitched Tuesday in Atlanta and Monday is a travel day.
The Mets have lost nine straight against the Dodgers, their longest losing streak against them since dropping 11 in a row to L.A. from July 31, 1963-May 21, 1964.
UPON FURTHER REVIEW
The Dodgers challenged an out call on Turner when he attempted to steal second base with two outs in the first inning. The call was overturned and Turner was credited with a stolen base, opening the door for the Dodgers' three-run rally.
"You can say that was the turning point in the game," said Roberts.
Collins agreed.
"From my angle, [the game] changes immensely. They score three runs after that. We get out of the first inning if we make the tag. It made a huge difference, not necessarily in the outcome, but in the way the game started. … I'd say it was a huge play."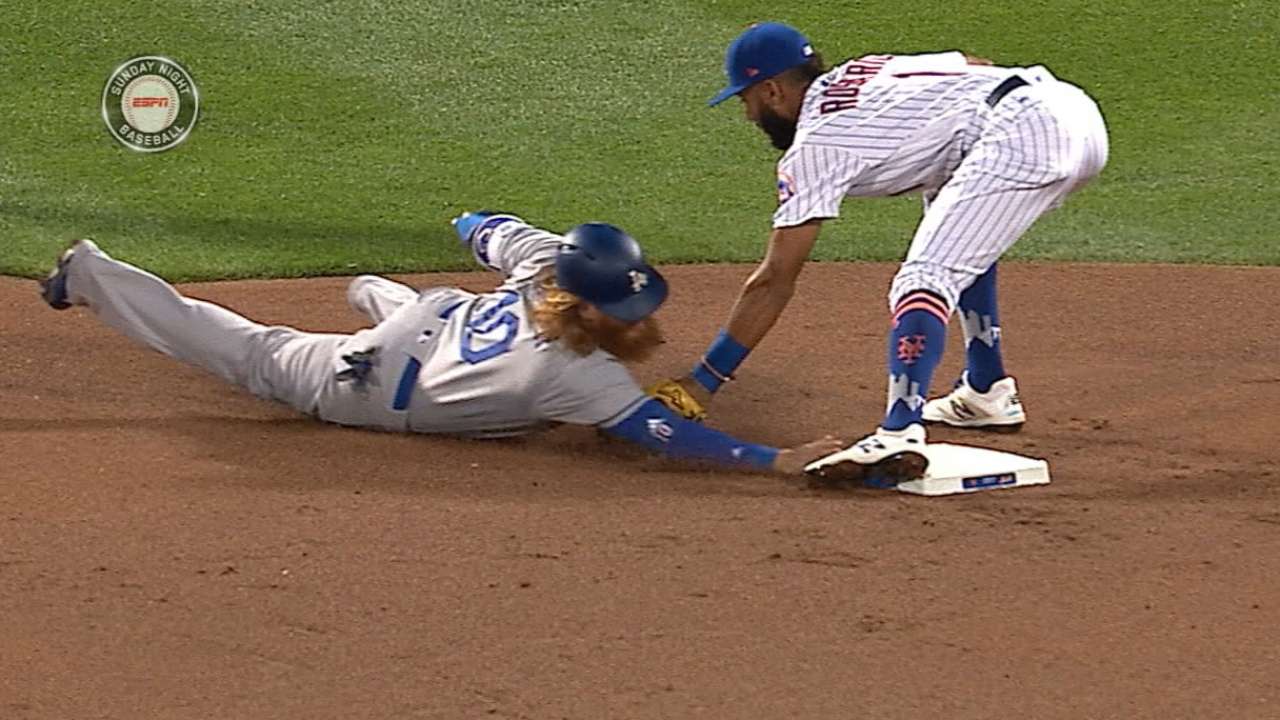 WHAT'S NEXT
Dodgers: After a travel day on Monday, the Dodgers resume their road trip in Phoenix on Tuesday, with Kenta Maeda making the 6:40 p.m. PT start vs. the D-backs. Maeda has a four-game win streak and is 6-1 with a 2.15 ERA in his last seven starts.
Mets: After an off-day Monday, the Mets will welcome the Rangers for a two-game series at 7:10 ET on Tuesday night. Chris Flexen (0-1, 12.00 ERA) will make his third Major League start and his first at Citi Field.
Watch every out-of-market regular-season game live on MLB.TV.
Chris Bumbaca is a reporter for MLB.com based in New York.

Ken Gurnick has covered the Dodgers for MLB.com since 2001.

This story was not subject to the approval of Major League Baseball or its clubs.