Statcast of the Day: Souza hits clutch walk-off
Tampa Bay scored two runs, both Sunday, during series vs. Brewers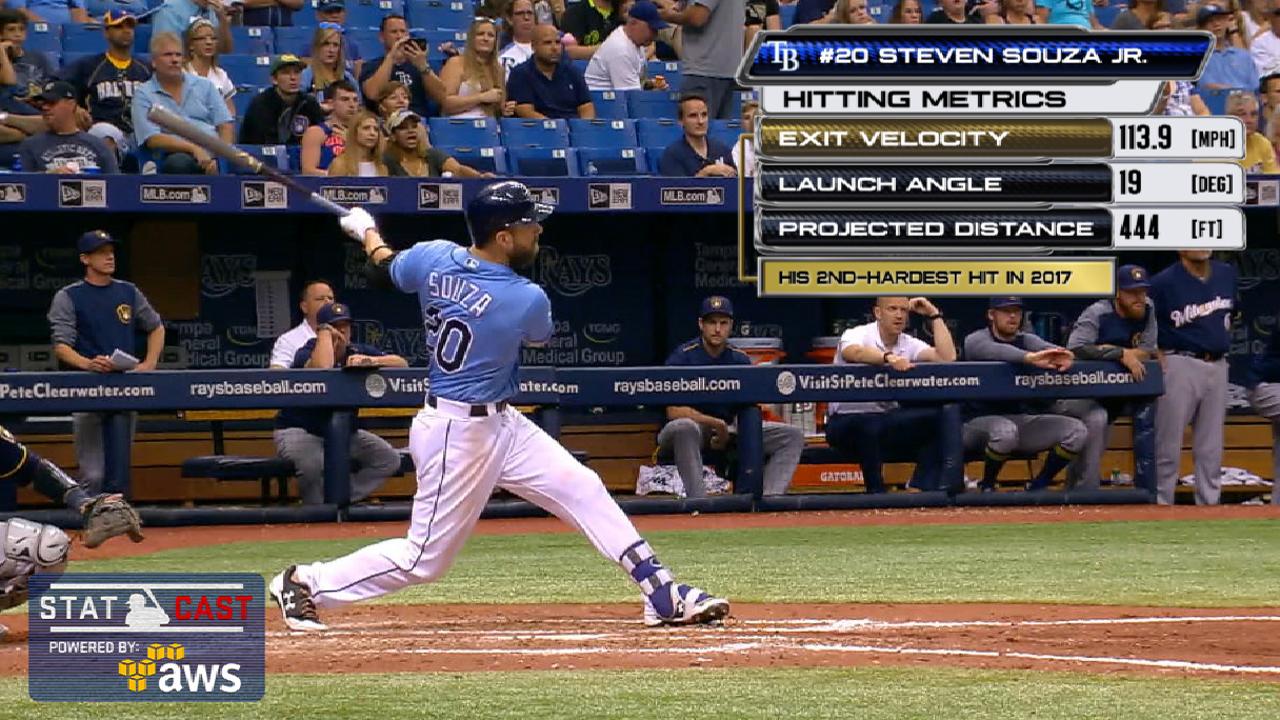 ST. PETERSBURG -- Runs were rare this weekend between the Brewers and Rays, but on Sunday, the Tropicana Field faithful witnessed something they hadn't seen in three years: a walk-off home run.
Steven Souza Jr. led off the ninth inning by smashing a 97.9-mph fastball from Brewers reliever Jacob Barnes 444 feet into the left-field bleachers, giving the Rays a 2-1 win, their first walk-off homer since May 22, 2014, pushing them within a half-game of the Royals, who split a doubleheader with the Mariners on Sunday, for the second American League Wild Card spot.
"I knew the stat coming in, or I've known it for a while now," Kevin Cash said of the drought, which started before he was the club's manager. "Check that one off my bucket list."
Speaking of stats, Souza's homer left the bat at 113.9 mph -- making it the hardest-hit homer by a Rays hitter since Statcast™ was implemented in 2015. And at 97.9 mph from Barnes, it was the fourth-hardest pitch converted for a homer by the Rays this year, and a personal best for Souza.
It also tied for the Rays' fifth deepest of '17, according to Statcast™. The slugging right fielder now has seven of the Rays' 10 longest homers tracked since the beginning of 2015, including the top three.
"In those situations, I've really just tried to stick with my approach and hit nice line drives up the middle, and whatever happens, happens," Souza said.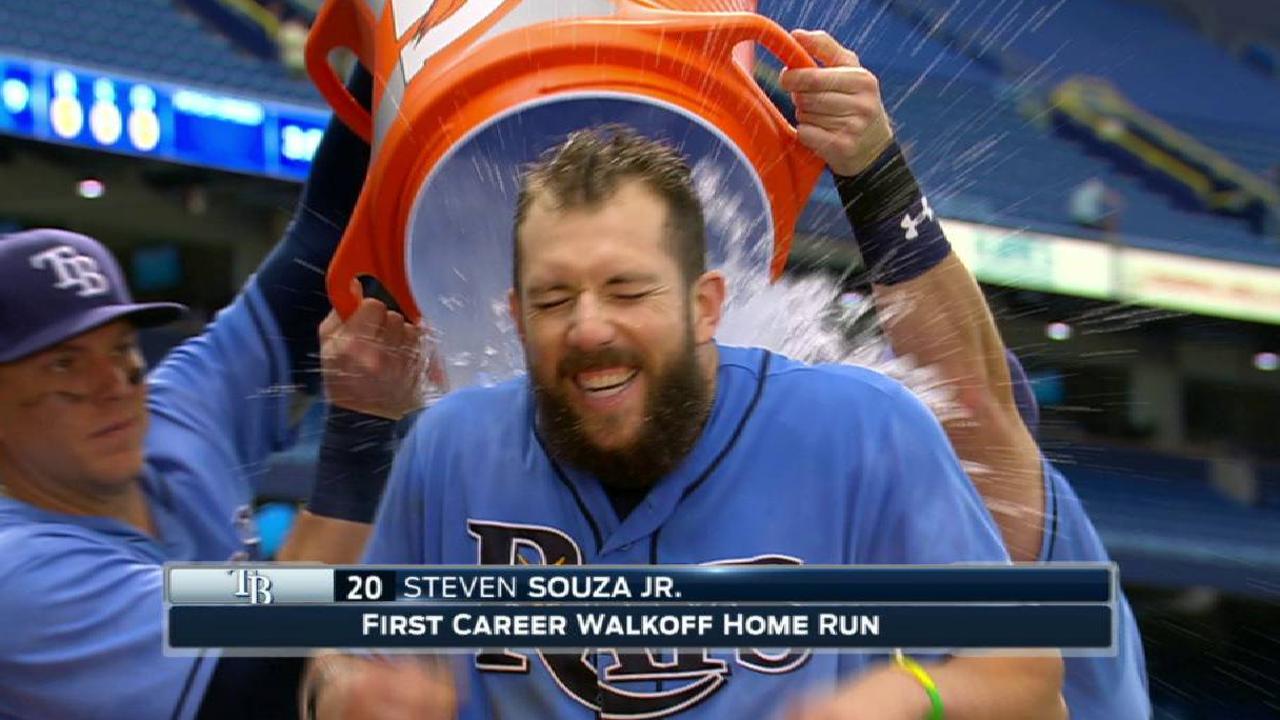 Souza's dinger salvaged the series finale for the Rays, who were shut out by the Brewers in their first two contests this weekend. Milwaukee's starters combined to pitch 21 1/3 innings, holding the Rays to 14 hits and one run. Jimmy Nelson lasted eight innings Sunday for the Brewers and struck out nine. He allowed the one run.
Seeing that stretch of pitching, which Cash said might have been the best his club has seen consecutively all year, the Rays' skipper thought a home run would be needed to win.
"That's what it was going to take," Cash said. "We weren't piecing together anything, I can promise you that. We tried that for three days and failed. It was going to take somebody to leave the ballpark."
Souza's walk-off would not have been possible without another strong effort from Tampa Bay's pitching, which kept the Rays in each game against Milwaukee despite the lack of run support. Each Rays starter -- Jacob Faria, Alex Cobb and Chris Archer -- allowed one run over six innings against the Brewers.
"Credit our pitchers, just an outstanding job," Cash said. "Really all three of our starters did everything they could to keep us in the ballgame."
With the arms excelling, eventually the offense had to provide a jolt.
"We needed that," Archer said. "It was huge for him to step up. That's the beauty of having guys who hit homers. At any point it can change in our favor."
Connor Mount is a reporter for MLB.com based in St. Petersburg. This story was not subject to the approval of Major League Baseball or its clubs.