Farrell rolls dice with Young, hits jackpot
Giving Betts breather, Red Sox OF has 2 HRs, 5 RBIs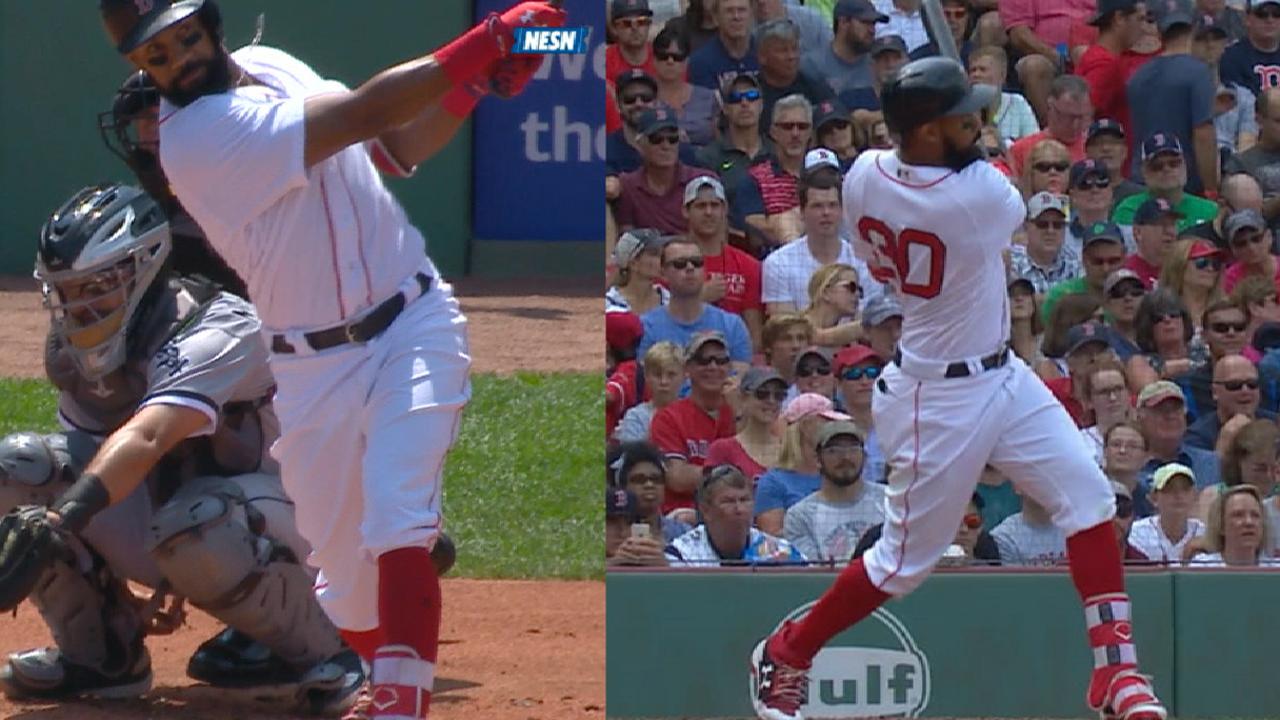 BOSTON -- When Red Sox manager John Farrell was compiling his Sunday lineup, he knew he wanted to get Mookie Betts a day off.
Then in looking at the numbers, he decided to play the matchup and that roll of the dice landed on Chris Young, who came in having hit .333 off White Sox starter Mike Pelfrey.
The move paid off in a big way as Young slugged two home runs and collected five RBIs in pacing the Red Sox's offense to a 6-3 victory to complete a four-game sweep at Fenway Park.
"When we started to put the lineup together, you see where Chris had some decent success coming into today's game against Pelfrey," said Farrell, whose club has won six straight. "And it held true to form."
Young, hitting out of the cleanup spot, got his first crack at the Chicago righty in the first inning and took a run at a low fastball that he was able to lift high into the air, though he was unsure of the end result.
"I've been pulling a lot of balls foul lately," Young said. "I feel like I'm squaring balls up and they're going foul. When I hit it, I thought it was going to hook foul like the rest of them."
Instead it went over the Green Monster, which he took aim at again in the third when he laced a double off of the wall to plate Andrew Benintendi. Young wound up being tagged out in a rundown on the play to end the inning.
Two innings later, with two outs, Pelfrey chose to intentionally walk Benintendi to get to Young. The veteran righty paid the price when the Sox right fielder launched another one toward the foul pole in left, keeping this one in as well for a tiebreaking three-run homer.
"You definitely feel better if you get the job done in that situation," Young said. "If you don't get the job done, you feel a little worse. If somebody walks the guy ahead of you, you definitely want to get it done. The good thing about today is I was able to hit after Benny and hit in front of [Rafael Devers], who's swinging the bat well. So in that situation, they kind of have to come at me, challenge me and allow me to be the guy to beat them. It was nice to be able to get it done."
It was Young's second two-run homer game of the season, the first coming May 6 againt the Twins in Minnesota, and it was his first five-RBI effort since July 28, 2015, when he plated five against the Rangers.
Craig Forde is a contributor to MLB.com based in Boston. This story was not subject to the approval of Major League Baseball or its clubs.