Perkins nearing return to Twins
Veteran reliever hasn't pitched in Majors since April '16; Sano sits for second straight day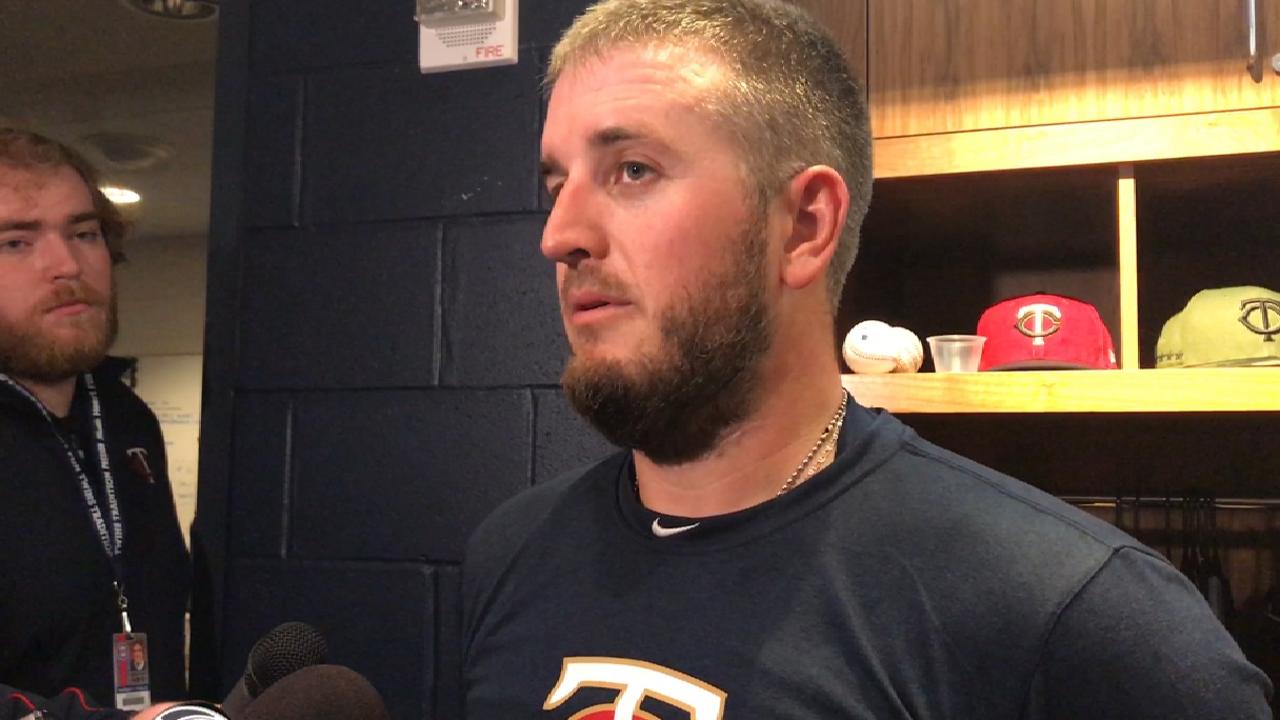 MINNEAPOLIS -- Twins left-hander Glen Perkins is nearing his long-awaited return to the Majors, as he's set to head to Double-A Chattanooga for three appearances and could be activated after that.
Perkins, who hasn't pitched with the Twins since April 11, 2016, after undergoing shoulder labrum surgery, has made five rehab appearances with the Gulf Coast League Twins and Class A Fort Myers. Perkins, a three-time All-Star, is in Minnesota for his annual charity race, Fifteen's 5K, and will head to Birmingham to join Chattanooga on Wednesday. He's set to pitch on Thursday, Saturday and Monday, and if all goes well, he'll be activated from the 60-day disabled list after his appearances.
"For the first time in my rehab, I've been pushing our medical and front office, 'Let's go.'" Perkins said. "For a long time I just didn't feel good enough to take steps. But I'm sure [head trainer] Dave [Pruemer] has gotten sick of me begging to take the next step. But it's good. I'm in a better place mentally than I've been because I've felt better."
Perkins suffered a setback in late June, but since getting a cortisone shot, he said it's been his best stretch since the surgery. He hasn't had a bad day since getting the shot, and feels he's finally nearing his return.
"I can't complain," Perkins said. "Ever since I had the cortisone shot it's been steady progress. Fingers crossed it keeps going. I'm not expected a setback but they've happened so I'm not ruling it out. But I think that's more for my mental stability than anything. But it's been going well."
Perkins, 34, has a $4.5 million option for next season, but the Twins are expected to decline it and pay a $300,000 buyout. Perkins, though, said he's not worrying about next year or his chances of retirement, but is instead focused on his rehab and his goal of making it back to the Majors.
"I haven't been worried about that," Perkins said. "For me, the only goal is to pitch in the big leagues again. I pitched in five games and threw harder than I did before the surgery. All I want to do is get back on that mound one more time. Anything else after that is just a bonus."
Worth noting
• Third baseman Miguel Sano was held out of the lineup for a second straight day with a bruised left hand after being hit by a pitch on Friday. Twins manager Paul Molitor said Sano might undergo further testing on his hand even after the initial X-rays came back negative. But a DL stint isn't expected.
"I think that's pretty unlikely," Molitor said. "I think they are going to have conversations today whether it would be prudent to try and decide if they want to do any more testing, just to make sure they didn't miss anything the first go-around with X-rays, which is always possible with swelling.
Rhett Bollinger has covered the Twins for MLB.com since 2011. Follow him on Twitter @RhettBollinger and Facebook. This story was not subject to the approval of Major League Baseball or its clubs.