Montgomery sharp, but taken out after just 5
Girardi cites fresh 'pen for reason; no word on pitch, innings limit for rookie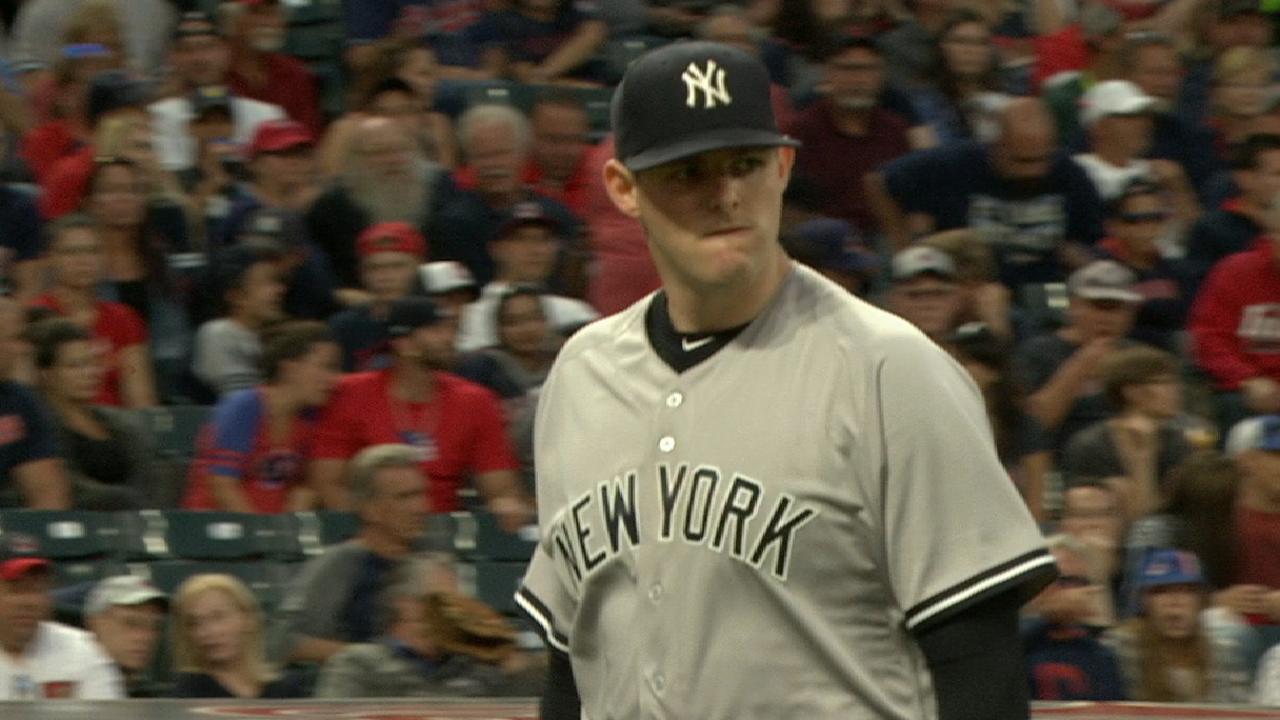 CLEVELAND -- On the topic of prescribed innings limits, the Yankees learned a valuable lesson a decade ago when the so-called "Joba Rules" spawned a few clever T-shirts and seemingly endless arguments concerning their handling of pitcher Joba Chamberlain.
As a result, the Yankees have remained intentionally vague about their plans for Jordan Montgomery, who was removed from Saturday's 2-1 victory over the Indians after just five innings and 65 pitches. If there is an innings cap on the left-hander, as has been speculated, they aren't saying.
"He was really, really good tonight," manager Joe Girardi said. "I actually thought his stuff got better as he went along, which is always a good sign. It was a tough call to pull him, but this is how we're built. We made a decision. He was brilliant."
Girardi said that having relievers David Robertson, Dellin Betances and Aroldis Chapman all fresh steered his decision to end Montgomery's night early, even as the 24-year-old rookie retired his final nine batters. Montgomery allowed a run on three hits, walking none and striking out seven.
"We had talked about going to the bullpen early, but it was a little disappointing when they pulled me early," Montgomery said. "We got the win and the bullpen did great, so the plan worked."
Girardi said that nights like this are why the Yanks added relievers such as Robertson and Tommy Kahnle in recent weeks.
"It's the reason we made the trade, because of the outstanding work and what we feel we can get from our bullpen," Girardi said. "They're fresh. He's thrown five innings. He's going through the lineup again, he's at the top of the order. Again, I felt really good about the way he pitched, but it's making a decision based upon how we're built."
Montgomery's latest effort gives him 115 2/3 big league innings this season, following a campaign in which he worked 139 1/3 Minor League innings, plus 12 2/3 more as his Triple-A Scranton/Wilkes-Barre club pursued an International League championship.
"Every six days, every five days, I'm trying to go out there and put up zeros and keep the team in it and have a chance to win," Montgomery said. "Just trying to be a team guy."
Though Montgomery said that he has not been told what the Yankees' plans are for him moving forward, he is well aware that they intend to go from six starters to five after Monday's off-day.
The arrivals of Sonny Gray and Jaime Garcia could interrupt Montgomery's time in the rotation after 21 starts, with an assignment to the bullpen or to the Minors considered possibilities.
"I'm just going to show up, do my running tomorrow and treat it like I always do," Montgomery said.
Bryan Hoch has covered the Yankees for MLB.com since 2007. Follow him on Twitter @bryanhoch and on Facebook. This story was not subject to the approval of Major League Baseball or its clubs.