Stanton continues torrid pace with 36th homer
Slugger also has RBI double to account for all of Miami's runs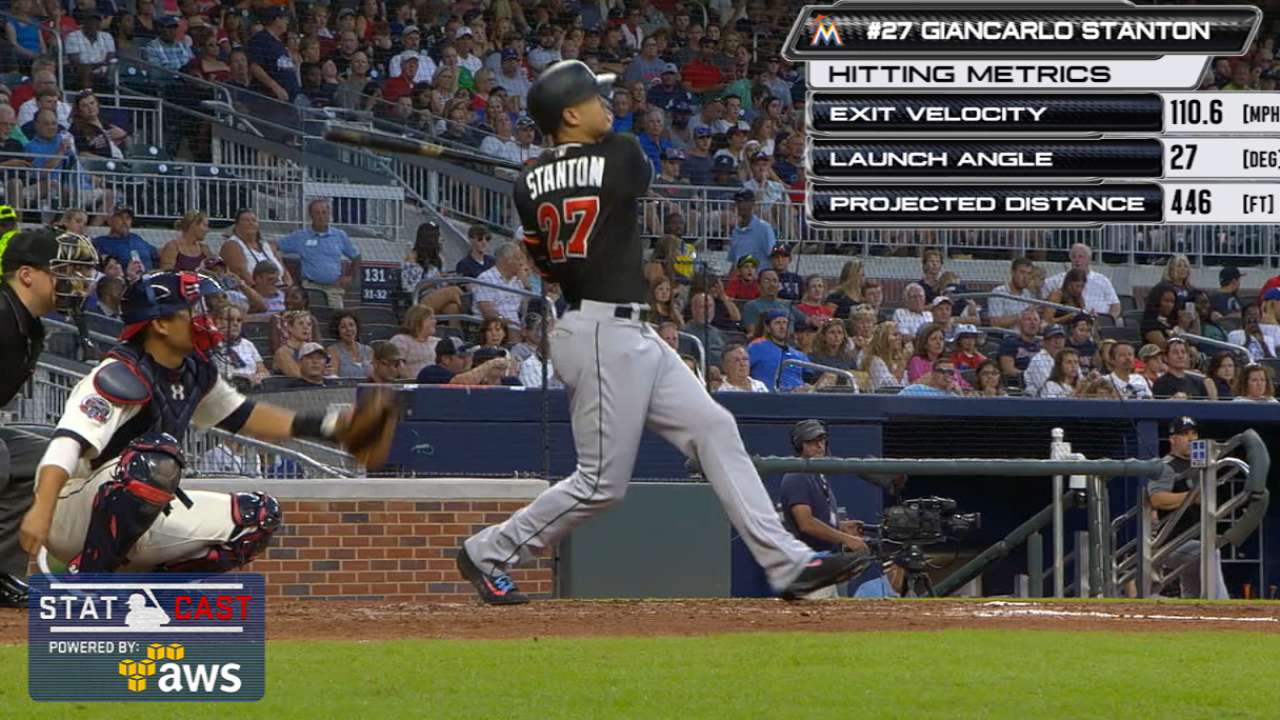 ATLANTA -- Hard-throwing right-hander Mike Foltynewicz elevated a 97.9 mph fastball to strike Giancarlo Stanton out in the fourth inning. In his next at-bat, the Miami slugger was ready for the high heat.
Stanton turned on a 95.8 mph fastball in the sixth inning and increased his Major League-leading homer total to 36. But the Marlins didn't do much else on Saturday night and lost, 7-2, to the Braves at SunTrust Park.
For the second straight night, Stanton provided all of his team's run production in a loss. He backed his home run with an RBI double. In the two games, he has three homers and five RBIs.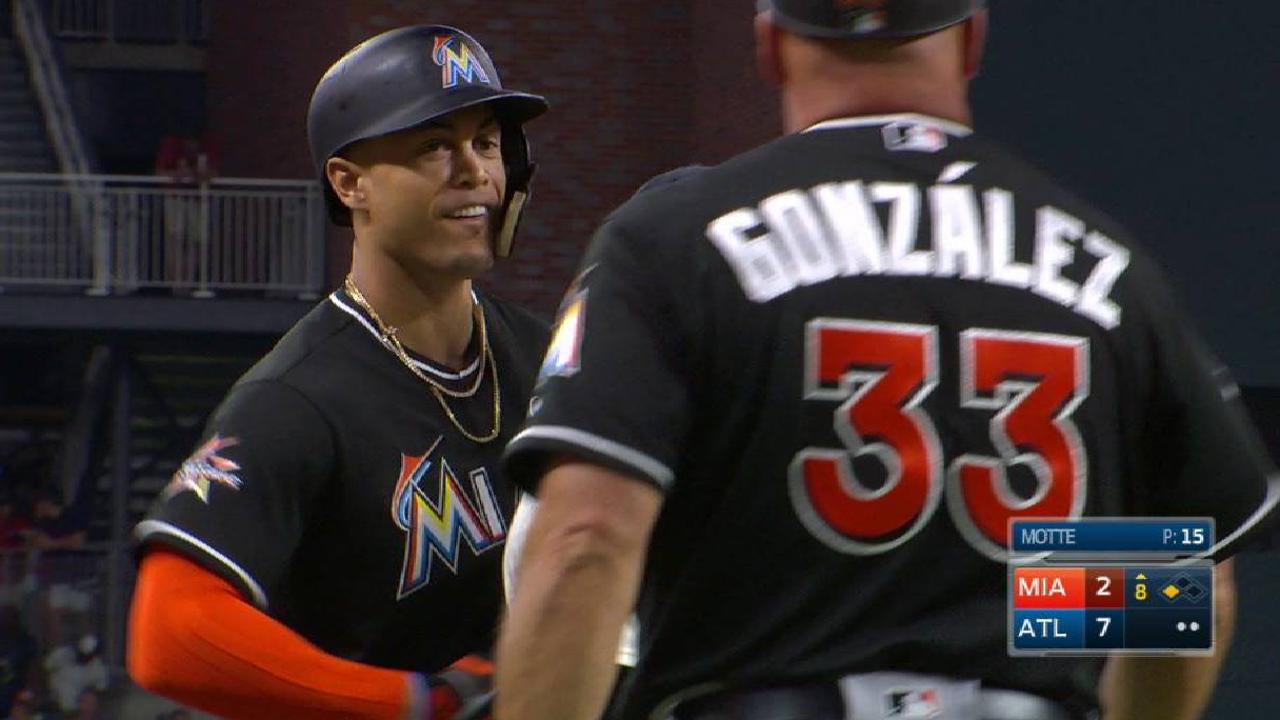 "Obviously, the only guy really driving any runs in is G," Marlins manager Don Mattingly said.
Statcast™ projected the home run at 446 feet with an exit velocity of 110.6 mph.
But the fact that he was able to hit the pitch, which was above the strike zone, made the drive improbable.
"I don't know how he hit it," Braves manager Brian Snitker said. "That's 96 [mph] at his neck. That's hard to get to."
Along with leading the Majors in homers, Stanton is one shy of his personal high. Twice, the 27-year-old has finished with 37 -- in 2012 and 2014.
Since the All-Star break, Stanton has an MLB-most 10 home runs. He's catching up to pretty much everything.
"The plate appearance before, I got him with a pitch that was up there a little bit," Foltynewicz said. "He might have been thinking about that. I totally missed my spot. We were trying to go outside corner and he just must have been waiting for it, because it was pretty high up there at his neck. It's one of those pitches where you just have to tip your cap and get back at it."
Stanton noted he was expecting to be pitched up in the zone.
"You throw 100 [mph] and they are calling them up there, you're going to stay up there," Stanton said. "It's almost like a ball in off the plate, you've got to be more on time. You've got to be earlier on a ball up. I figured he would."
The Marlins' single-season home run mark has stood the test of time. Gary Sheffield set the mark with 42 in 1996.
In Friday's 5-3 setback, Stanton had two home runs and three RBIs. His first shot was projected at 477 feet, the longest in the inaugural season at Atlanta's new ballpark.
Even Stanton's RBI double was scorched. With Dee Gordon on first in the eighth inning, the Miami right fielder whistled a double off the wall in center. The distance was 408 feet with an exit speed of 111.5 mph.
"It shows you he's swinging the bat good right now and he's hitting about everything they throw up there," Mattingly said. "Right now, I don't think it much matters if he's getting a ball close where he can get a bat on it, he's getting a bat on it good."
Joe Frisaro has covered the Marlins for MLB.com since 2002. Follow him on Twitter @JoeFrisaro and listen to his podcast. This story was not subject to the approval of Major League Baseball or its clubs.