Hinch points to key moments that cost Astros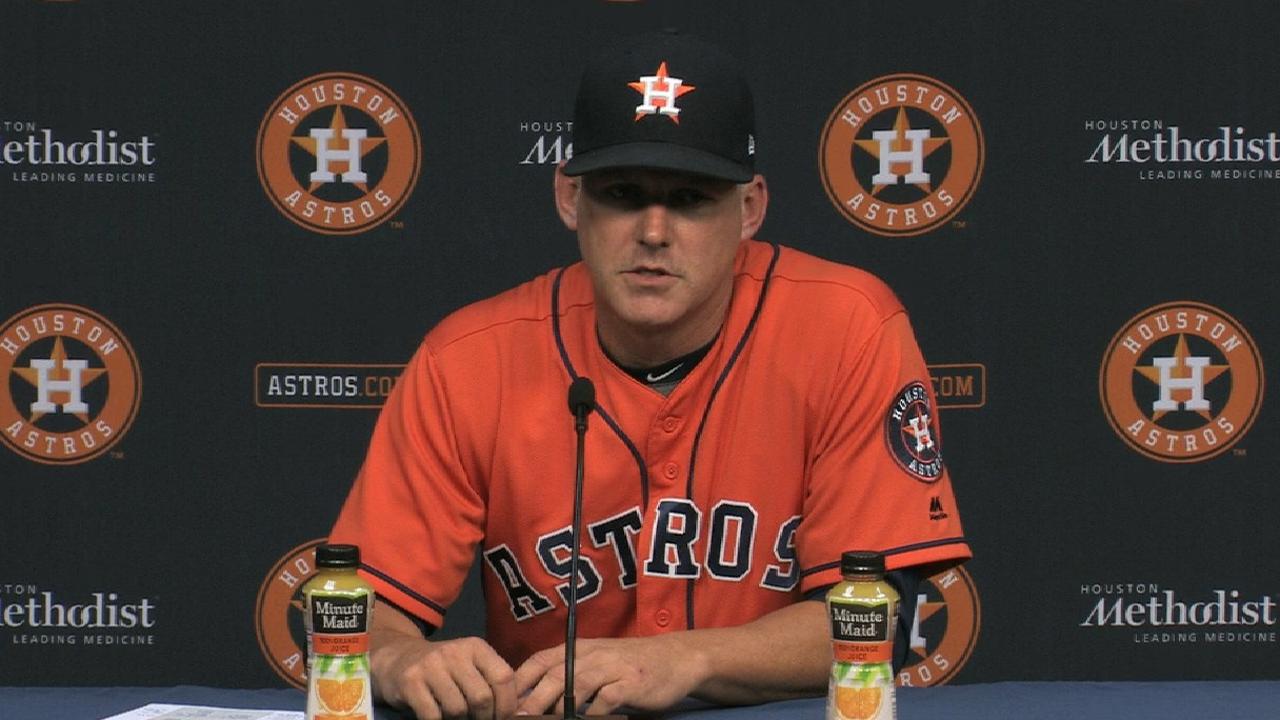 HOUSTON -- There was some indecision in the field, a stolen base allowed in extra innings and three at-bats in the seventh with runners in scoring position that didn't produce a run. Those were some of the key moments Astros manager A.J. Hinch was left to lament after Saturday's 4-3, 10-inning loss to the Blue Jays at Minute Maid Park.
"We didn't win the big moments in this game," Hinch said. "We made some mistakes. We lost some at-bats that we were working to try to get, and they executed when they had the biggest at-bat of their night a couple of times. Tough games to lose. Definitely a winnable game."
With runners at first and third with one out in the second, Jose Bautista hit a grounder to third baseman J.D. Davis, who looked toward second but instead of going for an inning-ending double play, threw to first. Bautista was out but Steve Pearce scored from third to tie the game at 2.
"There's a lot going on at that point in the play," Hinch said. "I'm glad we recorded the out on that play, but if we're going to record one maybe home would have been a better choice."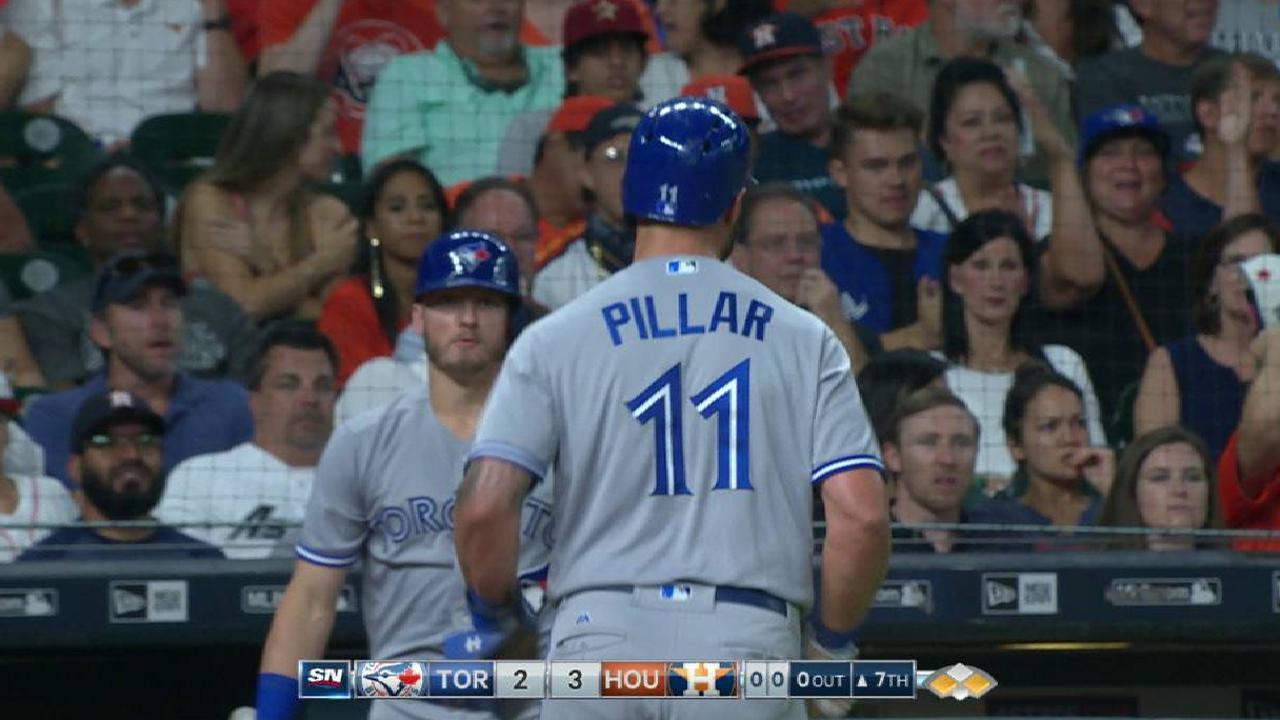 Bautista was at the plate in the seventh with runners at first and third and no outs when he hit a grounder to first baseman Tyler White, who threw home. Catcher Brian McCann didn't think there was a chance to get Kevin Pillar at the plate, so he stayed upright as he took the throw and looked to go back to first, but it was too late to make a throw. Everybody was safe, and a run scored to tie the game at 3.
"We've got to get an out there some way," Hinch said. "I think Whitey saw he had a play. Mac's initial thought was he didn't have the play and came off the [plate] to try to redirect the throw. A little bit of miscommunication, a little bit of misread. They didn't read the play the same way. The play ends with not an out recorded when certainly Whitey was trying to be aggressive to get the lead runner. Mac had conceded at that point and was trying to redirect it to first. Not a good play."
McCann also second-guessed his decision postgame.
"I thought he was going to get in there easy," he said. "That was my reaction. Once I thought he was going to get in there, I was going to cut if off and try to get [Bautista] out at first. Obviously, I should have waited there to try to get [Pillar] out. "
The Astros compounded that mistake in the bottom of the inning.
Carlos Beltran led off the frame with a single, then Alex Bregman doubled to put runners at second and third with no outs. But Blue Jays starter Marco Estrada got McCann to pop out in foul territory on the first pitch before striking out J.D. Davis and White to strand the runners in scoring position.
In the 10th, Rob Refsnyder stole second base off Francisco Liriano when McCann's throw skipped to second baseman Jose Altuve. Refsnyder scored the winning run on a Ryan Goins' RBI single a few pitches later.
Brian McTaggart has covered the Astros since 2004, and for MLB.com since 2009. Follow @brianmctaggart on Twitter and listen to his podcast. This story was not subject to the approval of Major League Baseball or its clubs.