Bagwell wraps up HOF tour where it all began
HOUSTON -- Jeff Bagwell's Hall of Fame tour ended on Saturday in the very city where he and fellow Hall of Famer Craig Biggio contributed to some of the most exciting moments in Astros history.
Bagwell has been on a whirlwind journey since he was announced as a member of the Hall of Fame Class of 2017 in January. He was first whisked to New York City for a national news conference. He later visited Cooperstown, N.Y., as part of the orientation process every electee goes through. And, finally, last Sunday, he stood at the podium in Cooperstown, at the official induction ceremony that cemented his place among the greatest in the game's history.
But on Saturday, Bagwell was at Minute Maid Park to salute the fans who had supported him throughout a 15-year career that spanned from 1991-2005.
"To be in Cooperstown was obviously great," Bagwell said to the crowd before Houston fell to Toronto, 4-3, in 10 innings. "But what made it great was the Astros fans. Not just the ones that made the trip up there, but all of you that were there for my career.
"This has been a great journey. As much joy as maybe I may have brought you, you have brought me joy as well. It's been an amazing ride, and I'm glad you are here to enjoy this with me."
The pregame ceremony, co-emceed by radio announcer Steve Sparks and retired television announcer Bill Brown, included short speeches by two prominent figures from Bagwell's career -- former manager Phil Garner, who guided the Astros to their only World Series appearance in 2005, and Lance Berkman, Bagwell's teammate from 2000 until Bagwell's retirement.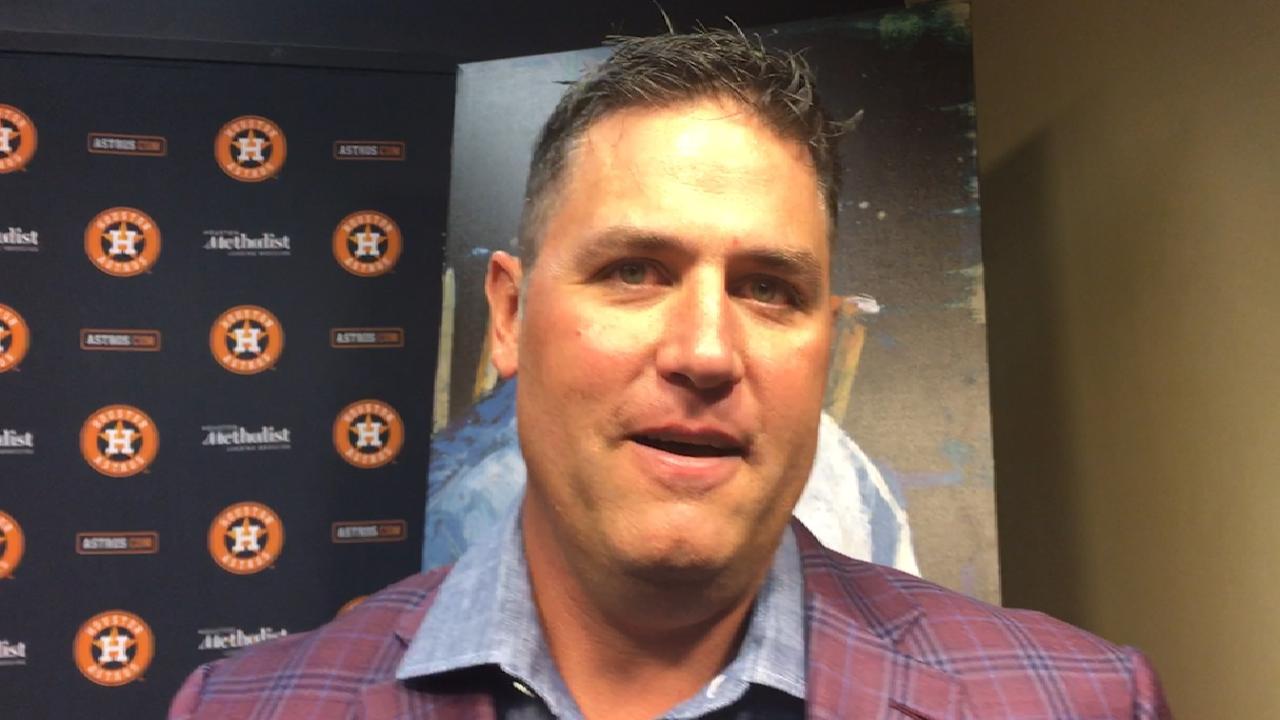 Garner was also a coach with the Astros in 1991 and recalls longtime coach Matt Galante shooing everyone away who wanted to change Bagwell's quirky, squatty batting stance.
"Matt Galante was correct when he said, "let Baggy be Baggy," Garner said, to thunderous applause. "For more than a decade and a half, Jeff was the best first baseman in all of baseball."
During his time at the podium, Berkman revealed the three things he learned from Bagwell during their half-decade together as teammates: physical toughness ("A Jeff Bagwell off-day was as rare as a solar eclipse," Berkman said); mental toughness; and, finally, humility.
"It sounds funny, but being inducted into the Hall of Fame is one of the hardest things Jeff has had to endure," Berkman said, referring to Bagwell's reluctance to be in the spotlight. "He doesn't like to draw attention to himself. I shudder to think how he'd react to a bat flip or a victory dance now."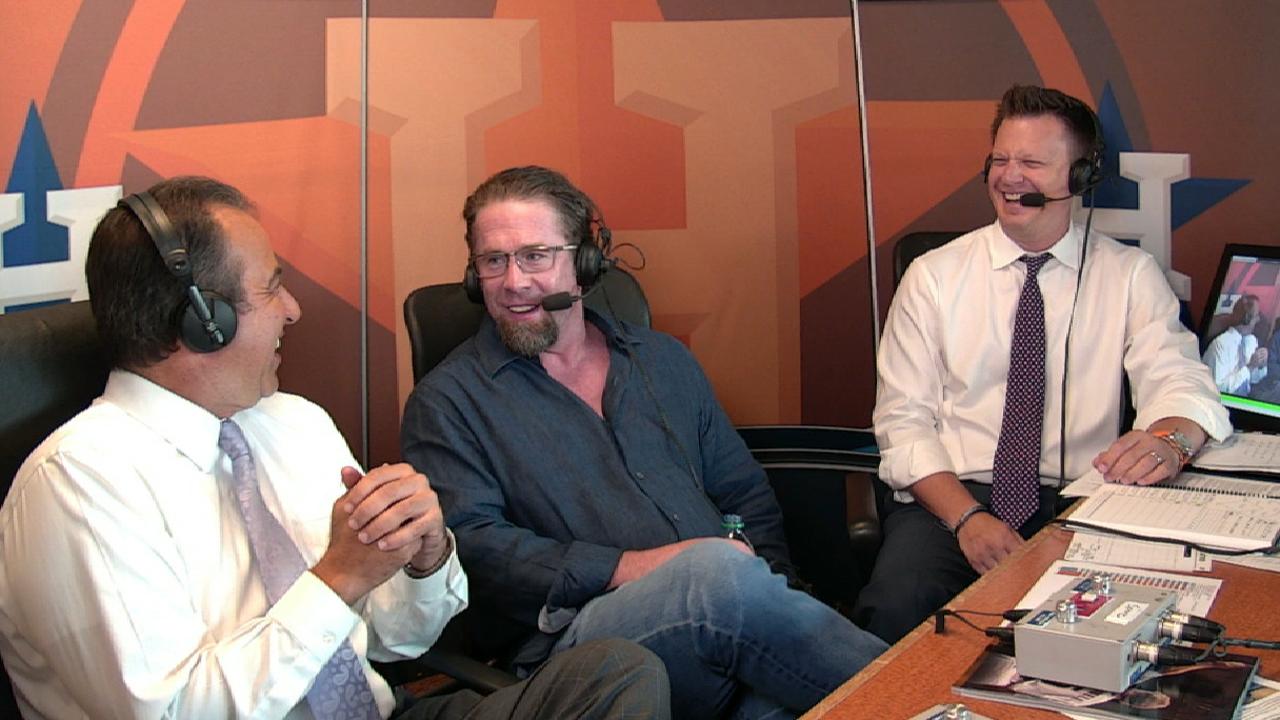 Bagwell, who was joined at the ceremony by his wife, Rachel, and five children, concluded his speech with one final salute to the fans.
"To be here every single night and play in front of you was a pleasure," he said.
Bagwell may be looking forward to resuming his life in relative anonymity, but, as Garner pointed out, life isn't exactly going to be the same for the Hall of Fame first baseman.
"This is his life's deal now," Garner said. "This is going to be how he's identified -- he's a Hall of Famer. It's a great moniker to wear the rest of his life."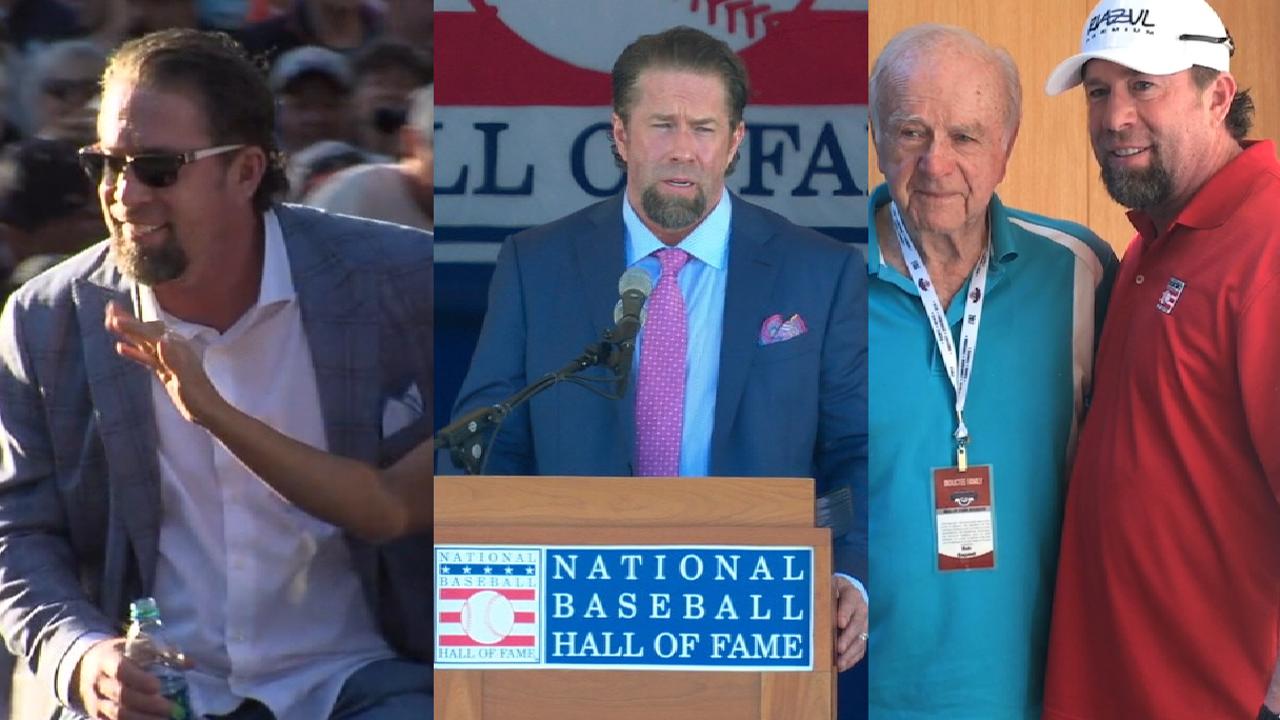 Alyson Footer is a national correspondent for MLB.com. Follow her on Twitter @alysonfooter. This story was not subject to the approval of Major League Baseball or its clubs.