Barraclough has potential as future closer
Marlins righty is on DL with shoulder impingement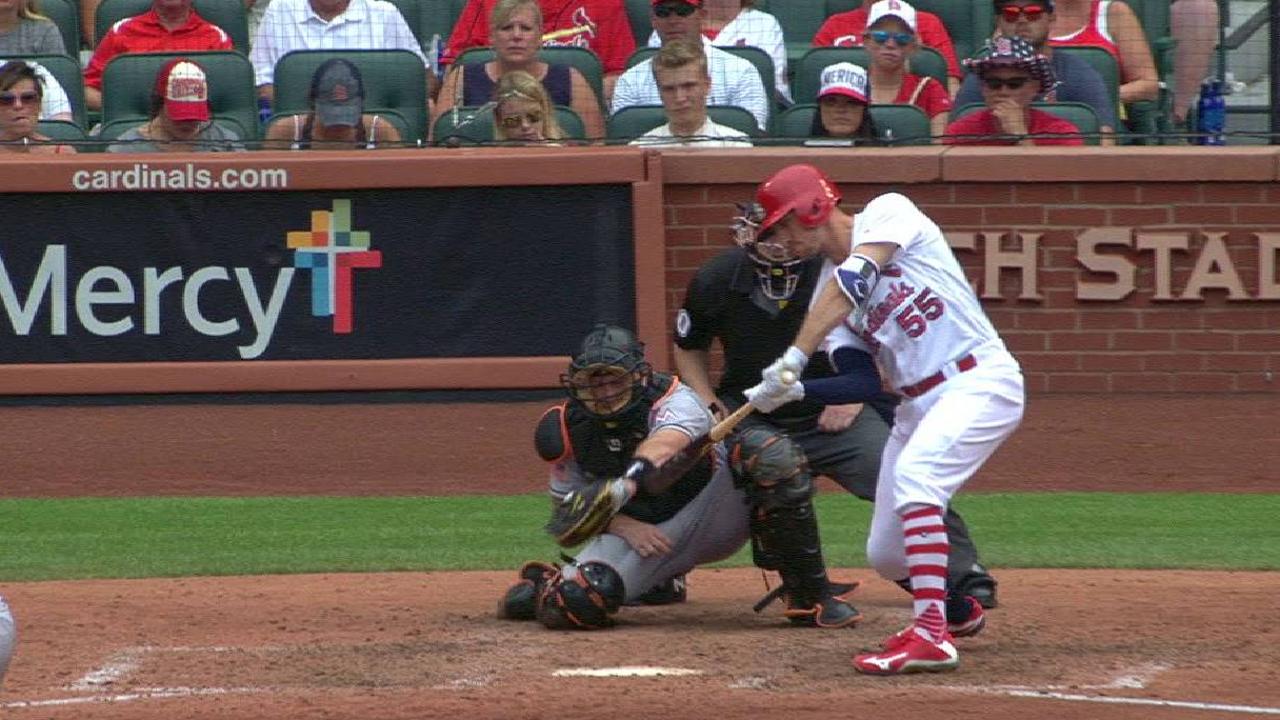 ATLANTA -- For the short-term, Brad Ziegler is filling the role as the Marlins' closer. Even though he has plenty of experience, the spot is subject to change -- later this month, in September or next season.
Kyle Barraclough, on the 10-day disabled list since July 26 with a right shoulder impingement, has the kind of swing-and-miss stuff to eventually handle the job. The question is whether he can throw enough strikes.
The Marlins are using part of these final two months to evaluate their roster and see which players could figure into their plans for 2018. The back of the bullpen, including the closer, came into question before the non-waiver Trade Deadline, because closer AJ Ramos was traded to the Mets and setup right-hander David Phelps was dealt to the Mariners.
Manager Don Mattingly noted that Barraclough, who has never recorded a big league save, is no stranger to facing tough hitters.
"Claw has been throwing huge innings the past two years," Mattingly said. "Even with David here, he was getting the toughest part of the order. He was getting 1-2-3. He was getting tough lefties. He was the guy getting those assignments."
Barraclough threw a 20-pitch bullpen session Friday and is next scheduled to throw off the mound Monday.
The club isn't rushing Barraclough's return, and for good reason. The right-hander possesses a 95.06 mph four-seam fastball, according to Statcast™, and the average spin rate on the pitch is 2,436. The MLB average for a four-seamer is 93.10 mph, and the average fastball spin rate is 2,231.
When Barraclough comes off the DL, Mattingly added, he won't automatically become the closer.
"No. 1, right now, is to make sure Kyle is healthy," Mattingly said. "To make sure he's feeling good, and get him back into the mix, and see where he's at."
Barraclough has thrown 46 1/3 innings with 50 strikeouts, but he has walked 31 batters. His strikeouts per nine innings is 9.71, slightly down from a year ago, and his walks per nine is up a tick, to 6.02. His WHIP is 1.51.
A year ago, Barraclough was one of the top setup relievers in the National League. In 72 2/3 innings, he struck out 113, with 44 walks. His strikeouts per nine ration was 14, with a 5.45 per-nine walks.
Important for any closer candidate is the ability to induce swings-and-misses. Barraclough in 2016 induced 192 swinging strikes, 11th most of any reliever in the Majors.
But this year, he has 100, which ranks 60th.
"Command sometimes is the issue with Kyle," Mattingly said. "Is he going to walk people? That's something you really don't want to have in the ninth inning, walking people."
Joe Frisaro has covered the Marlins for MLB.com since 2002. Follow him on Twitter @JoeFrisaro and listen to his podcast. This story was not subject to the approval of Major League Baseball or its clubs.