Contreras starts in left, keeps hot bat in lineup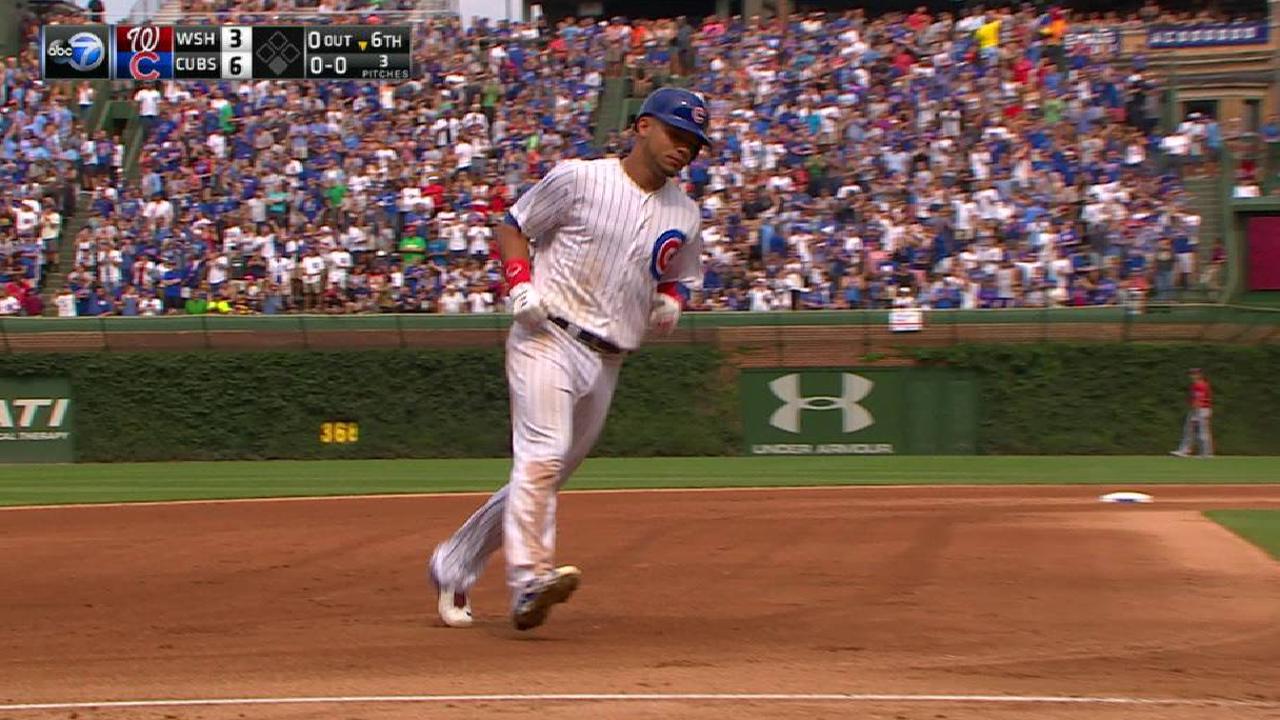 CHICAGO -- Cubs manager Joe Maddon wanted Alex Avila to catch John Lackey on Saturday, but he also wanted to keep Willson Contreras' hot bat in the lineup. So he started Contreras in left field.
"Had to -- he's swinging the bat so well," Maddon said of Contreras, who delivered a two-run homer and an RBI single in the Cubs' 7-4 victory over the Nationals.
Since the All-Star break, Contreras has eight home runs and 27 RBIs, most on the team, and is batting .338. Saturday was his third start in left field this season, and he made a nice running catch for the first out in the second inning to rob Daniel Murphy of a possible extra-base hit.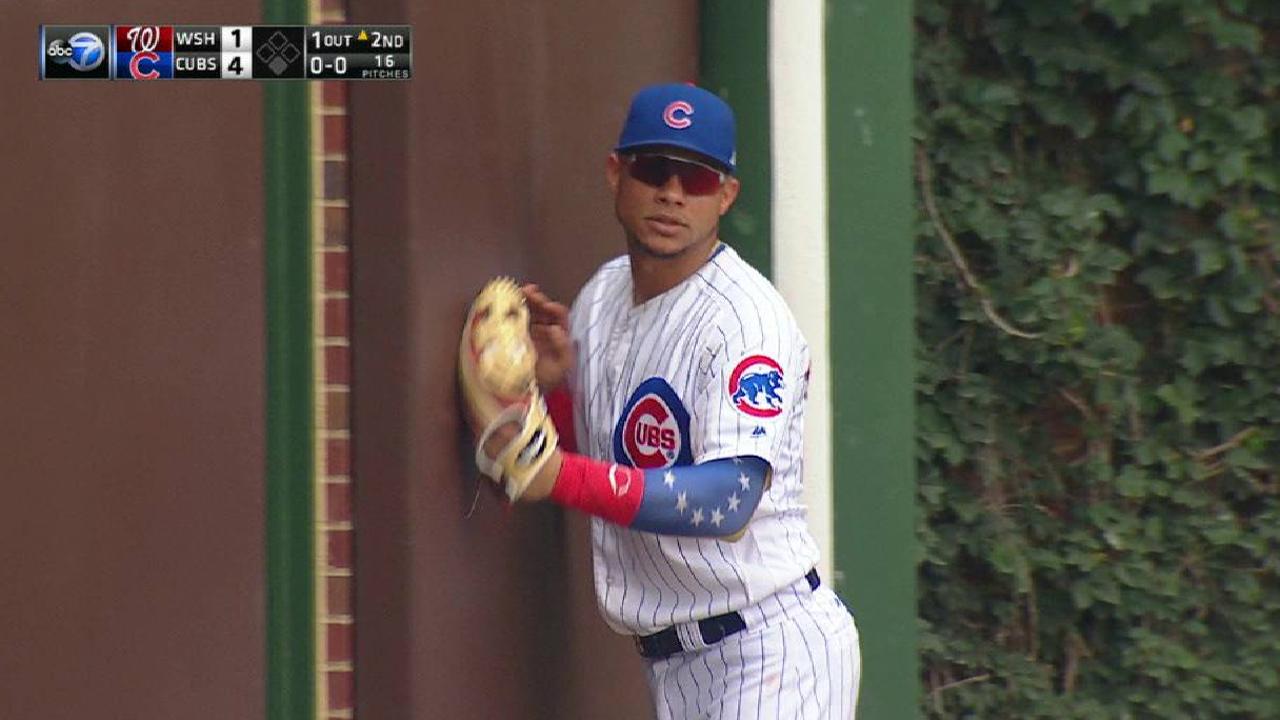 "I'm not afraid of any position," Contreras said. "I'm here to play. This is my job, and I'll do everything for my team."
Playing the outfield should have given Contreras' legs a break.
"Probably," Contreras said, "but I'd rather be behind the plate. [The outfield] is a different position from catching. It will give me a break with my legs and stay good with the bat."
Avila has been impressed by Contreras in the short time they've been together.
"He understands himself and knows his swing, and it doesn't seem like he gets tired," Avila said. "It's nice being that age. He's got tremendous ability and has an idea how to use it. I told him a few days ago when I got here, 'I'm here not only to help the team win, but help you.' I'll keep myself available for him. As he gets older, he'll notice things about himself and the league. His baseball IQ will only go up from here."
Can Avila relate to Contreras' over-amped approach?
"I've never had that much energy," Avila said.
Contreras, who has started at catcher for 75 of the Cubs' 109 games so far, said he's felt like "the heart of the team" since the All-Star break.
"I'm able to help the team any time and any situation, and that's one thing I'm proud of," Contreras said. "I started making adjustments -- mental adjustments -- and I'm able to do little things on the field to help the team. I'm going to keep looking forward to helping the team."
Worth noting
• The Cubs players will be wearing personalized biker vests on their upcoming road trip to San Francisco and Arizona, part of the "Easy Rider" road trip, created by strength coach Tim Buss.
"It was [Buss'] idea, and I said it was an outstanding idea," Maddon said. "Biker trip, 'Easy Rider' road trip to the West Coast."
The black vests have each players' number and nickname, plus "North Siders" on the back with an American eagle. There's also a patch that says, "I'm not perfect, just forgiven."
Contreras' vest, for example, has the nickname, "Killer," which pitcher Jon Lester and Buss gave the catcher.
"It's [because of] the way I play and the way I look at people when I play," Contreras said, laughing.
• The Nationals' Sean Doolittle is known for his elevated fastball, and Javier Baez knew that when he went to the plate in the ninth inning on Friday. Baez still swung and missed at three straight pitches from the lefty.
"You're dealing with a lot of young hitters who have to take it from the sideline into the game," Maddon said. "The prep is good. You have to have execution."
Said Baez: "The last [at-bat], I was trying to do too much. Obviously, I was trying to tie the game. The way he was lifting his leg, it was hard to get the timing. That's why I was big on my swing."
• The Cubs have nine relievers, which Maddon is hoping is enough to get through the weekend. They added lefty Rob Zastryzny on Friday when shortstop Addison Russell was placed on the 10-day disabled list with a right foot strain.
"We need [the extra pitcher] now in order to get everybody back on firm ground in the bullpen," Maddon said. "If something were to happen badly -- even like an injury, whatever, early in a game -- and you don't have the length, you can blow up your bullpen in one day, so we thought we needed one extra arm. And yes, we want to get back to having a four-man bench."
Carrie Muskat has covered the Cubs since 1987, and for MLB.com since 2001. She writes a blog, Muskat Ramblings. You can follow her on Twitter @CarrieMuskat and listen to her podcast. This story was not subject to the approval of Major League Baseball or its clubs.