Object of Mets fans' ire, Utley caps HR barrage
NY faithful rain down boos at ex-Phillie, who hit 3rd LA homer in win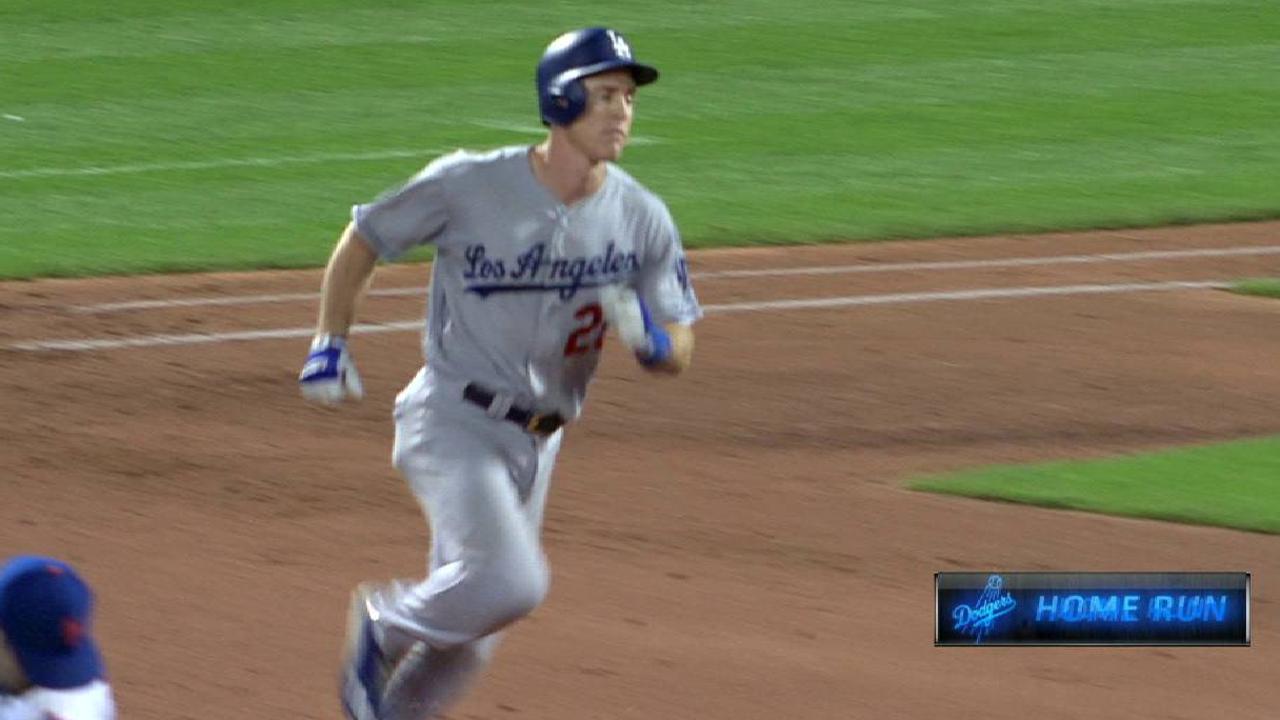 NEW YORK -- The boos reverberated Friday night throughout Citi Field loudly, clearly, and they were directed at a familiar target of Mets fans' angst -- No. 26 on the Dodgers.
With one swing on a fastball right down the middle and a projected 406 feet later, Chase Utley extended his lead on the current list of active players with home runs against the Mets (38). That came in the fifth inning off left-hander Josh Smoker and gave the Dodgers a 5-0 lead en route to their 6-0 victory.
Utley knows he's due for a heavy dose of booing each time he comes to Queens.
"I think that's the nature of the sport," Utley said. "I've been playing here for a long time. I've heard boos for probably 12, 15 years now."
What started as animosity for what he did over 12 1/2 seasons with National League East rival Philadelphia has evolved into a more escalated aversion since his slide in Game 2 of the 2015 NL Division Series took out Ruben Tejada and ended the Mets infielder's season. Still, Utley showed respect for the New York fans in his postgame remarks.
"They let us know when we were in town," Utley said of his Phillies days. "They were loud. They were definitely booing. They have a great fan base and I have a lot of respect for them."
Dodgers manager Dave Roberts claims he's never been around a player who revealed less emotion than Utley.
"He doesn't show it, and it's not external, but the pulse is as good as I've ever seen," Roberts said. "I know there's fire. But as far as emotion -- and there's been big hits and some big highs, especially in this ballpark -- very stoic."
When the Dodgers completed a four-game sweep of the Mets in June, the team hit 15 home runs and outscored the Mets, 36-11. Chris Taylor and Yasiel Puig joined Utley in the power department Friday with a solo homer apiece off Mets starter Jacob deGrom.
One night after going 3-for-4 with a home run, two RBIs and three runs scored in Atlanta, Taylor picked up right where he left off. After falling into an 0-2 hole, Taylor worked the count full. On the ninth pitch of the at-bat, he made deGrom pay for leaving a fastball down the middle.
"I was just battling, honestly," Taylor said. "I was trying to put a good at-bat together. He made two good pitches early, and I fouled a couple pitches off. It got to 3-2, he had a good fastball, so I wanted to make sure I stayed short."
Taylor's homer gave Yu Darvish a lead before his first pitch as a Dodger. It was Taylor's second career leadoff home run, the first of which came on July 19 against the White Sox. He is now hitting .316 on the season and .416 since the All-Star break, with four home runs and 15 RBIs in that span. Right now, less is more for Taylor at the plate.
"Just keeping it really simple, honestly," he said. "Trying to stay in the middle of the field. Zone up in the middle of the plate. Thinking hit it back up the middle and good things will happen."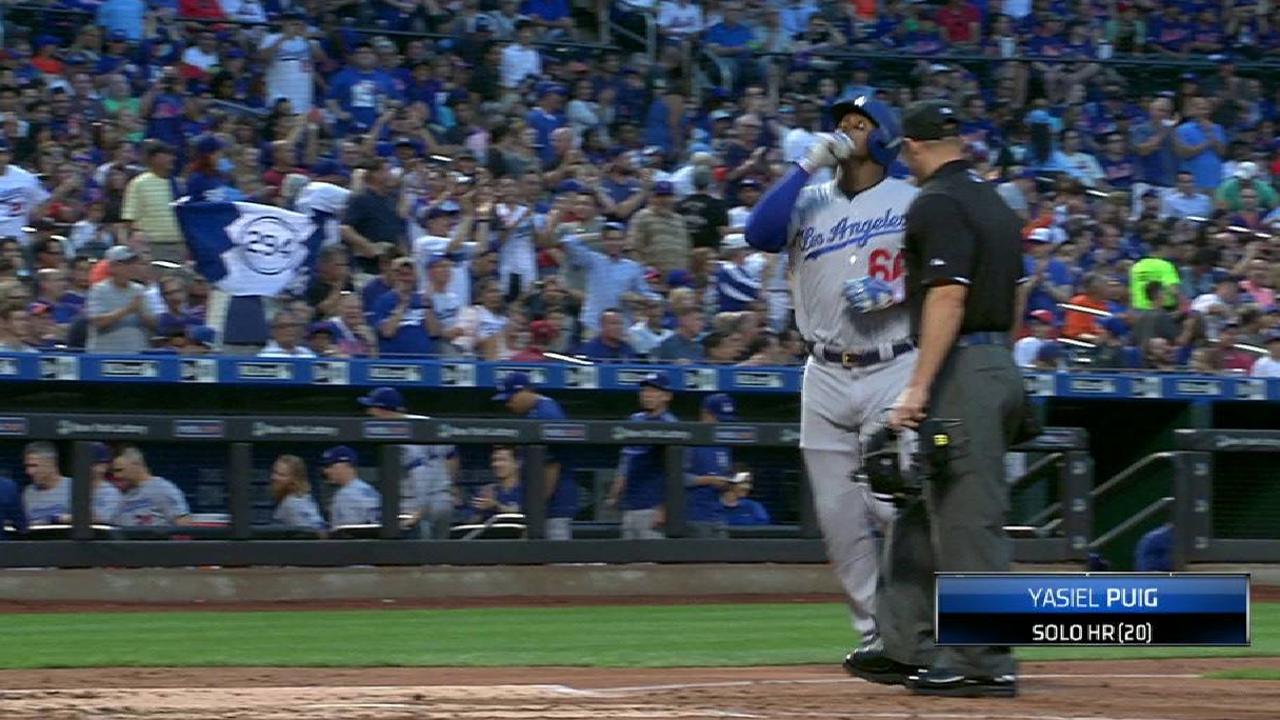 Puig's shot, which gave the Dodgers a 2-0 lead in the second inning, was his 20th of the season -- a new career high after he cracked 19 homers in 2013, his rookie year. Rather than admiring his work as he had done earlier this season -- drawing ire from Wilmer Flores as Puig rounded first in Los Angeles -- the outfielder simply put his head down and circled the bases in a timely fashion.
Chris Bumbaca is a reporter for MLB.com based in New York. This story was not subject to the approval of Major League Baseball or its clubs.