Woodruff enjoys debut 'every kid dreams of'
Two months after foiled start vs. Cards, right-hander gets first win against Rays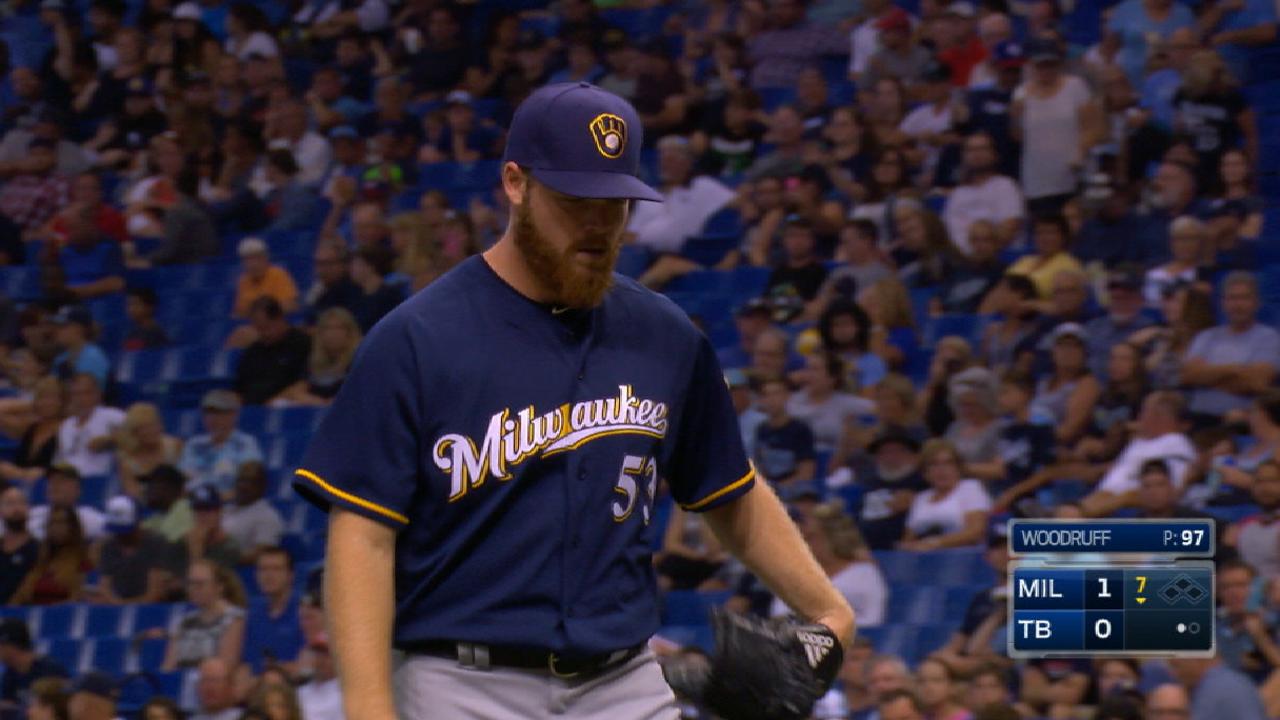 ST. PETERSBURG -- Brandon Woodruff made it to the mound in one piece. That in itself was progress.
The rest of Woodruff's night was even better, a tightrope walk of a scoreless Major League debut that lasted into the seventh inning of the Brewers' 2-0 win over the Rays at Tropicana Field. Friday night's outing came 52 days and 1,000 miles from where Woodruff was supposed to do this the first time around, Busch Stadium in St. Louis, where the Brewers' No. 4 prospect, per MLBPipeline.com, was poised to debut on June 13 in the first game of a doubleheader, only to strain his right hamstring during a pregame stretch.
"You know, when that happened in St. Louis I was pretty tore up about it," said Woodruff, 24. "But that was for sure worth the wait.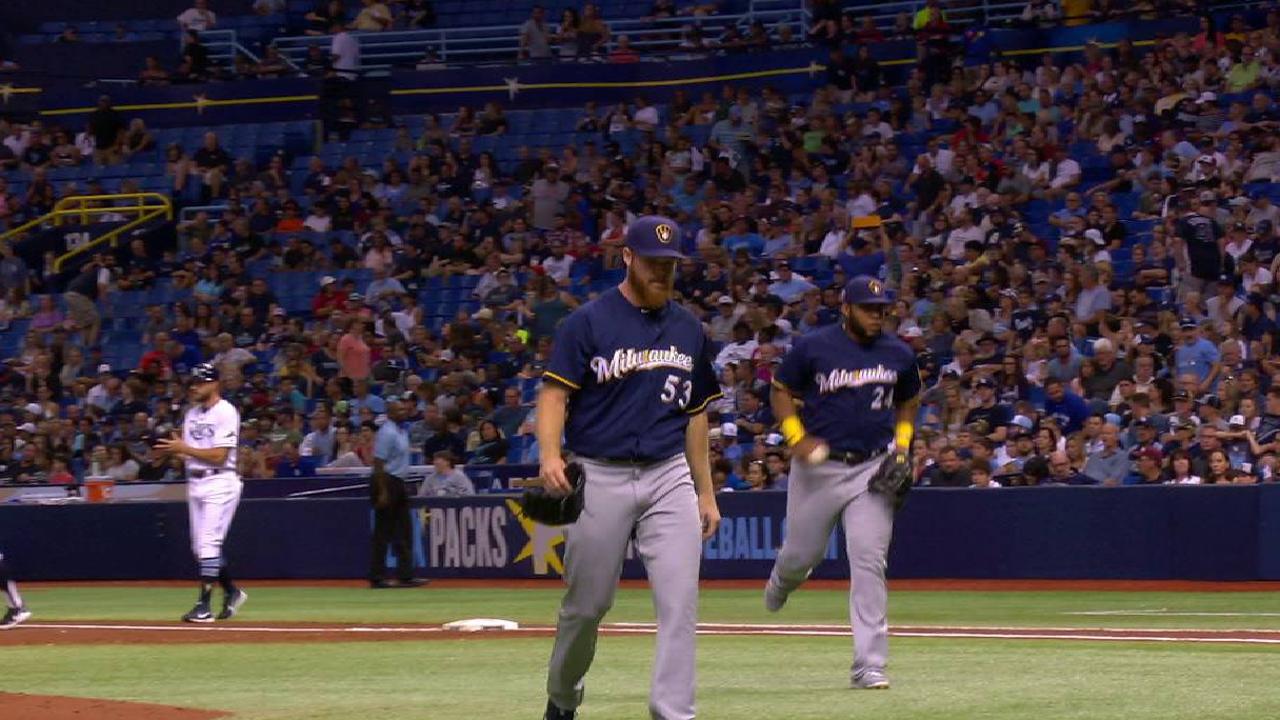 "This is what every kid dreams of," he added, "and I'm glad it happened this way."
His start against the Rays spanned 6 1/3 innings before three Brewers relievers completed Milwaukee's sixth shutout win to pull within one-half game of the National League Central-leading Cubs. Woodruff surrendered seven hits -- all singles -- and two walks, cramming seven of those baserunners into the first three innings but never yielding a run.
In each of the first two innings, he induced two-out groundouts to leave the bases loaded. In the third inning with two outs and runners at the corners, catcher Manny Pina caught Steven Souza Jr. stealing as the Rays tried in vain to swipe a run with a called double steal.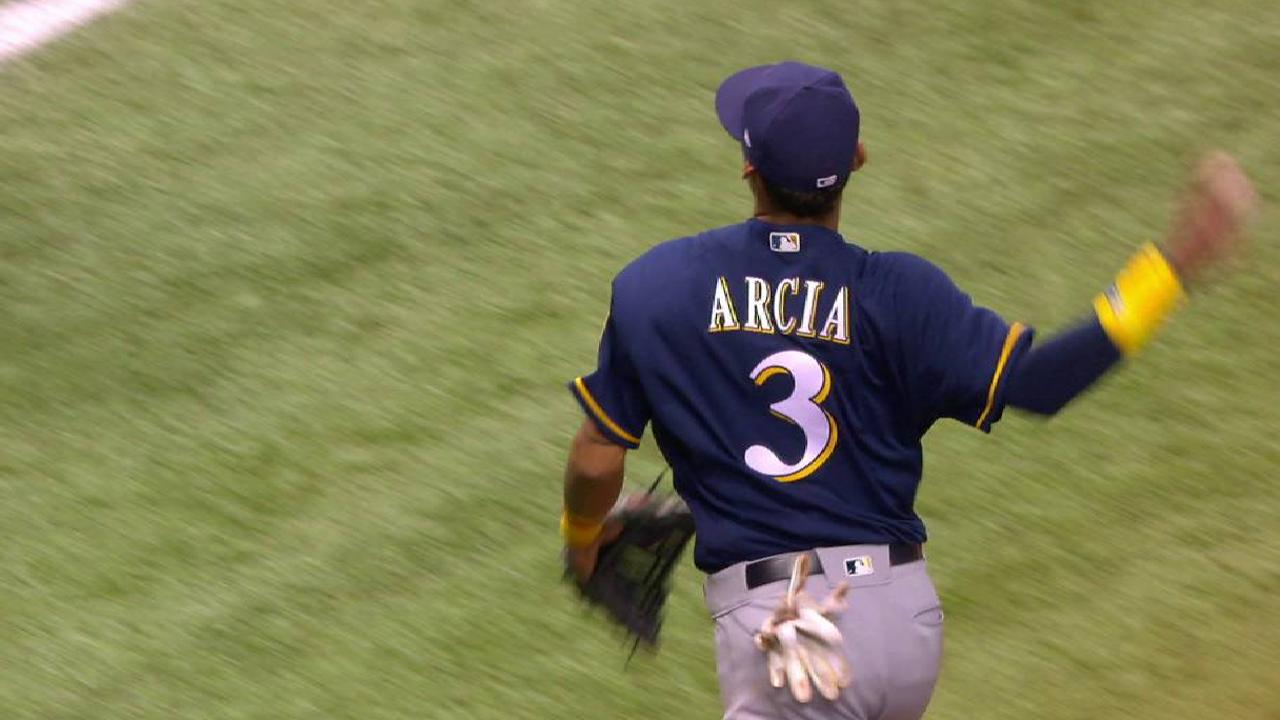 That inning marked the last time the Rays moved a runner past first base.
"What was so impressive to me was … the composure he handled the first two innings with," Brewers manager Craig Counsell said. "He wasn't getting hit hard, but it took him a while to get in the rhythm of the game, and I thought he handled himself well in those tough spots."
Perhaps that had something to do with the long path Woodruff took to the mound at Tropicana Field. He'd never thrown a Major League pitch, but he had endured the anxiety preceding a debut.
That is often the hardest part, Counsell said in a quiet visitors' dugout hours before the game. The anticipation is often as bad as the task itself.
"He was very calm," said Brewers shortstop Orlando Arcia, the game's other star, who finished a double shy of the cycle, scored both Brewers runs and threw out a would-be tying run at home plate. "He struggled the first two innings, but he stayed calm. He kept his head up and just kept grinding and going at them and was able to give us a lot of good innings. He just looked good."
Woodruff looked better as the game progressed. He got throw the sixth inning on seven pitches, leaving him at 93 entering the seventh. With a right-handed batter leading off for the Rays followed by two lefties, Counsell gave Woodruff one more batter -- and Woodruff struck him out.
He finished with 97 pitches. Did Counsell go into the game with a number in mind?
"We passed it," the manager said, smiling.
Woodruff's next start will come at Miller Park. The Brewers hope many more follow.
"The day in St. Louis is going to make for a great story someday," Counsell said. "We'll laugh about it. Everyone will tell that story every time he takes the mound. I'm looking forward to seeing him get his career started. He's an important player for us."
Adam McCalvy has covered the Brewers for MLB.com since 2001. Follow him on Twitter @AdamMcCalvy, like him on Facebook and listen to his podcast. This story was not subject to the approval of Major League Baseball or its clubs.