1st-place Cubs, Nats turn to vets on MLB.TV
Spin specialists Lugo, Hill meet in Queens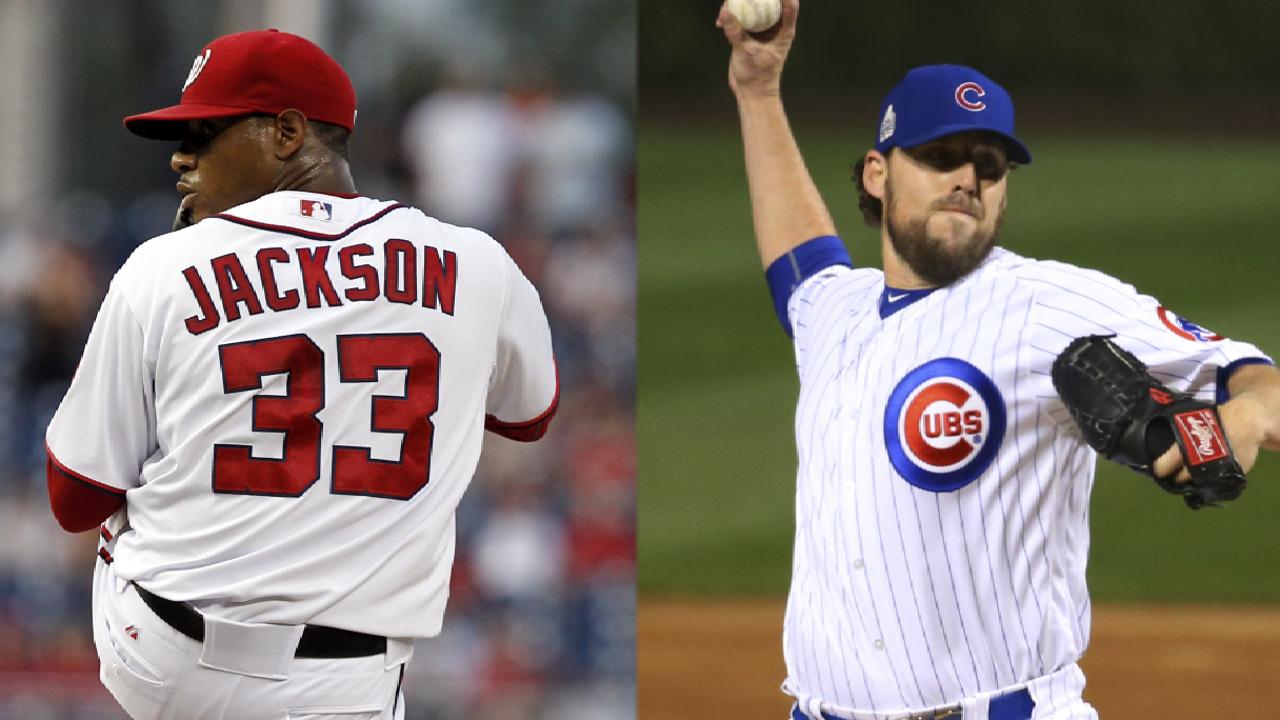 Potential postseason previews continue this weekend in Chicago and Cleveland, while Wild Card hopefuls meet in an Interleague matchup at Tropicana Field. And fans can catch all the action on MLB.TV.
MLB.TV Premium is now available for $49.99 for the rest of the season or $24.99 monthly, with nearly two dozen features for subscribers to access and interact with live out-of-market Major League Baseball games at 60 frames per second on any of the more than 400 supported devices. MLB.TV Single Team subscriptions are also available at $39.99 for the rest of the season.
Here's what to watch for today (all times ET):
Seasoned starters among a youthful bunch: WSH@CHC, 2:20 p.m.
The Cubs continue their weekend series against the Nationals at Wrigley Field, as a pair of seasoned veterans square off. Saturday's starters, Edwin Jackson and John Lackey, have a combined 30 seasons of big league experience spanning more than 4,500 innings.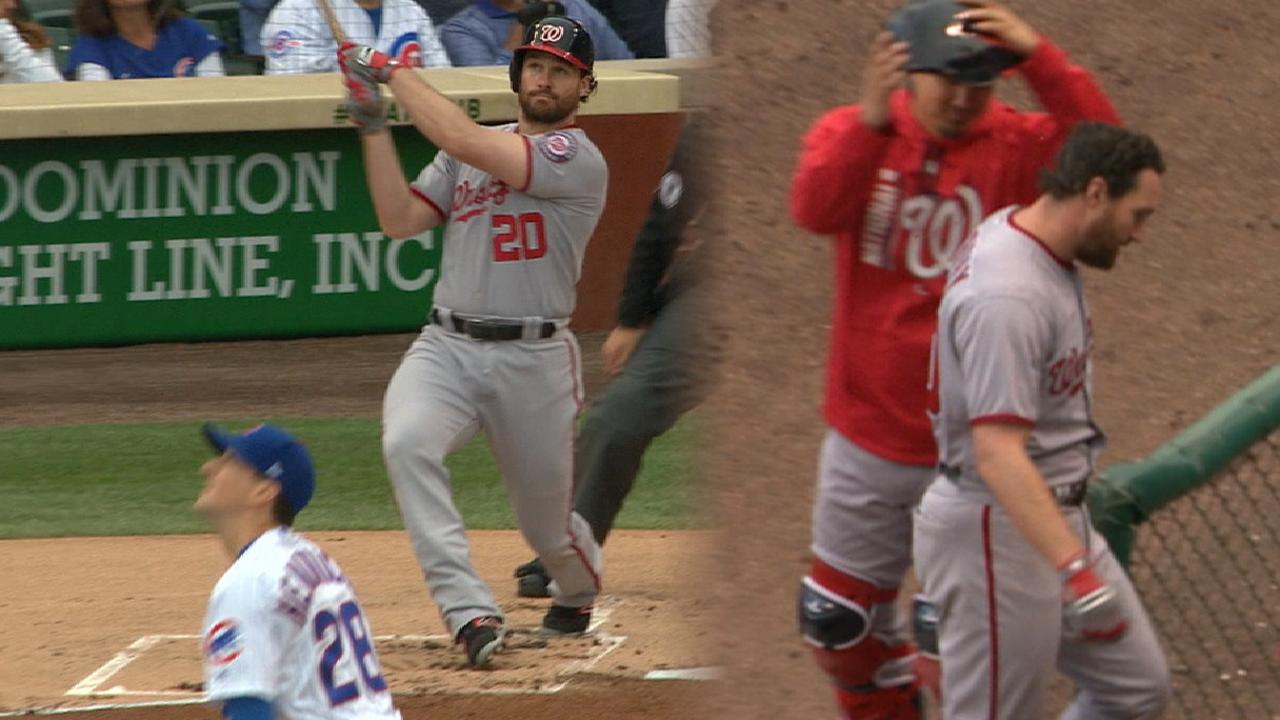 Jackson, who is coming off his best start with Washington, has a 2.84 ERA in 19 innings with his 12th club. He pitched for the Cubs from 2013-15. In 82 outings for Chicago, Jackson went 16-34 with a 5.37 ERA, eventually being sent to the bullpen.
After his future in the rotation came into question, Lackey turned in his best month of 2017, going 3-0 with a 3.27 ERA in four starts, striking out 16 in 22 innings. Lackey has been a factor in the Cubs' rejuvenated rotation, which had a 3.03 ERA in the second half entering the weekend, tied with the Dodgers for the Majors' best in that span.
Spin City: LAD@NYM, 4:05 p.m.
Rich Hill will make his first start for the Dodgers since being named National League Pitcher of the Month for July. Bothered with a blister on his pitching hand earlier this year that led to two disabled list stints, Hill has regained frontline form, going 4-0 with a 1.45 ERA in July.
He's been particularly effective in large part due to his command, with 40 strikeouts and just five walks last month. With one of the highest curveball rates in the Majors, Hill complements his repertoire with a strong fastball, one that has a .192 expected batting average, according to Statcast™, which ranks behind only Chris Sale in that category.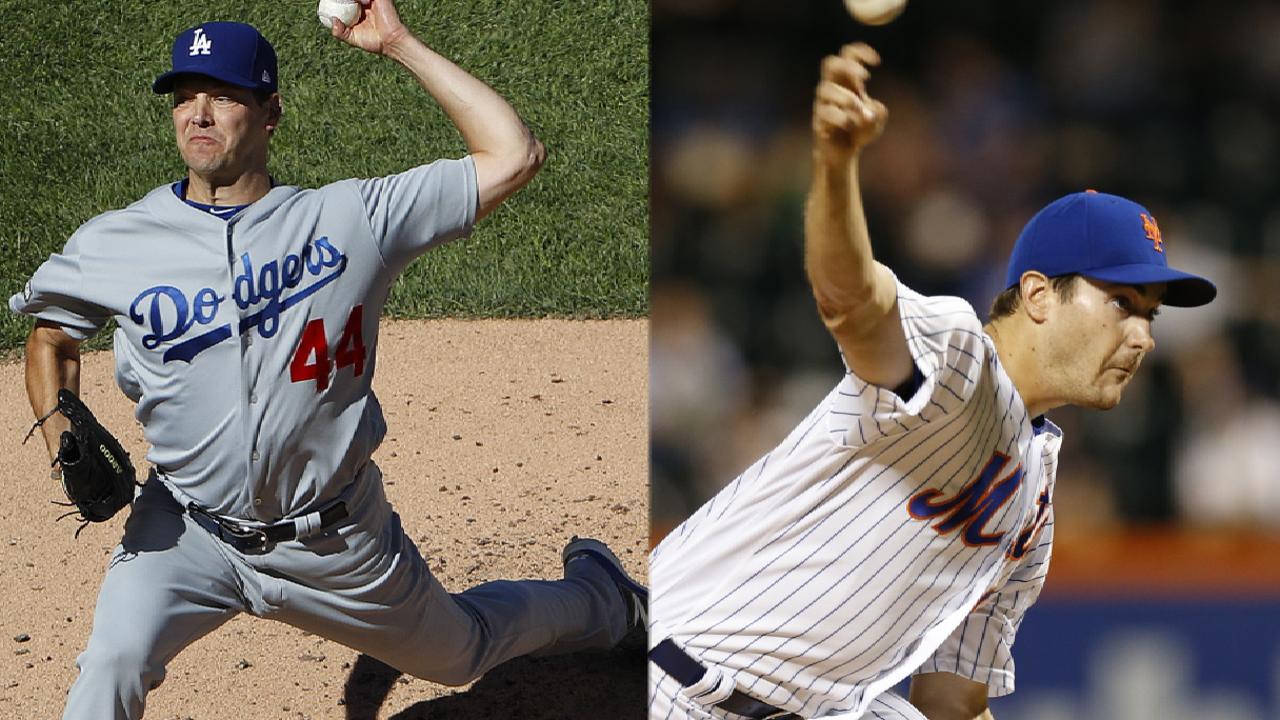 The 37-year-old lefty will face another southpaw specializing in curveballs. The Mets' Seth Lugo has an average spin rate of 3,074 rpm on his curve -- the highest in MLB among 121 pitchers who have thrown the pitch at least 150 times.
This is easily the Statcast™ Matchup of the Day.
Wild Card chase: MIL@TB, 6:10 p.m.
Should the season end today, the Brewers and Rays would be the first teams on the outside in each Wild Card race. Milwaukee is 5 1/2 games behind the Rockies in the NL, and their best chance to reach the postseason will likely be winning the NL Central, as they are just a half-game behind the Cubs. The Rays are only a half-game back in the American League Wild Card but 4 1/2 back in the AL East, plus they would need to leapfrog both the Yankees and Red Sox in the division.
Milwaukee right-hander Zach Davies might be appreciative that his start will come on the road. He's 6-0 with a 2.80 ERA in away outings, but 6-5 with a 6.15 ERA at Miller Park.
For the Rays, righty Alex Cobb will look to overcome his worst start of the season Monday against the Astros, when he gave up eight runs on nine hits and lasted just three innings. He's enjoyed the indoor confines of Tropicana Field this year, going 5-3 with a 2.59 ERA in nine home starts.
Hello again: NYY@CLE, 7:10 p.m.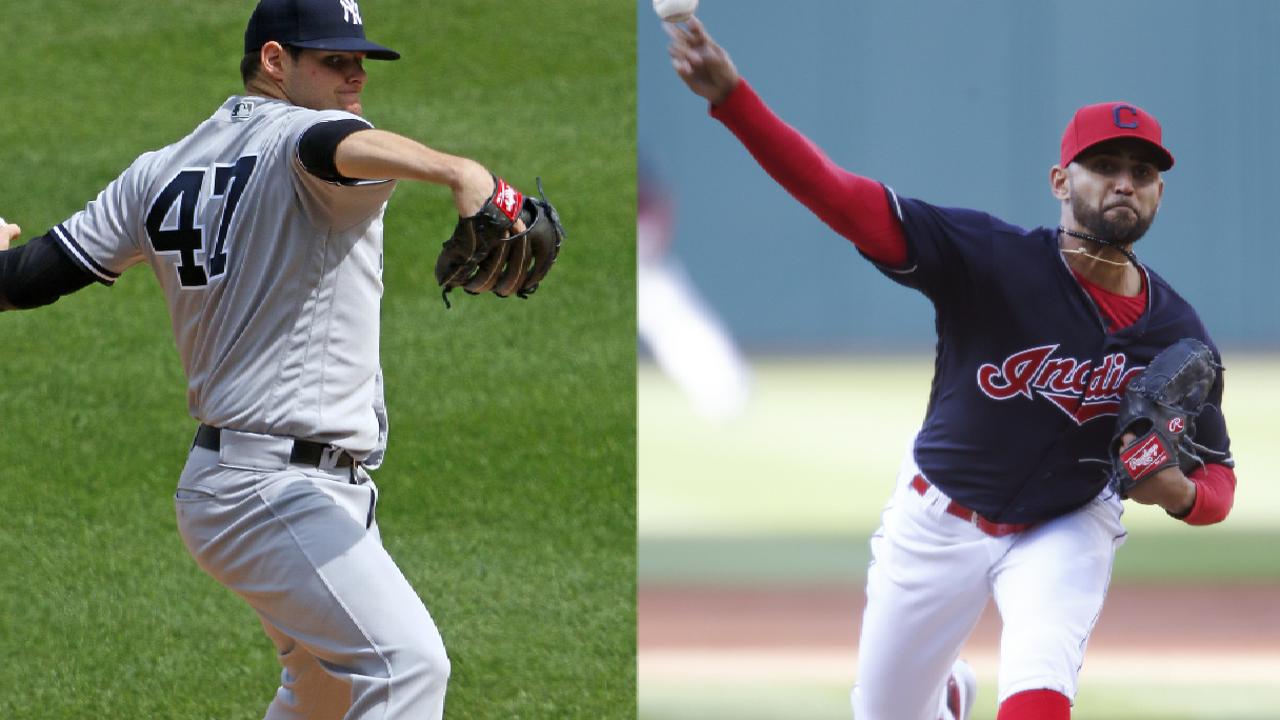 The Indians are in a critical stretch against postseason contenders that will last over a month. Dating back to their series against Boston that began on Monday, Cleveland's entire August slate is against clubs that as of Saturday occupy a postseason spot or are within a half-game of one, with the exception of the Twins.
On Saturday, they'll turn to Danny Salazar, who has been nearly unhittable in two starts since coming off the DL. In that stretch, he's logged 16 strikeouts and held batters to an .095 average.
For the Yankees, left-hander Jordan Montgomery could be fighting for a rotation spot, as the club is expected to revert back to a five-man unit after this time around. With the acquisition of Sonny Gray and Luis Severino throwing 116 pitches in his last start, manager Joe Girardi opted to use a six-man rotation for one turn. The rookie Montgomery lasted a career-low 2 2/3 innings his last time out against the Rays on July 30, giving up four runs and six hits.
Daniel Kramer is a reporter for MLB.com based in Denver. Follow him on Twitter at @DKramer_. This story was not subject to the approval of Major League Baseball or its clubs.