Knapp day to day after taking foul ball off hand
Catching prospect Alfaro called up from Triple-A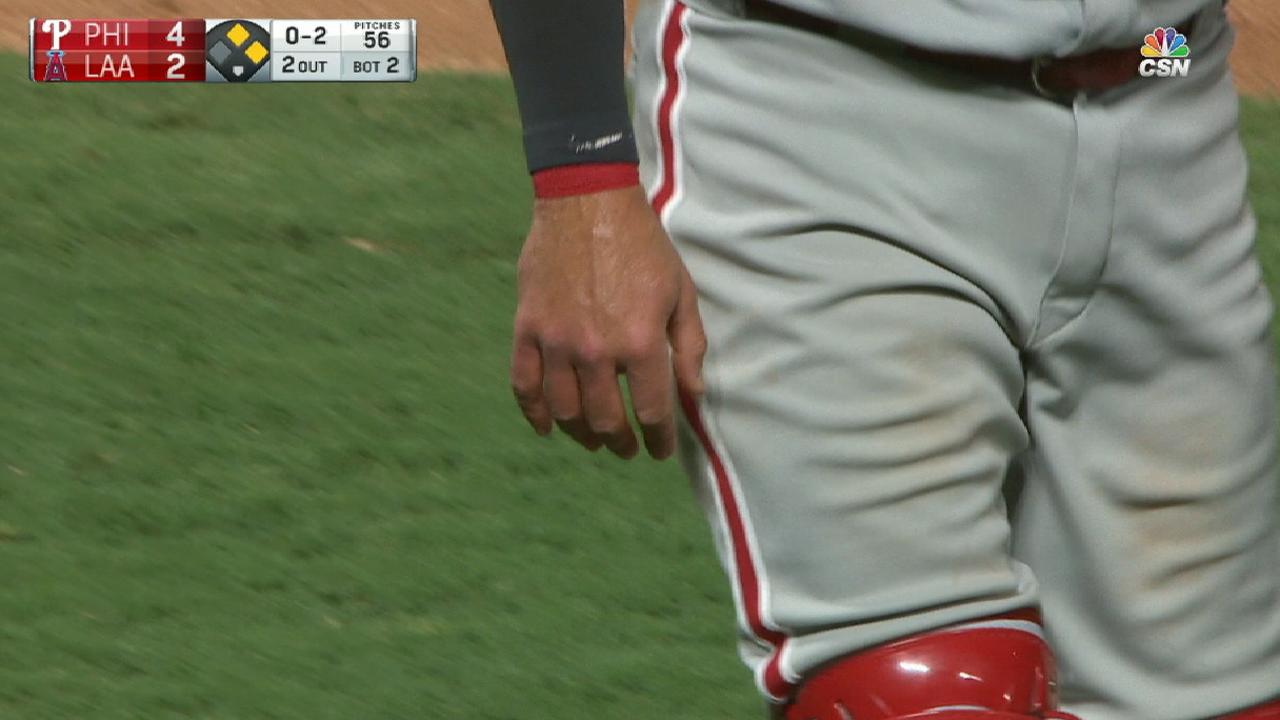 DENVER -- Catcher Andrew Knapp took a foul ball off his right hand in Thursday's 5-4 loss to the Angels, but he won't go on the disabled list.
The Phillies will, however, give him time to heal and carry three catchers in the meantime. Jorge Alfaro was recalled from Triple-A Lehigh Valley before Friday's opener with the Rockies and infielder Ty Kelly was optioned.
Alfaro said he got the call at 2 a.m. ET, after arriving in Buffalo, N.Y., and had to take a connecting flight through Charlotte, N.C.
"It feels good to be back. I don't know how long it's going to be but I'm going to enjoy my time here," Alfaro said. "Whenever they give me an opportunity to play, I'll keep doing what I'm doing, just keep playing hard."
Though Alfaro is a rookie, this is not his first stint in the Majors. He came up in September last year and tallied 17 plate appearances, hitting .125 with 8 strikeouts.
This time around, Alfaro said he is trying to not take anything for granted given that he is out of Minor League options.
"You never stop learning, and I think I'm trying to learn the most, take the most information that I can take in," Alfaro said. "It's not that bad, because you learn a lot from when you fail a lot, and I think this year is going to help me a lot for next year."
Alfaro, 24, was acquired from the Rangers in the 2015 Cole Hamels trade. In 324 at-bats with the IronPigs this season Alfaro is slashing .241/.291/.358 with seven home runs and 43 RBIs. Alfaro has also thrown out 15 of 46 runners attempting to steal.
Worth noting
• Relief pitcher Ricardo Pinto was recalled before Friday's game to replace Jake Thompson on the Phillies' roster. Following Thursday's loss, the Phillies optioned Thompson to Lehigh Valley, but didn't announced the corresponding move until Friday afternoon.
Pinto had a 6.28 ERA in three MLB stints earlier this season (14 1/3 innings). In 58 2/3 innings with Lehigh Valley (18 total appearances, eight starts) Pinto has a 3.99 ERA and a 1.33 WHIP.
Max Gelman is a reporter for MLB.com. He covered the Phillies on Friday. This story was not subject to the approval of Major League Baseball or its clubs.