Gibson to return to Twins' rotation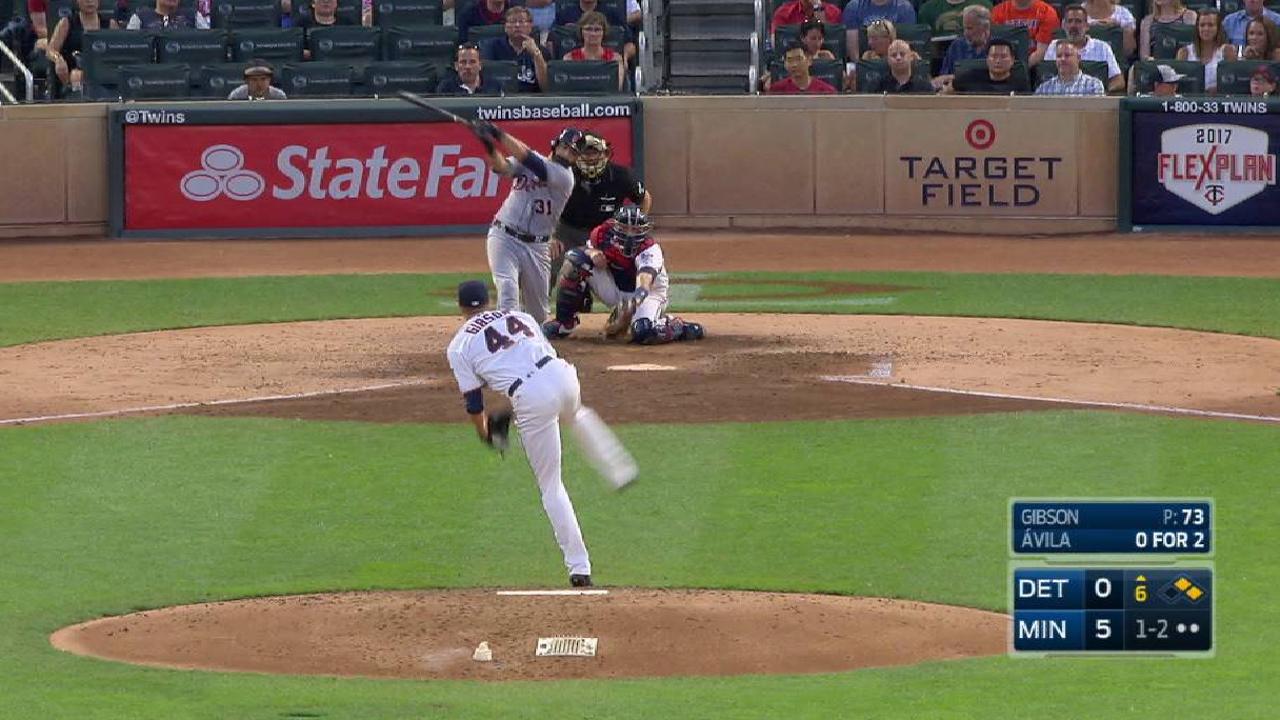 MINNEAPOLIS -- Right-hander Kyle Gibson found himself the odd-man out when the Twins traded for veteran left-hander Jaime Garcia, getting optioned to Triple-A Rochester on July 24. But Gibson is set to return to the rotation after Garcia was traded to the Yankees on Sunday. Outfielder Zack Granite was optioned to Triple-A Rochester after Friday's 8-4 win to make room for Gibson.
Gibson, who will start Saturday against the Rangers, was coming off a strong start against the Tigers when he was sent to Triple-A, allowing three runs over a season-high 7 1/3 innings on July 22. He made one start with Rochester, throwing five scoreless innings, surrendering one hit with five strikeouts at Triple-A Indianapolis on July 27.
"I think it was just a numbers game at the time," Gibson said. "They told me to just keep up what I've been doing. I felt really good against Detroit, felt good against Houston. Some unlucky stuff there, but I've been feeling really good. My execution has been better. I'm still trying to get ahead of guys and execute as many pitches as possible."
Gibson, who has posted a 6.08 ERA in 18 starts this year, admitted it was tough to hear he was getting optioned for the second time this season. He pitched a bit better in his second stint with the Twins, posting a 4.83 ERA over his last 11 starts.
"Any time you get sent down, it's never easy, whether you deserve it or not," Gibson said. "So it was tough, but you have to understand and be a professional about it. They have decisions they need to make and unfortunately I was the one who had to go. But fortunately, I got to see some family and talk to some guys down there. I'm just trying to make an impact wherever I am."
As Gibson noted, one benefit was that his lone Minor League start came in Indianapolis, which is where he grew up. He had 70 family members and friends at the game, including both sets of grandparents.
"It was a little bittersweet, because I didn't really want to see family at that time," Gibson said. "But I was able to see my grandparents, who I hadn't seen in four months. They're 80 and getting older. So I was able to get some quality time with the family."
Gibson added he's staying positive, even after the trades of Garcia and closer Brandon Kintzler. The Twins entered Friday 4.5 games back of the second American League Wild Card.
"We're still pretty excited about where we're at and pretty confident," Gibson said. "I'd like to be the guy who can solidify the rotation. Hopefully we can get on a roll here and before you know it, we'll be leading the Wild Card."
Worth noting
• Left-hander Hector Santiago, on the 10-day disabled list since July 3 with an upper back strain, made his third rehab assignment start with Rochester on Thursday. He allowed one run on one hit over 5 2/3 innings with nine strikeouts. But the Twins are still determining his next step.
"It's not finalized yet," Twins manager Paul Molitor said. "Obviously, last night was the best outing that he's had of the three. He escalated with his pitch count, plus-90. We're going to try to see what the next step is."
Rhett Bollinger has covered the Twins for MLB.com since 2011. Follow him on Twitter @RhettBollinger and Facebook. This story was not subject to the approval of Major League Baseball or its clubs. This story was not subject to the approval of Major League Baseball or its clubs.