Montero lands on DL with groin strain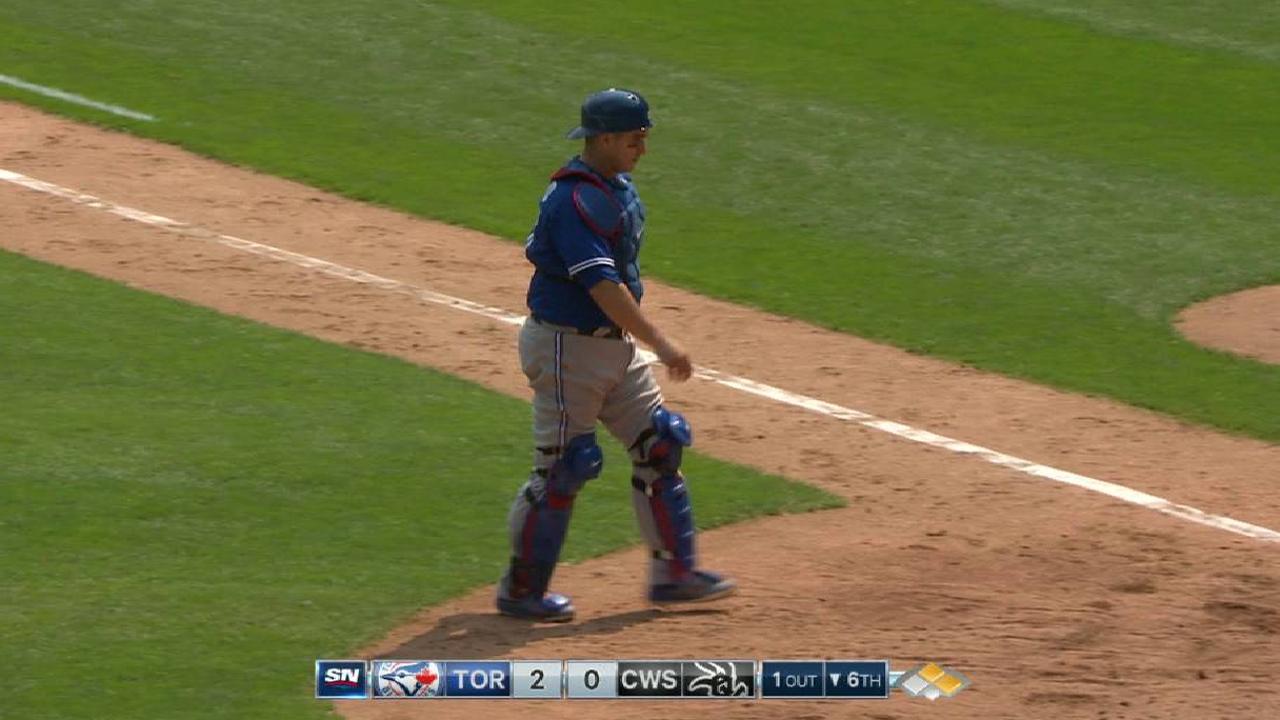 HOUSTON -- Prior to Friday's opener of their three-game series against the Astros, the Blue Jays placed catcher Miguel Montero on the 10-day disabled list with a strained right groin and recalled catcher Raffy Lopez. Toronto also optioned right-hander Joe Biagini to Triple-A Buffalo and activated right-handed reliever Danny Barnes.
Montero left Wednesday's game with a groin strain after fielding a foul ball in Chicago. Montero fielded a ricocheting comebacker that hit Blue Jays pitcher J.A. Happ before exiting the game before the following inning.
A timeline for Montero's return remains unclear, manager John Gibbons said.
Lopez, who has appeared in 15 career Major League games, will join the Blue Jays for the time after hitting .293 with 13 doubles, 12 home runs and 34 RBIs in 59 games with Buffalo. He will back up Russell Martin.
"Haven't seen anything in him yet," Gibbons said of Lopez. "They liked the way that he was playing down there, the guys that have seen him. He headed out to Oakland earlier in the year. We thought we might have had to activate him there, but we didn't have to. It's a good opportunity for him."
Biagini, a right-hander, will start Monday for Buffalo in effort to build arm stamina in the Minors, Gibbons said. Biagini is likely to rejoin the Jays after "a couple of starts" before September, the manager added.
Biagini, who has appeared in 37 games this season and made 11 starts, hasn't started since July 2. With Aaron Sanchez on the DL with a right middle finger blister, Biagini could possibly be called on to start again if he's ready before Sanchez. Sanchez landed on the DL for the fourth time this season on July 22.
"So he'll go down there and let him go up a little bit, make a couple starts," Gibbons said. "He'll start Monday down there. Give him a good look at that."
Other injury notes
• Though Gibbons expects Sanchez to return this season and said the righty is "doing better," Gibbons said Sanchez won't return anytime soon.
• Second baseman Devon Travis, who's been listed on the DL since June 6 (right knee), fielded ground balls in a pregame workout on Friday at Minute Maid Park. Travis has been hitting in the batting cage and will resume running soon, Gibbons said.
"He's building up to kind of when we think he can play some games," Gibbons said. "He looks fine."
Christian Boutwell is a reporter for MLB.com based in Houston. He covered the Blue Jays on Friday. This story was not subject to the approval of Major League Baseball or its clubs.