Maddon shows confidence in Edwards
Manager sticks with reliever in bases-loaded jam; righty escapes with 1 run allowed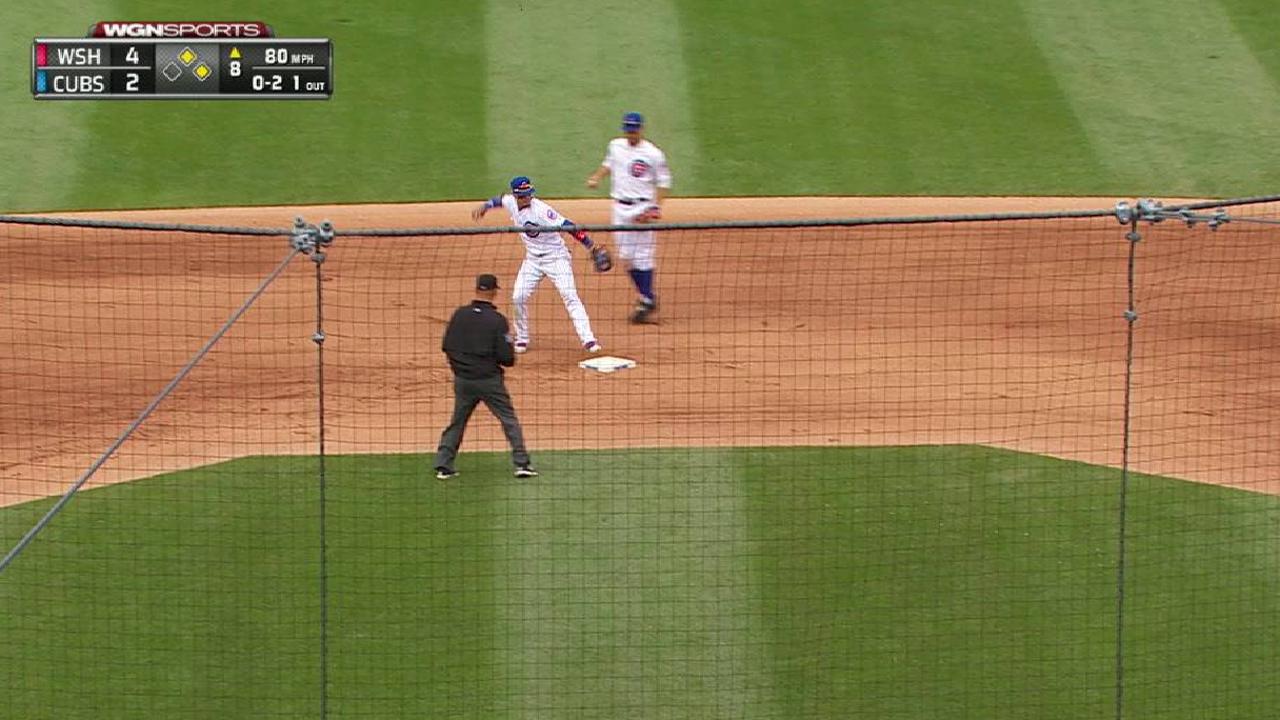 CHICAGO -- Carl Edwards Jr. has struggled with his command, but his manager isn't convinced the problem is all physical.
"It's by no means an overworked issue," Joe Maddon said. "It's just a matter of [a] self-confidence issue right now."
That "self-confidence issue" reared its head again in the Cubs' 4-2 loss to the Nationals on Friday. Edwards came on in the eighth inning and issued a leadoff walk. Two batters later, the bases were loaded with nobody out, but Maddon still had full confidence in the reliever.
"I wasn't forcing it," Maddon said. "I kind of liked it. We're down by a run. That part of the batting order is the kind that he normally gets to pitch against."
With the chance to clean up his own mess, Edwards did exactly that.
Despite issuing his 13th walk in his past 12 outings -- for reference, he only walked 14 batters in 36 outings last year -- and loading the bases with nobody out, Edwards got out of the jam with only one run allowed. As it so happened, though, he was only in that position because Maddon tried a different approach the day before.
In the series finale against the D-backs on Thursday, Edwards came on in the eighth and walked the first two batters he faced. Maddon called for a pitching change right away, in part to keep Edwards available for Friday, but also to keep reliever Justin Wilson from having to come into a game with the bases juiced.
"I didn't want the bases loaded and then bring Justin in," Maddon said. "The last time I did that with [Hector] Rondon, I hated me."
The instance Maddon referred to came on July 21 against the Cardinals, a scene that almost exactly mirrored what happened on Friday.
In that game, the Cubs led, 3-2, as the eighth inning began. Edwards allowed a Matt Carpenter double and walked the next two batters to load the bases with nobody out. Maddon then turned to Rondon, who allowed all three runners to score in a game that quickly got out of hand.
On Friday, Maddon changed his approach. He stayed with Edwards and let him work out of trouble. Based on Maddon's comments after the game, that would appear to be the approach he'll take moving forward.
"[After the bases were loaded], I thought the curveball became more active, everything became more active. The number went higher on the gun," Maddon said. "And I want to keep putting him out there. This guy's good. He's really one of best young relief pitchers in the National League."
Scott Chasen is a reporter for MLB.com based in Chicago. This story was not subject to the approval of Major League Baseball or its clubs.