New closer seals 300th win for Ausmus
Manager praises Greene's quick work in 3rd straight save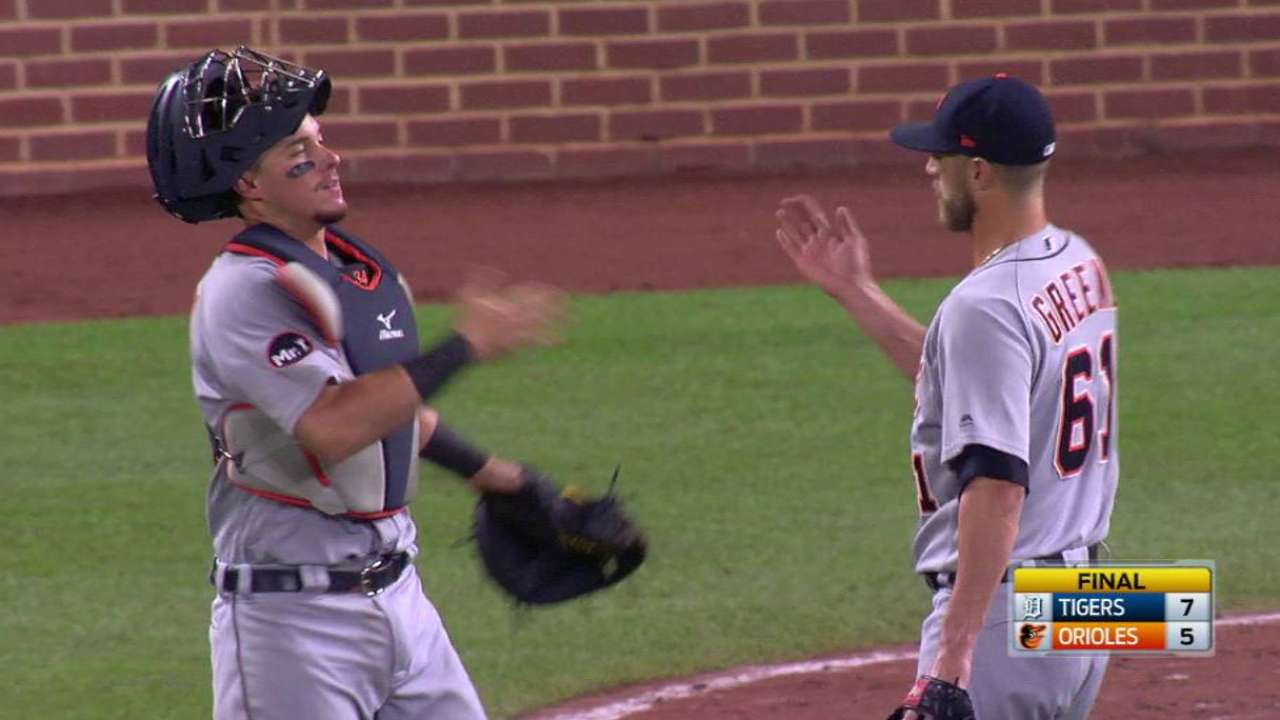 BALTIMORE -- Brad Ausmus recorded his 300th managerial win in a 7-5 Tigers victory in the series opener against the Orioles on Thursday evening. But what looked like an easy win turned into a close game that depended on the arm of newly named closer Shane Greene.
"I didn't [know]," Ausmus said of his 300th win. "I'm definitely not conscious of it [during the game]."
In the dugout, Ausmus was focused on a 7-0 lead that quickly diminished to a two-run advantage entering the ninth inning, leading him to use Greene in a third consecutive game.
"I talked to him [before the game]," Ausmus said. "I think because of the efficiency last night, I felt -- after I talked to him -- I felt like I could use him. And he said he was fine, so I had no problem. I wasn't worried about him."
Despite working on no rest, Greene pitched a quick 1-2-3 inning, inducing a popout to second from Adam Jones before getting Manny Machado to line out to second and Jonathan Schoop to ground out to shortstop. Greene extended his season-high scoreless streak to 14 1/3 innings.
It was the third consecutive save for Greene, who welcomed having to face save situations so quickly in his new role.
"Absolutely," he said. "I was really anxious to get the first [save] out of the way, but even tonight was a little bit easier for me, as far as preparations and routines getting easier. I'm going out [to the bullpen] in the fourth when I had been going out in the first, so a little bit different routine. Trial and error still, but today I was pretty comfortable."
Greene relieved Edward Mujica, who made his 2017 debut in the seventh inning after getting called up prior to Thursday's game. Mujica went two innings, allowing one run on two hits, including a solo shot to right field by Tim Beckham in the eighth. But, Greene was there to pick up his new teammate in the ninth and shut the Orioles down for the Tigers' fifth win in the past six games.
"The last two have been extremely efficient," Ausmus said of Greene's outings. "The first one was a five-out save, so it's tough to be efficient there. But the last two, he's been extremely efficient. He's gotten quick outs and has kept his pitch count down."
Greene's save allowed Ausmus to add his first big managerial milestone on top of an 18-year Major League career as a catcher, where he ranks third all-time among catchers with 12,839 putouts, and 10th in innings played with 15,840 2/3 and games started (1,766).
"No, I don't need to get the game ball for [the 300th win]," Ausmus joked.
Mandy Bell is a reporter for MLB.com based in Baltimore and covered the Tigers on Thursday. This story was not subject to the approval of Major League Baseball or its clubs.