Ex-starter Castro goes long way for O's bullpen
Young hurler throws 6 scoreless innings after Tillman lasts just 2-plus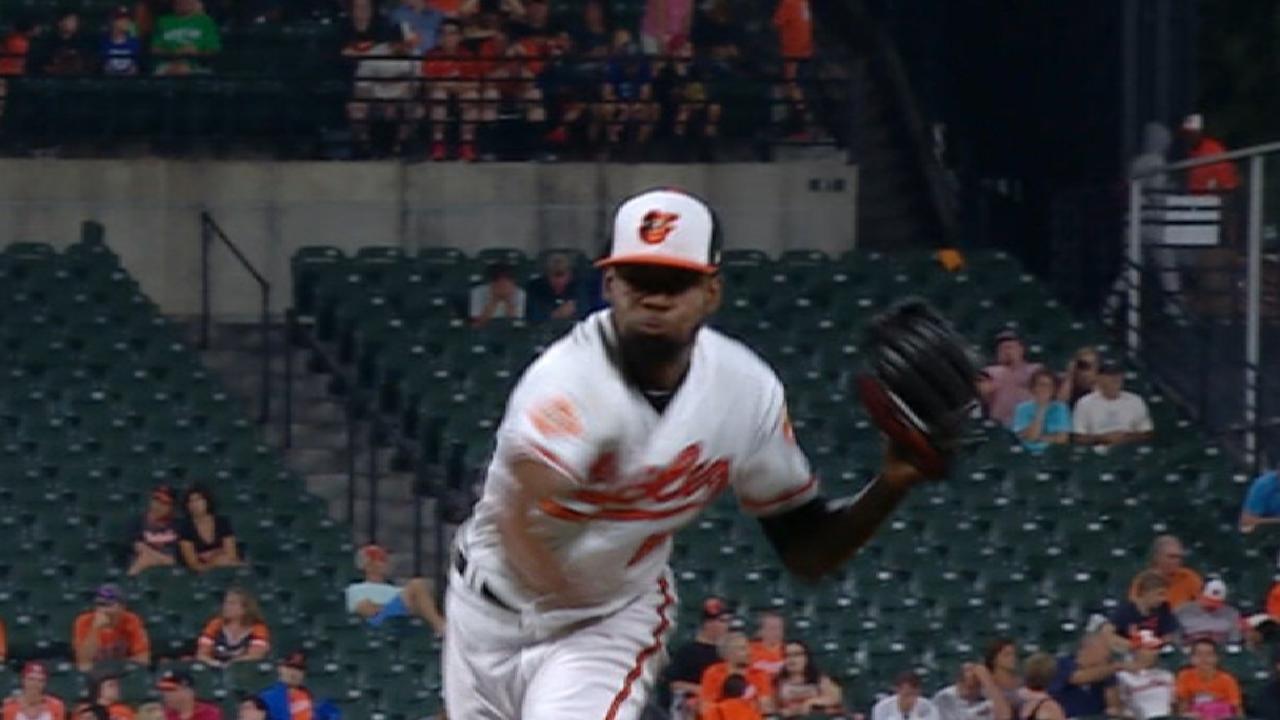 BALTIMORE -- It's not often a reliever has a longer outing than his starter, but that's what happened Thursday night as Miguel Castro continues to impress out of the Orioles' bullpen.
Called upon after Chris Tillman couldn't record an out in the third, Castro allowed one hit over a career-high six scoreless innings, enough for a quality start himself in the O's 7-5 series-opening loss to the Tigers.
"We've considered that all along," Orioles manager Buck Showalter said of Castro, who signed with the Blue Jays as an international free agent in 2012. "That's why he was starting at [Double-A] Bowie. That's what he started out as before they did some experimenting with him in Toronto.
"So there's always that background because of the third pitch. You understand the environment which you come in there in that come to the rescue mode. ... Kept waiting to see him maybe need some help out there. If we win or are competitive the next three or four days, a lot of it has to do with the people we didn't have to use tonight because of what Miguel did."
Castro, acquired from the Rockies in April in exchange for a player to be named or cash considerations, has now allowed just two earned runs over his past 36 innings. The righty has pitched in a career-high 22 games, and six of those have been stints of two innings or more. He had just one career appearance of more than two innings entering the season.
So what has made Castro so effective out of the 'pen?
"Commanding the ball, putting the ball low in the zone," he said through an interpreter. "What I wanted to do was [do] the best of my ability. To do a great job. I was very surprised [to go six innings]."
Castro walked one and struck out two while lowering his season ERA to 2.73. He entered tied for the lowest ERA in the Majors since May 26 (minimum 10 games), and has been able to bail out the O's short starts -- without further taxing the bullpen -- several times already this year.
The 22-year-old may stay in long relief or could be a future candidate to get a start. But Showalter will do everything possible to make sure Castro stays on the active roster.
"I've said it several times, when a guy pitches well, I'm going to do everything not to send him out. That's the way it's supposed to work," Showalter said when asked if the righty, who won't pitch for a few days, is a candidate to be optioned if the O's need a fresh bullpen arm. "There's a time and place for it, but we haven't had to do that this year. Maybe once. He's pitched well enough to deserve to be here."
Brittany Ghiroli has covered the Orioles for MLB.com since 2010. Follow her on Facebook and Twitter @britt_ghiroli, and listen to her podcast. This story was not subject to the approval of Major League Baseball or its clubs.