Mariners' mistakes open door for Royals' rally
Costly walks, Valencia's error fuel key 6th, 7th frames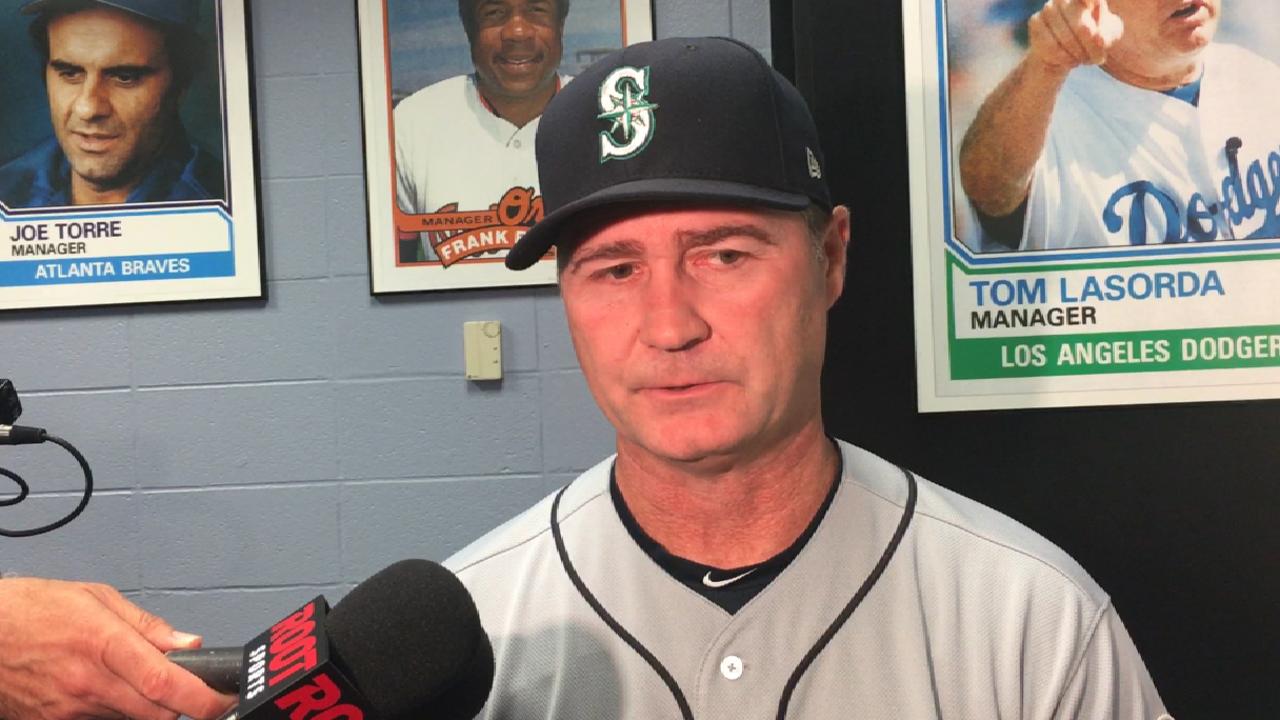 KANSAS CITY -- After seven seasons with the Royals, Mariners center fielder Jarrod Dyson knows well how they operate. And even before Thursday's opener of a key four-game series, the speedy Dyson warned that his club had to be on top of its game because the playoff-experienced Royals do the little things to win when it counts.
So sure enough, the Royals dug in twice to come from behind for a 6-4 win, taking advantage of some Mariners miscues to put the hammer down in a game that put Kansas City 2 1/2 games ahead of Seattle in the American League Wild Card chase, improving to 4-0 against the Mariners this season.
"Those guys don't give up," Dyson said. "They play a little harder when they sniff it. We made a couple mistakes that we could have cashed in on and left a lot of runners on base. It was a tough game, but we have to bounce back tomorrow. We can't hang our heads behind this loss, we have to come back and play again tomorrow."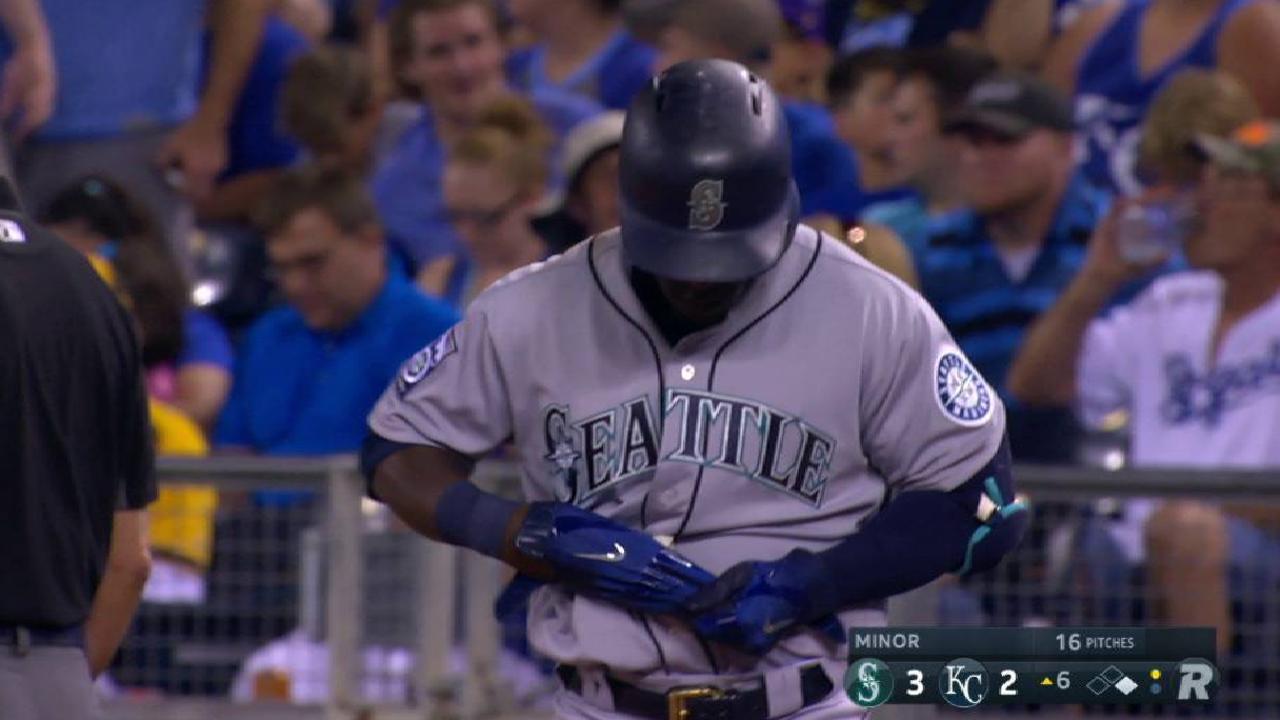 A couple critical walks spoiled an otherwise strong start by Yovani Gallardo as the Royals first overcame deficits of 2-0 and 3-2. Then, first baseman Danny Valencia, who helped put the Mariners in front in the first place with a home run off the right-field foul pole in the fourth and a double and run scored in the sixth, made a critical error when he dropped a throw from third baseman Kyle Seager. That opened the door for the Royals' go-ahead two-run rally in the seventh.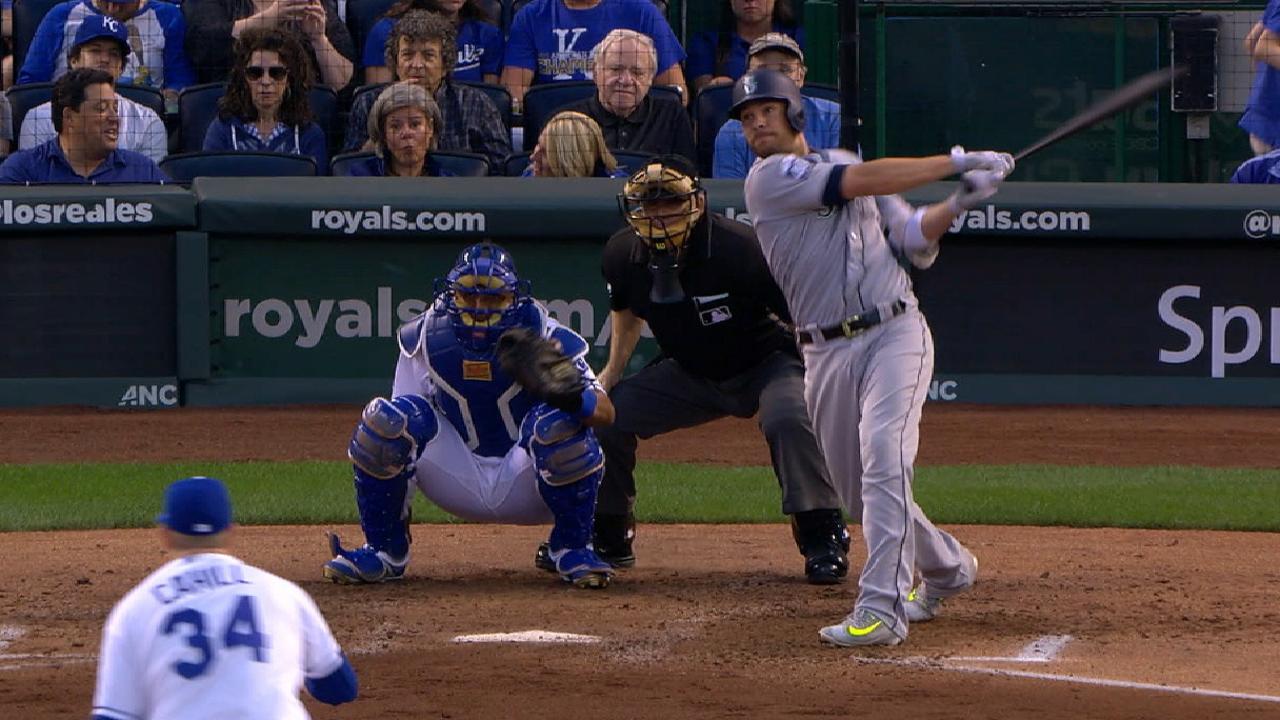 "It was a fantastic play by Seager to come get that ball barehanded," manager Scott Servais said of Whit Merrifield's one-out roller down the line. "Danny just misjudged it or whatever. It just kicked off his glove. It would have been two out and a man on third, instead it's [one out and] first and third.
"But again, we didn't execute the pitches quite we needed to and make the plays down the stretch. You have to do that against this ballclub. Tight game, two evenly matched teams, they just got the bigger hits at the end."
Once the Royals tied the game at 3 with an RBI single by Mike Moustakas off Marc Rzepczynski in the sixth, Servais went to rookie reliever Emilio Pagan for the seventh. Pagan had allowed just one run in his previous 21 1/3 innings of long relief, but he was moved into a higher-leverage situation for the first time and gave up three runs (two earned) on four hits over the final two frames.
"If we had the lead, it might have been a little different," Servais said of his choice to go with the youngster. "Pagan has done a really nice job for us. He's been one of our hottest guys in the bullpen. So we thought we'd go to him tonight, and he just didn't quite get it done."
"I just didn't make good pitches tonight with my fastball," said the 26-year-old right-hander. "I left it a little too low. Going up is my bread and butter and I just didn't get it up enough tonight. Live and learn."
Which is where the Mariners find themselves as they regroup for the rest of this key series.
"We're chasing those guys and we're pretty close up on their tails, compared to where we were early in the season," Dyson said. "Those guys are the same way. They had a bad start, we had a bad start. It's all about showing up again now and being ready to play for nine."
Greg Johns has covered the Mariners since 1997, and for MLB.com since 2011. Follow him on Twitter @GregJohnsMLB. This story was not subject to the approval of Major League Baseball or its clubs.