MLB.com Columnist
Anthony Castrovince
Sonny & Yu: All eyes on Deadline's top prizes
A night after Gray foiled in Yankees debut, Darvish takes ball for LA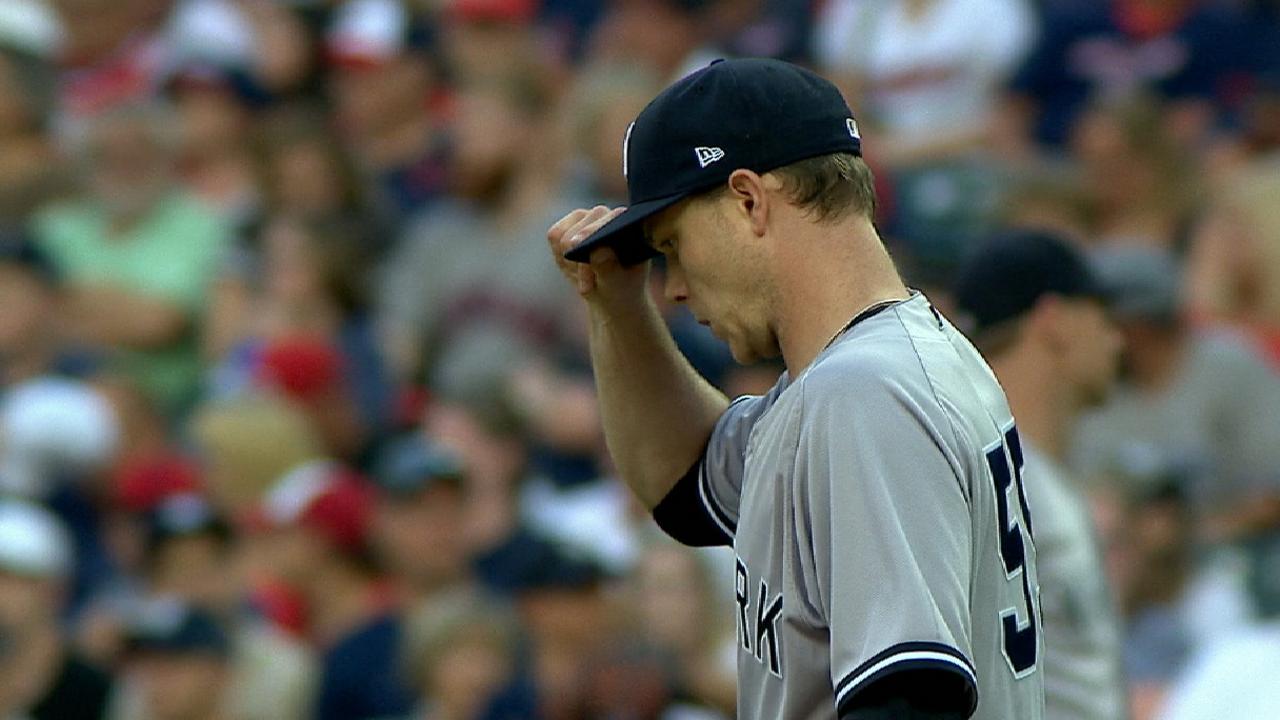 CLEVELAND -- The illustrative object was Sonny Gray's ill-fitting Yankees cap. It was just a touch too wide atop the pitcher's pate, occasionally shifting askew in a game that also went sideways for Gray's new club. Three days after a Trade Deadline blockbuster seemingly solidified the Yanks for the stretch run, Gray and the guys in gray fell, 5-1, to the Indians at Progressive Field, thanks to some damning defense and a brilliant effort from a long-ago -- and far more low-profile -- Deadline acquisition in Corey Kluber.
If you needed a metaphor for the atmosphere of acclimation taking some place in many contenders' clubhouses right now -- the very type of bearings-gathering that will be on display when Yu Darvish makes his Dodgers debut at Citi Field at 7:10 p.m. ET on Friday night -- Gray's cap provided it.
"It's a little too big," Gray said after allowing four runs, only two of which were earned, on four hits with six strikeouts and three walks in six innings. "We've gotta get my sizes down."
In sizing up baseball's pennant races, we've all had to account for the acquisitions made in those final, frenzied moments before the clock hit 4 p.m. ET on Monday.
Gray and Darvish were the signature starters that changed hands on Deadline Day, and their respective debuts on consecutive days remind us that the season is ramping up, with roster reinforcements ready to make their mark. And coupled with the fact that they now play for two of MLB's marquee franchises -- who have met in the World Series 11 times -- well, that only adds to the intrigue and excitement.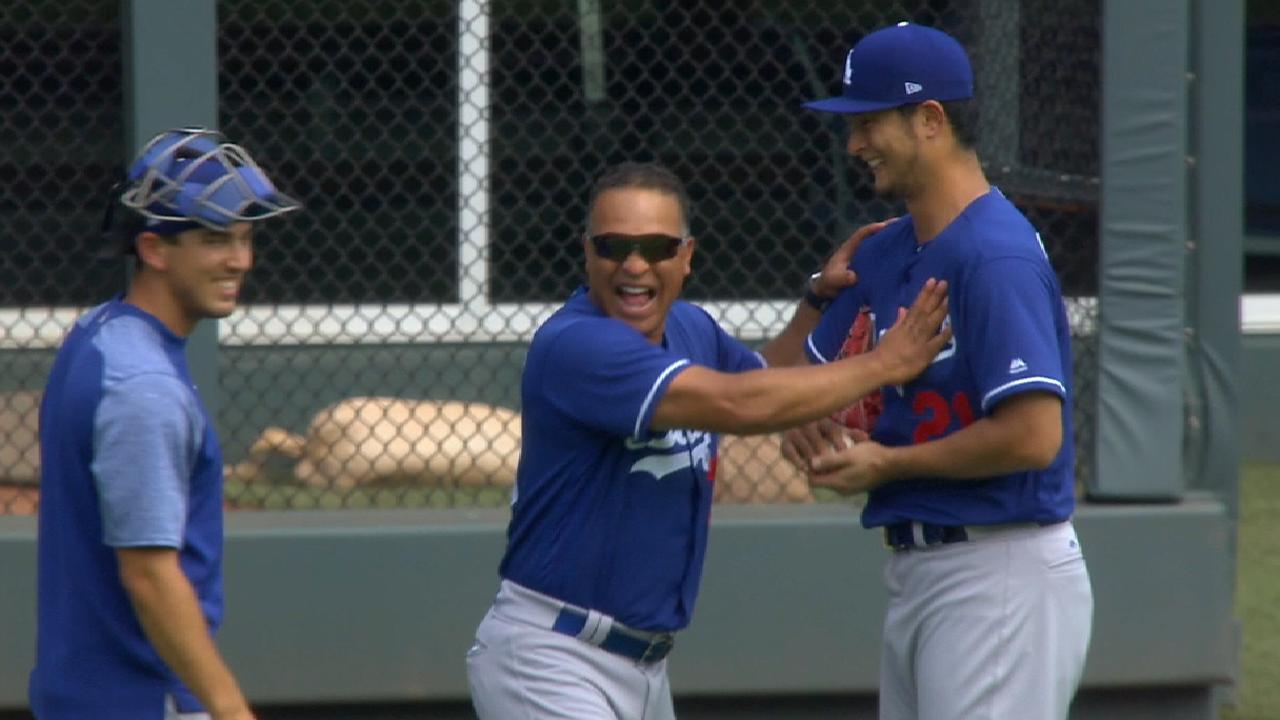 For Gray, the results Thursday were as uneven as the pregame conditions. BP was banged, the skies oddly alternating between bursts of sunshine and blasts of rain. So let the meteorological record show that the advent of Sonny Gray's Yankees career really was sunny and gray.
It was also error-prone. Gray went from an A's team with the highest error total and the worst defensive runs saved mark in baseball to a Yanks team that, amazingly, made three miscues behind him in his first inning of work. Lucky him.
First baseman Chase Headley and second baseman Tyler Wade each made a fielding gaffe to put runners on the corners, and Jose Ramirez's single to right scored two instead of one thanks to Clint Frazier -- a Deadline parcel shipped between these two clubs one year ago -- air-mailing his throw to third.
Those two unearned runs of support would hold up in the hands of Kluber, who was quietly acquired by the Indians from the Padres in a three-team swap that sent Jake Westbrook to the Cardinals on Deadline Day in 2010 -- and has since emerged as one of the game's elite arms. He tossed his third complete game of the season, allowing just a Gary Sanchez solo shot while striking out 11 to put himself in some special K company.
Anyway, the error and the opponent and the Yankees' continued recent trend of flaccid at-bats didn't matter to Gray. He would verbally kick his own keister over the pair of runs he surrendered in the sixth, when a walk to Carlos Santana with none on and two out paved the way toward Yan Gomes' two-run double.
"If I can shut that sixth inning down, it's a completely different ballgame," said Gray, who was pitching for the first time since July 25. "It's one of those things that kind of got away from me for a couple hitters, and they took advantage of it."
That there's the sound of a new guy unnecessarily/necessarily falling on the sword. Gray is like so many other recent residents of the transaction wire in that he's trying to mesh with his mates, and if that means saying the right -- as in agreeable, if not necessarily accurate -- thing, so be it.
It says here that, pitching-wise, Gray is going to be just fine. But the unknowable beauty of these Deadline deals is that the stretch-run sample is so small that the paper projections are especially obsolete. It can be fascinating to watch already solid squads take on new identities on the fly. That is especially true of Gray's Yanks, who added not just the potential rotation anchor but also relievers David Robertson and Tommy Kahnle and slugger Todd Frazier to their stash. Even the Dodgers, a team that was already winning 70 percent of its games, made some major shakeups by dealing for Darvish and lengthening the 'pen.
"Personalities of teams are kind of changing this time of year," Indians manager Terry Francona said. "It's interesting to see where they go."
Through very little fault of his own, Gray had a rough go of it his first time out, but he'll enter his next start likely with less adrenaline and a better-fitting ballcap.
Now, it's Darvish's day, his debut with a team on a 114-win piece that rented him as the possible finishing touch to a World Series title 29 years in the making. Like Gray, Darvish will have a tall task in his initial assignment, opposing the Mets' Jacob deGrom, who has a sparkling 2.27 ERA at home. Try that on for size.
Anthony Castrovince has been a reporter for MLB.com since 2004. Read his columns and follow him on Twitter at @Castrovince. This story was not subject to the approval of Major League Baseball or its clubs.