Girardi, Yanks impressed with Sonny's first start
Errors cloud debut, but right-hander fans six over six innings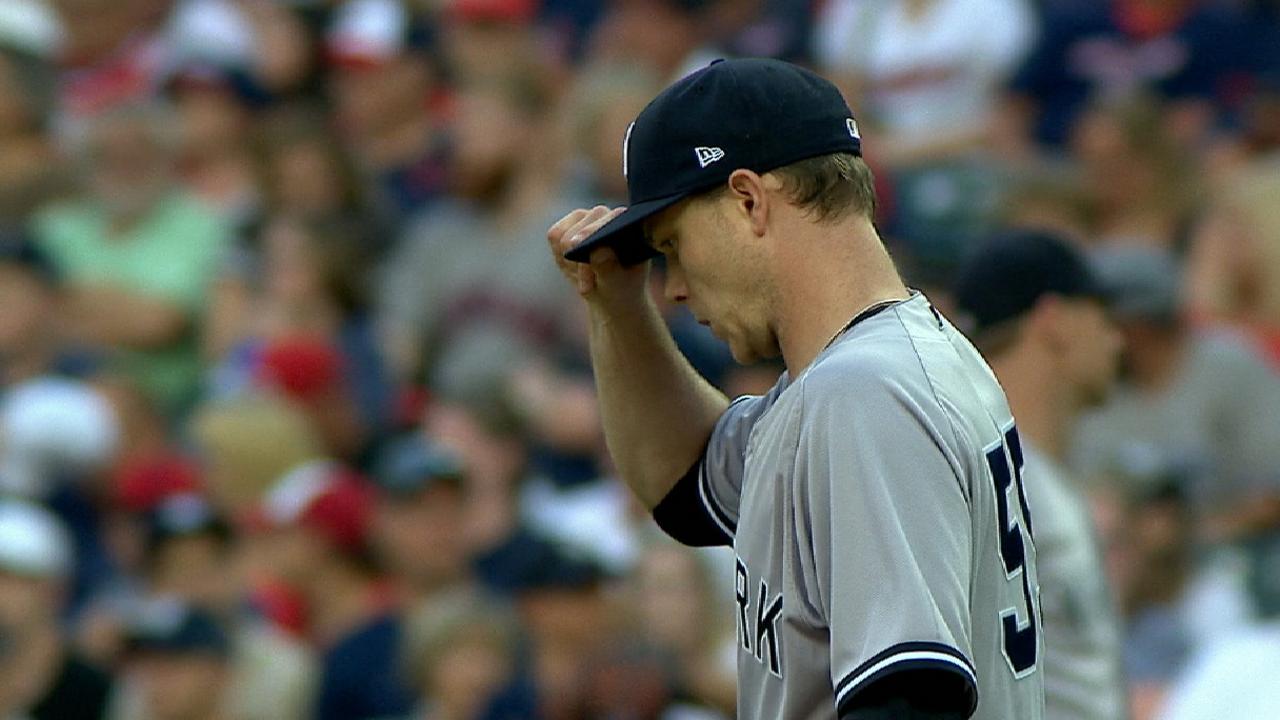 CLEVELAND -- For the most part, Sonny Gray lived up to expectations in his new uniform, peppering the bottom of the strike zone with late movement over six solid innings. The Yankees wish their defenders could have turned in a better first impression, however, as they welcomed the right-hander to their postseason chase.
Gray's debut was upstaged by three first-inning errors, producing two unearned runs and placing the Yankees in an early hole against ace Corey Kluber. They were not able to recover, as Kluber went the distance in a 5-1 Cleveland victory over New York on Thursday at Progressive Field.
"I was excited. I was looking forward to this moment for a while," Gray said. "I was looking forward to pitching. It's been a while since I've been out there on the mound. Overall I felt pretty good, but at the same time, I just came up a little short there at the end."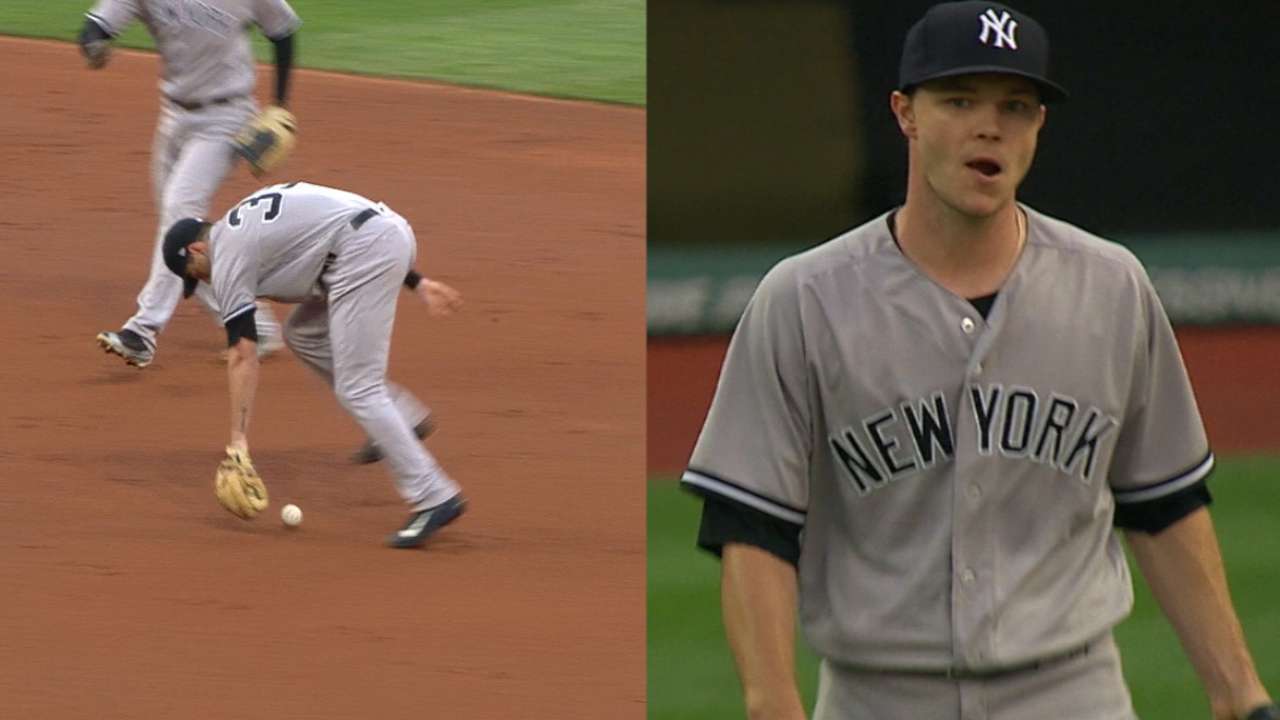 Acquired from the A's on Monday's non-waiver Trade Deadline in exchange for prospects Dustin Fowler, James Kaprielian and Jorge Mateo, Gray took the mound for the first time since July 25 at Toronto. He quickly had to deal with what manager Joe Girardi called "probably as bad a first inning as we've had all year."
• Sonny & Yu: All eyes on Deadline's top prizes
Bradley Zimmer chopped a routine ground ball to first base that Chase Headley booted, and two batters later, second baseman Tyler Wade couldn't get a handle on a Michael Brantley grounder. Jose Ramirez followed with a run-scoring single to right field, where Clint Frazier air-mailed a throw to third base for another error.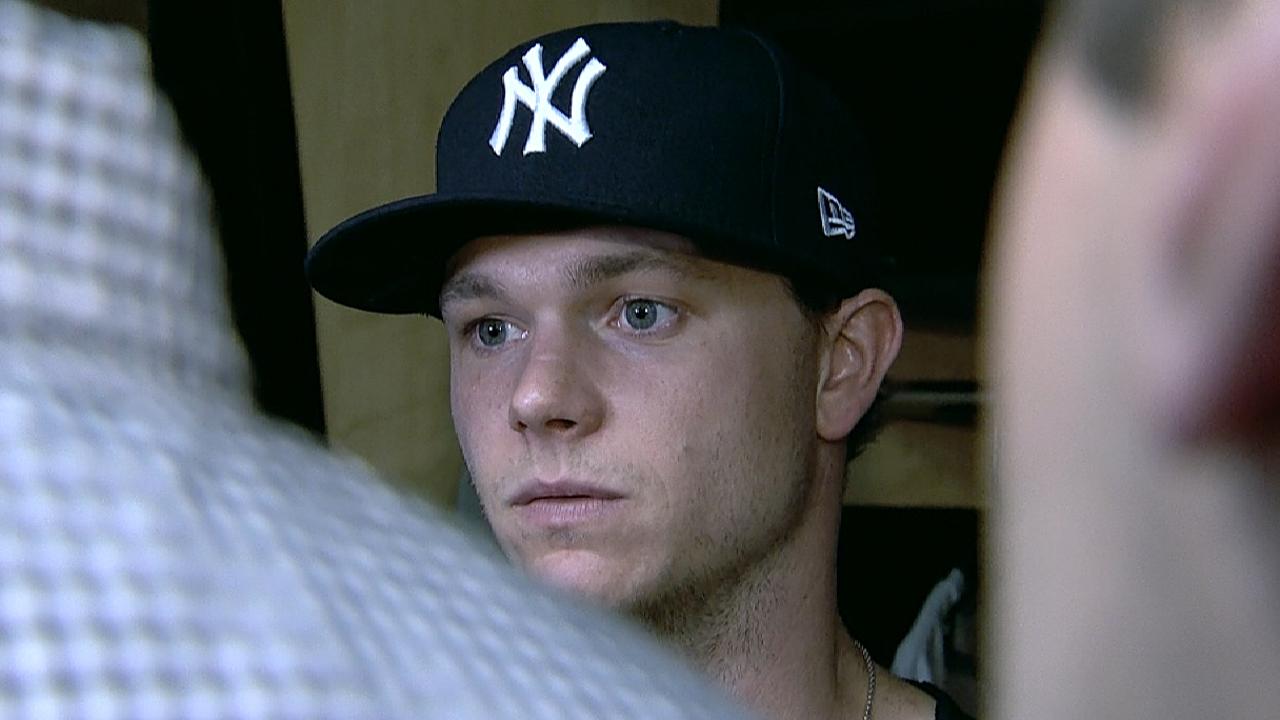 "It leads to extra runs. It leads to extra pitches, which I think makes a difference tonight with Sonny," Girardi said. "I actually thought Sonny threw the ball well. It's unfortunate we gave them those two unearned runs."
Headley said that his relative inexperience at that position may have played a part in the error -- his first since switching infield corners to accommodate Todd Frazier's arrival.
"Learning experience. Next time, let it settle," Headley said. "You've got time over there. It's just habit. You've got to block the ball at third base, block it and get rid of it. I had plenty of time to grab it and step on the base."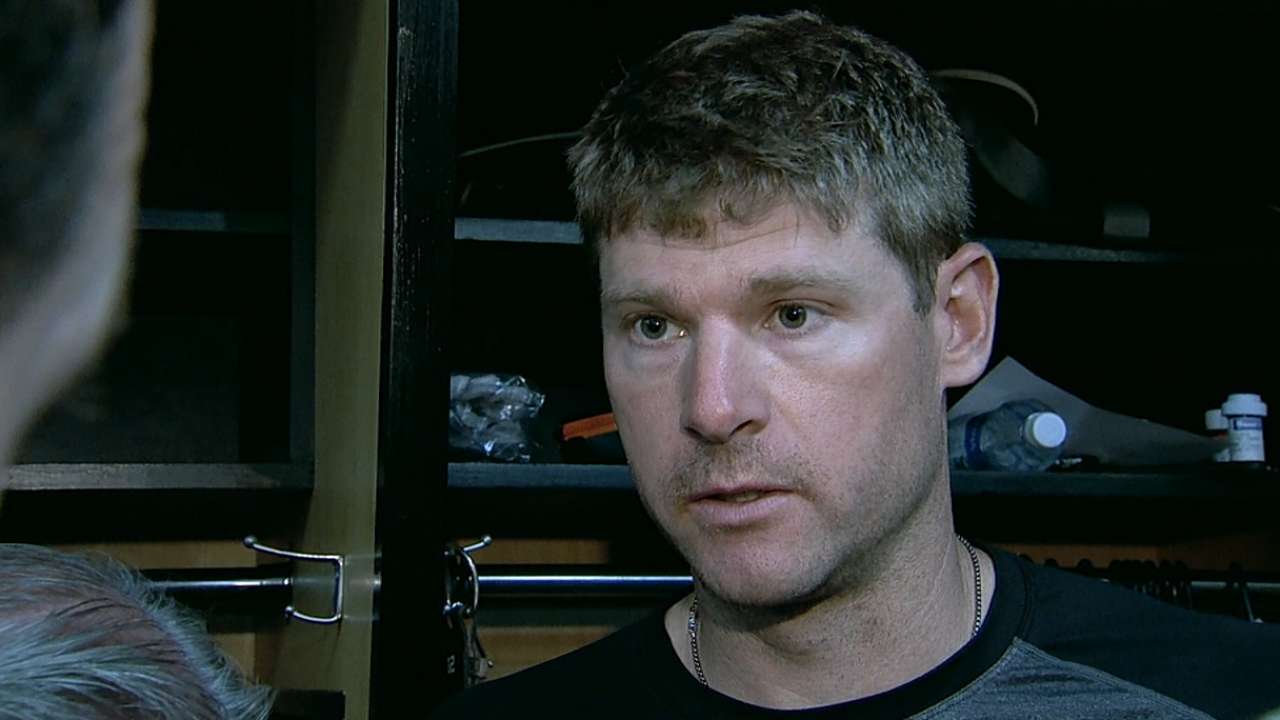 Gray limited the damage, fanning Edwin Encarnacion for his first Yankees strikeout and getting Carlos Santana to fly out to end a 22-pitch frame.
"We were able to come out of the first inning with only two," Gray said. "We kept the runner at third. Coming off, I think we still felt pretty good about ourselves. You've just got to continue to make pitches, and things are going to turn."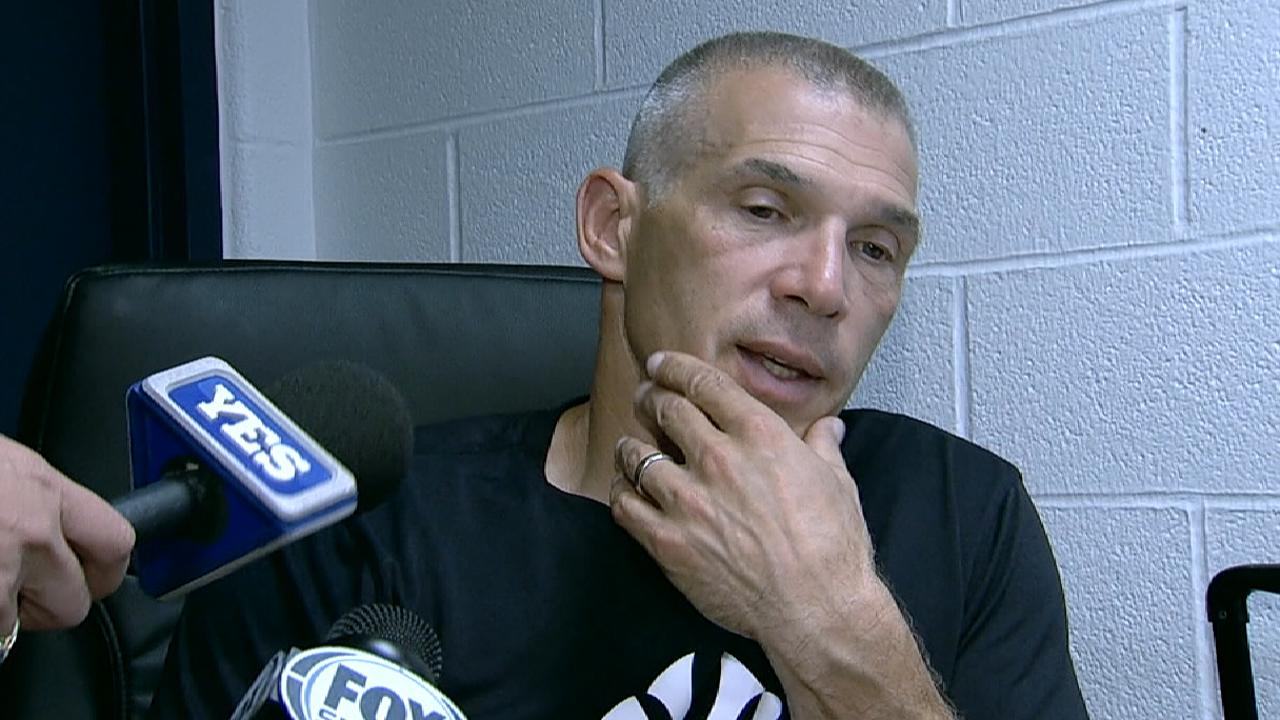 Kluber held the Yanks hitless until Clint Frazier's double in the fourth, and he faced just one batter over the minimum until Gary Sanchez's homer in the seventh. Gray worked to keep pace, blanking the defending American League champs until he ran into two-out trouble in the sixth.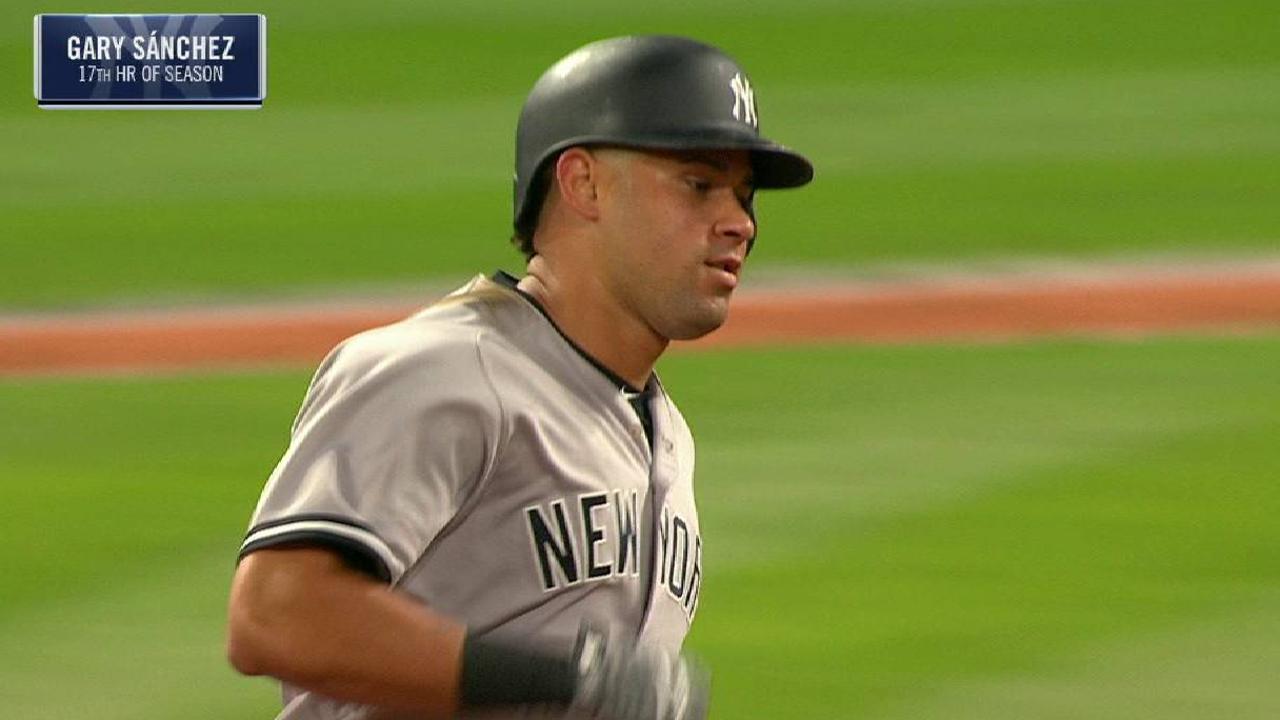 Santana worked a four-pitch walk -- with the Yanks griping about home-plate umpire Sean Barber's zone -- and Brandon Guyer ripped a single into right field before Gray left a slider up to Yan Gomes, who banged it off the left-field wall for a two-run double.
"I feel like I threw the ball OK," Gray said. "At the same time, if I can shut that sixth inning down, it's a completely different ballgame. It's just one of those things that kind of got away from me for a couple of hitters. They took advantage. It gave them all the momentum for the last three innings."
Bryan Hoch has covered the Yankees for MLB.com since 2007. Follow him on Twitter @bryanhoch and on Facebook. This story was not subject to the approval of Major League Baseball or its clubs.