Galvis enjoying career year for Phillies
Prospect Crawford could eventually push for shortstop job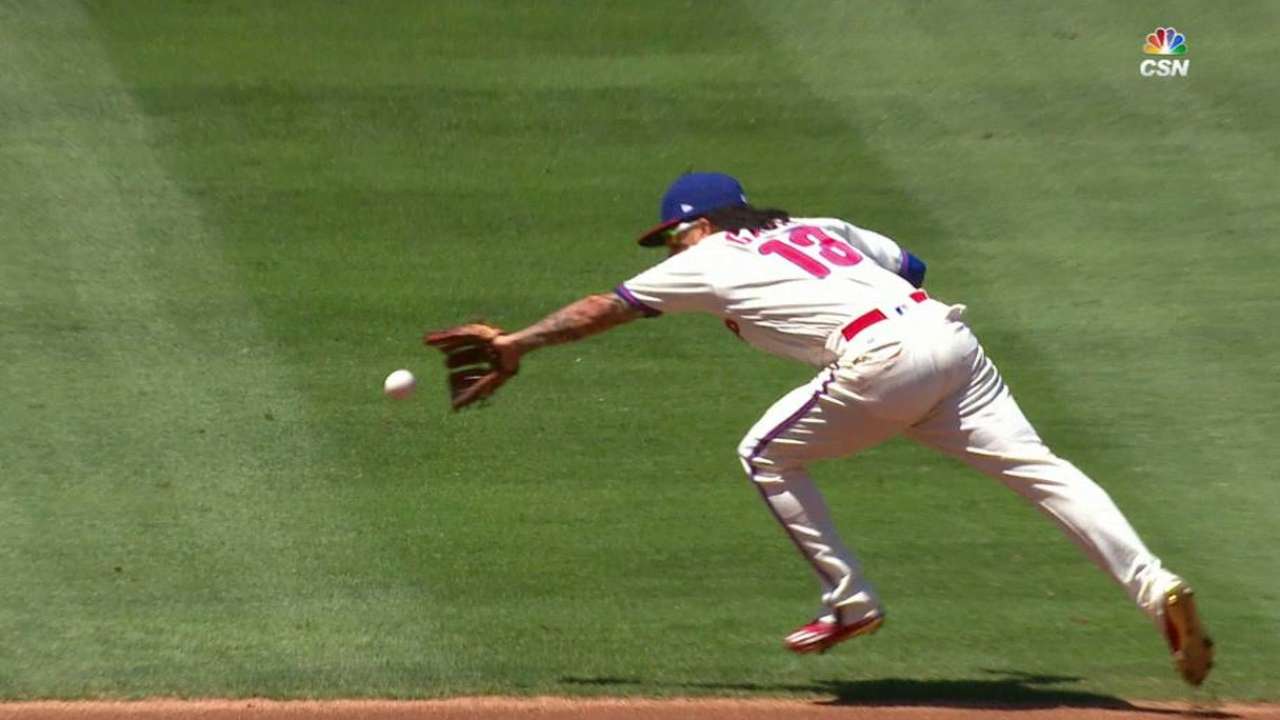 PHILADELPHIA -- Did you see the play Freddy Galvis made Sunday at Citizens Bank Park?
It reminded many of Chase Utley's deke-and-throw in Game 5 of the 2008 World Series, when Utley snatched a ball going up the middle, faked a throw to first base, but instead threw out Jason Bartlett at home plate to keep the game tied.
Galvis on Sunday ranged to his right to catch a ball in the hole, jumped to throw the ball to first, but pulled back the ball and landed in shallow left field. He fired home and got Ender Inciarte by 15 feet.
"I always say to try to pick something from other players," Galvis said. "And Chase was always ahead of everything. So I try to get ahead of every play."
Galvis is having the best season of his career, which has many wondering what happens with him and Triple-A shortstop J.P. Crawford in the future.
Fortunately, the issue is not as pressing as the situation at first base with Tommy Joseph and Triple-A first baseman Rhys Hoskins, who is likely to be promoted before the end of the month. Hoskins is hitting .281 with 26 homers, 82 RBIs and a .951 OPS. He has nothing more to prove with the IronPigs.
Galvis is hitting .254 with 21 doubles, five triples, 11 home runs and 46 RBIs in 435 plate appearances. He entered Thursday night's series finale against the Angels with a career-high .717 OPS, which ranked 15th out of 24 qualified shortstops in baseball. He had a two-run single in the Phillies' 5-4 loss on Thursday.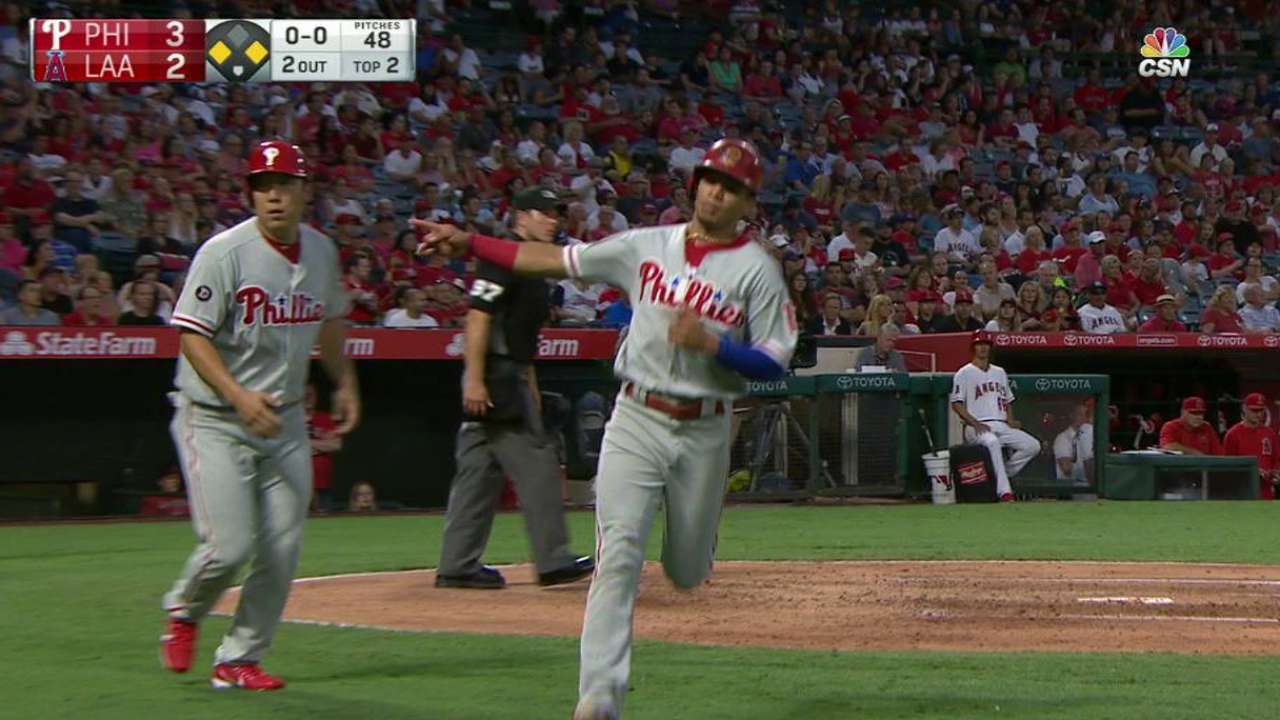 A middle-of-the-pack offensive shortstop is nothing to get excited about, but combine his offense, Gold Glove-caliber defense (Galvis is ninth with a 3.5 UZR, eighth with an 8.3 Defensive Runs Above Average and third with a .987 fielding percentage among 24 qualified shortstops, according to Fangraphs) and leadership in the clubhouse, and Galvis has become a highly regarded and popular player in the organization.
Crawford is the No. 62 overall prospect in baseball, according to MLBPipeline.com. He hit a troubling .194 with just seven extra-base hits and a .565 OPS in 244 plate appearances through June 10. But Phillies officials are breathing easier since he returned from the DL on June 20. Crawford has hit .271 with 20 extra-base hits and a .924 OPS in 168 plate appearances since.
Crawford probably needs to keep up that pace to be promoted in September. Even if he is, it is unclear how much he plays. Phillies manager Pete Mackanin might be Galvis' biggest fan and he has mentioned a few times that Galvis wants to start 162 games.
Of course, the Phillies are rebuilding and they need to see Crawford play. Galvis is a free agent following the 2018 season, while Crawford is under team control for years.
But because of Galvis' improvement and Crawford's first half struggles, it would be surprising if Galvis is not the 2018 Opening Day shortstop, with Crawford opening next season once again in Lehigh Valley.
It will be up to Crawford to push Galvis in 2018. Right now the job is solidly Galvis'.
"I'm just playing baseball," Galvis said Sunday. "We'll see what happens."
Todd Zolecki has covered the Phillies since 2003, and for MLB.com since 2009. Follow him on Twitter and Facebook and listen to his podcast. This story was not subject to the approval of Major League Baseball or its clubs.