Teheran feeling no ill effects of leg cramp
Braves right-hander expected to make next scheduled start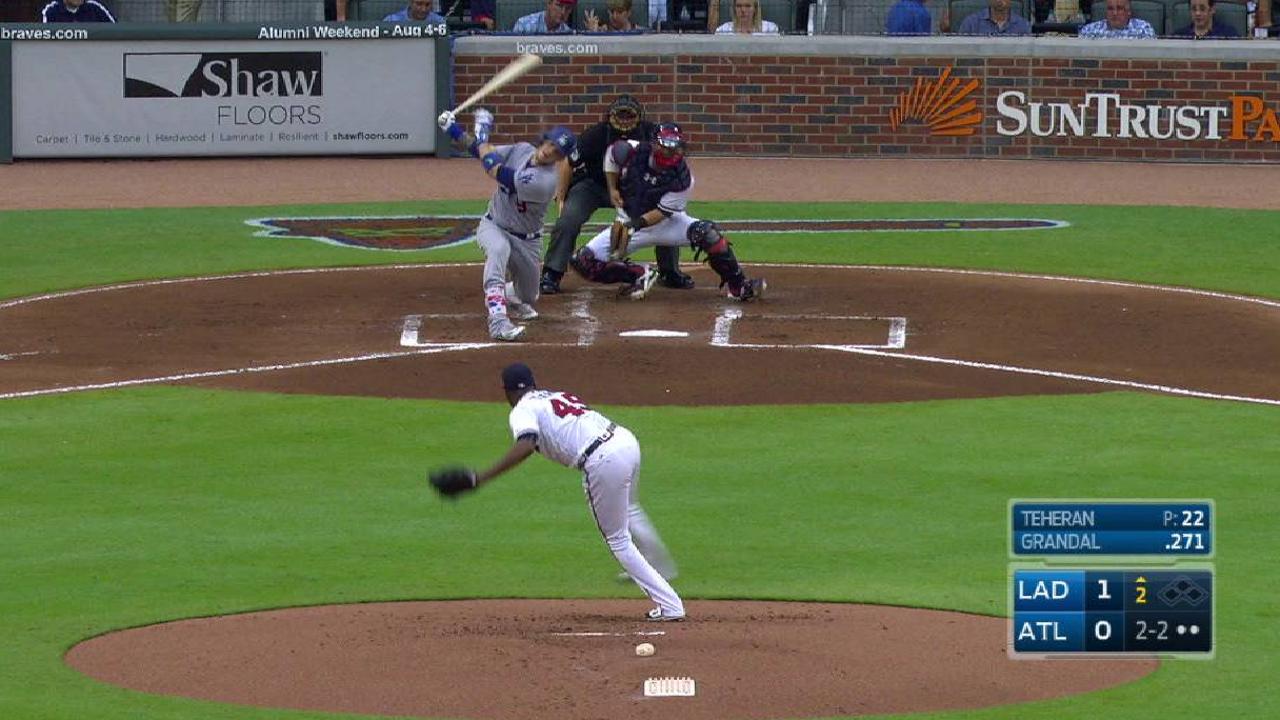 ATLANTA -- When Julio Teheran returned to SunTrust Park feeling no lingering effects of the right thigh cramp he'd felt less than 24 hours earlier, Braves manager Brian Snitker felt even better about his decision to lift the right-hander after the fifth inning of Wednesday night's 5-3 win over the Dodgers.
"He's fine," Snitker said Thursday afternoon. "Like I said last night, I took him out more as a precaution. I didn't know why [the cramping] was happening. It wasn't that hot, so it wasn't like he was dehydrated or anything. I just didn't want to take a chance. If something goes, there's not enough season left to rehab something like that."
After allowing the Dodgers three runs and totaling just 64 pitches in his efficient five-inning effort, Teheran returned to the ballpark on Thursday and completed his normal next-day running routine. He is lined up to make his next scheduled start on Tuesday against the Phillies.
Teheran felt the cramp develop when he took two swings during his fourth inning at-bat. He convinced the team's medical staff he could continue and then proceeded to allow a two-out RBI single to Chase Utley in the fifth inning.
This has been a frustratingly inconsistent season for Teheran, who has compiled a 5.10 ERA through 22 starts. The solo homer he surrendered to Cody Bellinger on Wednesday wasn't necessarily a sin as it stood as the 30th hit by the Dodgers' rookie slugger. But for the Braves' right-hander, it also stood as the 27th homer he allowed in 125 1/3 innings this season. This matched the career-high total he surrendered while throwing 200 2/3 innings in 2015.
Teheran has posted a 6.91 ERA in 11 home starts and a 3.57 ERA in 11 road starts. Right-handed hitters have produced an .811 OPS against him and left-handed hitters have constructed a .798 OPS.
As Teheran posted a 3.21 ERA over 30 starts last year, left-handed hitters produced a similar .756 OPS, but right-handed hitters were limited to a .564 OPS. The primary difference has been the efficiency of his slider.
Right-handed hitters have hit .271 (19-for-70) against Teheran's slider this year, a marked improvement of the .207 (28-for-135) batting average produced against this pitch last year, according to Statcast™. Left-handed hitters have also been more successful against the slider, seeing their batting average rise from .147 (10-for-68) in 2016 to .263 (10-for-38) this year.
Odds and ends
• Right-handed reliever Jason Motte will likely be activated from the disabled list on Friday. Motte has been sidelined since the All-Star break with a lower back strain.
• Matt Adams was available to serve as a pinch-hitter on Thursday night. Adams exited Tuesday night's game against the Dodgers with dizziness caused by a virus that led him to sleep most of Wednesday.
• The Braves have decided to begin utilizing former prospect Matt Wisler exclusively as a relief pitcher for Triple-A Gwinnett.
Mark Bowman has covered the Braves for MLB.com since 2001. This story was not subject to the approval of Major League Baseball or its clubs.