Dyson comes 'back home' to take on Royals
Mariners outfielder in KC for first time since offseason trade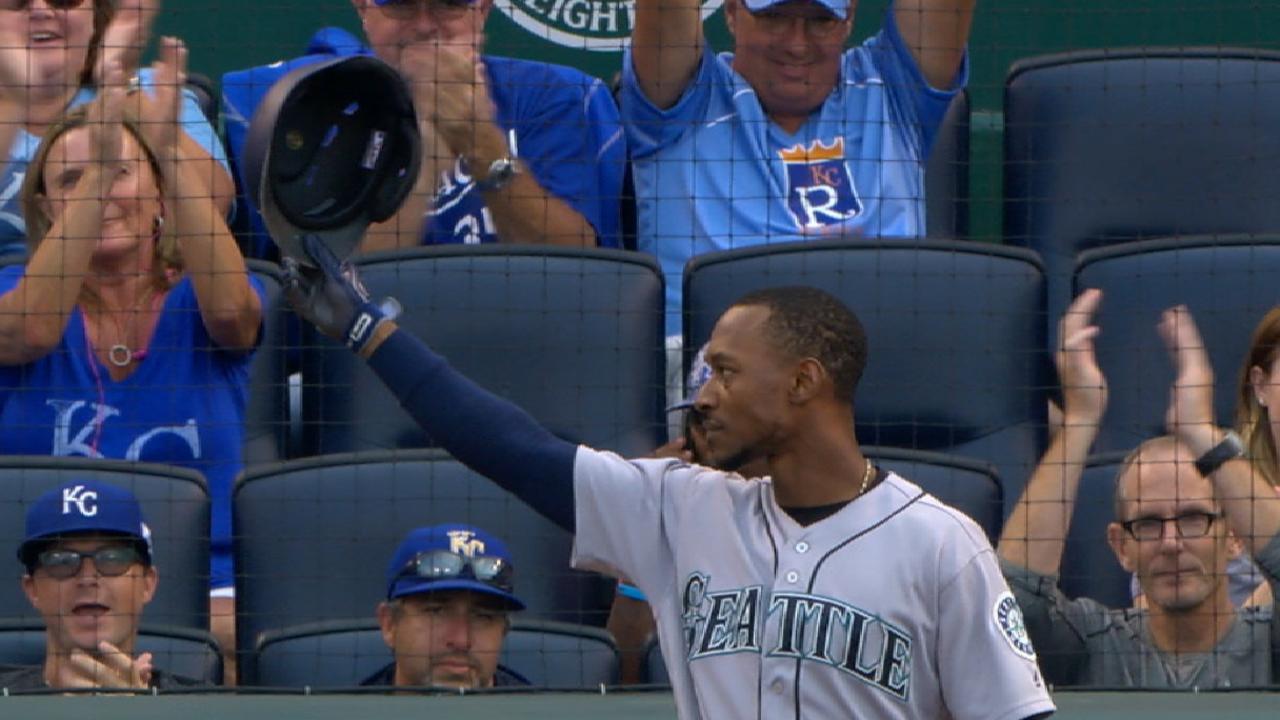 KANSAS CITY -- When former Royals outfielder Jarrod Dyson walked into Kauffman Stadium on Thursday for the first time since he was traded to the Mariners, he remembered the despair he felt when the Royals were beaten at home in Game 7 of the 2014 World Series. Then, a smile crept to his face as he remembered how, a year later, the Royals won their first World Series title since 1985.
"It's like coming back home," Dyson said before the Royals' 6-4 win in the opener of a four-game series between American League playoff contenders.
Dyson, now the starting center fielder for the Mariners, was a key contributor off the bench for the Royals' back-to-back World Series teams. He became a fan favorite for his speed and jovial personality. Thursday's series opener was a game Dyson noted on the schedule when he was traded in the offseason. He received a nice round of applause while heading to the plate in the second inning before logging a single in his first at-bat, finishing 2-for-3.
"It was nice," Dyson said of the warm reception. "They're great fans here and I really appreciate them showing me love and letting me know they appreciate everything I did while I was here. I can't say anything bad about them. They cheered me on the whole time I was here and I just want to thank them for sticking with me."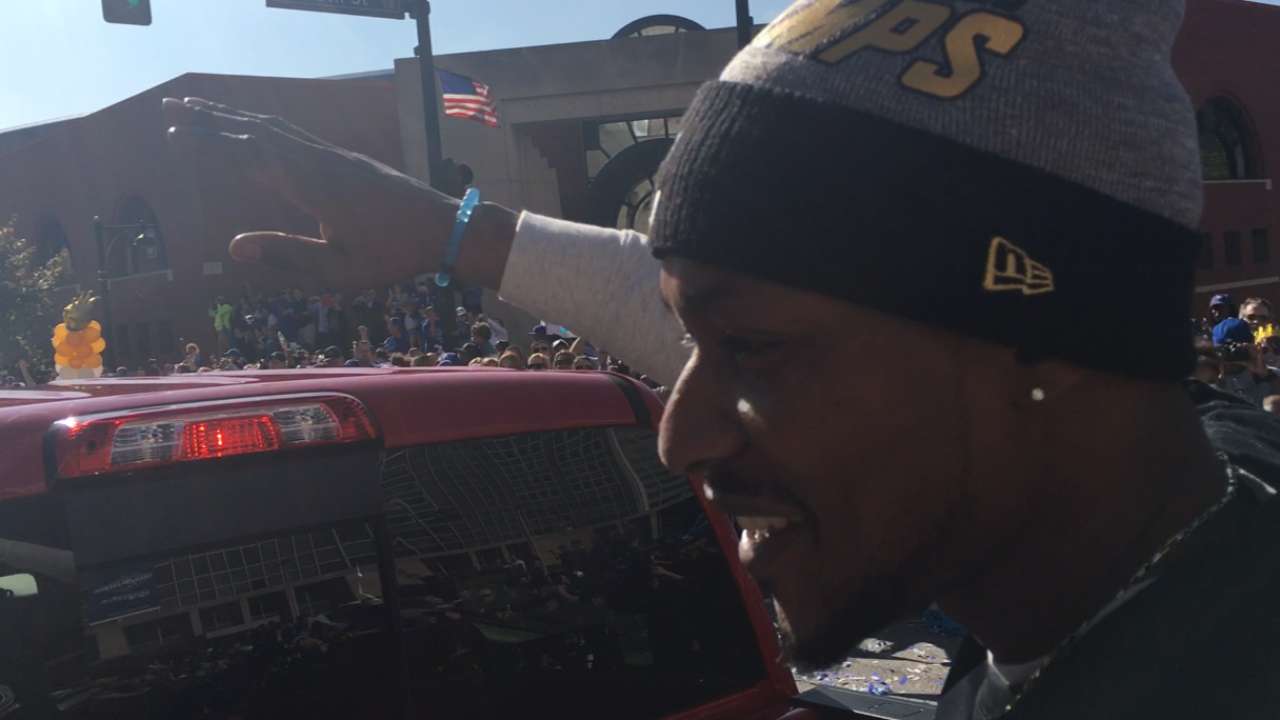 "I'm very, very confident that he's going to get a tremendous ovation tonight," Royals manager Ned Yost said. "They love him, and how could you not love him?"
The Royals selected Dyson in the 50th round of the 2006 MLB Draft. He spent 11 years with the organization and seven at the Major League level. He never played in more than 120 games, but he stole at least 30 bases four times.
Then in January, the Royals traded Dyson for right-hander Nate Karns.
"It was a big blow for a lot of us. He was the heart and soul of our team," Royals first baseman Eric Hosmer said. "His attitude rubbed off on us. It was tough at first."
During the season, Dyson, who came up around the same time as Hosmer, Mike Moustakas and Salvador Perez, has remained in contact with his friends on the Royals, who he called "family."
It's was a blessing from above to be apart of such a class act organization#KcRoyals I really enjoyed every moment I spent as a royal!!!!😭😭 pic.twitter.com/H1K9zhGEFi

— Jarrod Dyson (@mrzoombiya) January 6, 2017
When both teams struggled at the beginning of the season, Dyson said he would reassure his former teammates during FaceTime calls on bus rides. Now, the Royals are 2 1/2 games in front of the Mariners for the second AL Wild Card.
"Everybody knows how important this series is," Dyson said.
The Mariners and Royals played at Safeco Field earlier this season, but returning to Kauffman Stadium and seeing the 2015 World Series banner flapping in the wind may be emotional, Dyson said. He often recalls his tenure in Kansas City. When he does, goosebumps appear and chills run up his arms.
"The way we uplifted the city, it's pretty special," Dyson said. "We came so far."
But if Dyson steals a base on Perez, he said he won't refrain from using the celebration he has become synonymous with: revving an invisible motorcycle.
"I will hit them with the zoom," Dyson said. "They will get that."
Wilson Alexander is a reporter for MLB.com based in Kansas City. This story was not subject to the approval of Major League Baseball or its clubs.