Inbox: Will the Marlins change approach?
Beat reporter Joe Frisaro answers questions from fans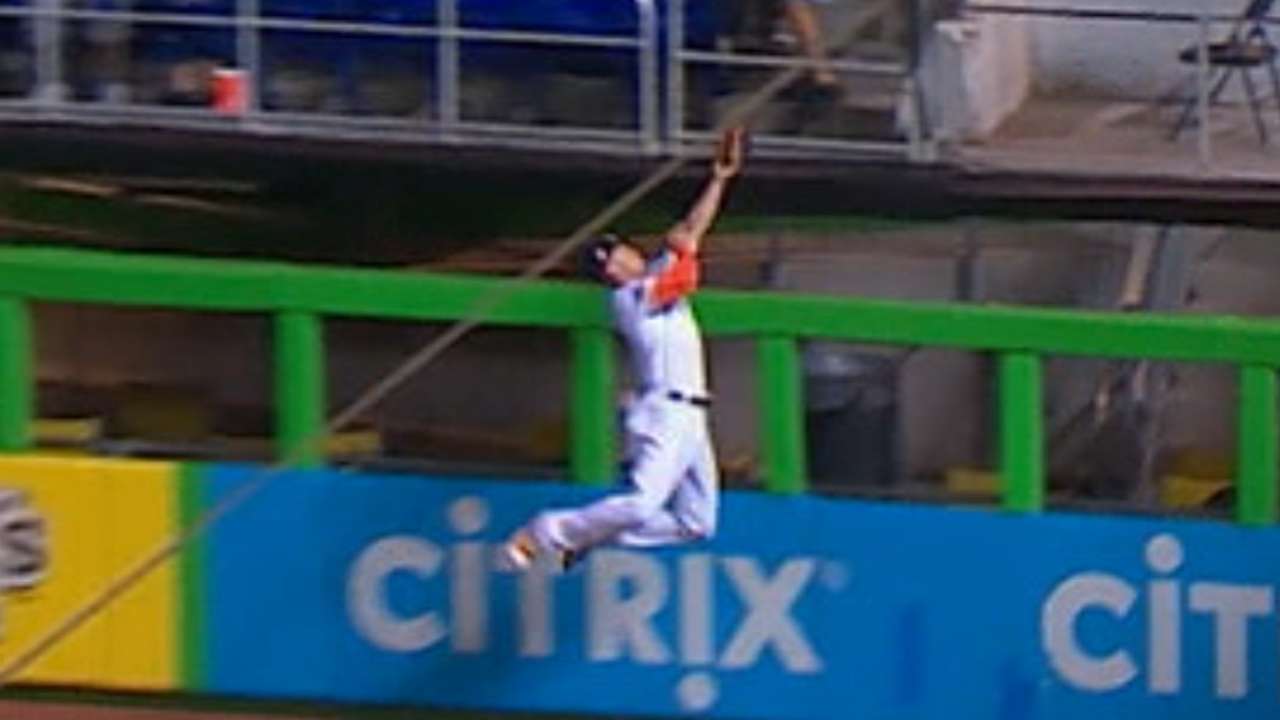 Does the team playing really well since May, despite injuries, change the strategy for the offseason and next year? Or will that be up to the new owners?
-- @C_MUR13
Going 5-2 on the homestand made the season a little more interesting, but I don't think small sample sizes will change the direction of the organization. In the offseason, the organization will have to ask itself: "Is there is enough pitching to contend?" The answer likely will be no. Then, you ask, if they can't seriously contend, does it make sense to part with core players? Giancarlo Stanton's salary jumps to $25 million next year. If rebuilding is the direction, does it make sense to retain him? Or will Stanton, now in his prime, want to be part of a rebuild? He may be agreeable to a trade.
That's the basics.
• Submit a question to the Marlins Inbox
The Marlins were 17-30 from Opening Day to May 27. Since May 27, they are 34-25. Nice recovery to get to 51-55. That's still nine out in the National League Wild Card race and 12 behind Washington in the NL East.
Also keep in mind that Miami is10-9 since the All-Star break. So the club has remained between four and eight games under .500 for long stretches.
If the Marlins are committed to a full rebuild in the offseason, how far could we accelerate the process? Anything close to what the White Sox have done?
-- @StevenSjoerdsma
The White Sox are the latest model of stripping it down, stacking their system, and then building it back up. They were able to get cornerstone prospects, Yoan Moncada and Michael Kopech, as part of the Chris Sale trade. For the Marlins to net those caliber prospects, it will likely mean trading J.T. Realmuto, Christian Yelich and Marcell Ozuna. You're not getting the truly elite prospects without moving your most desired players. Stanton's salary limits the return you would receive. Still, you likely could get significant return for the slugger.
Jarlin Garcia is pitching well in the bullpen. Can we trade Brad Ziegler and Junichi Tazawa in the offseason and then close with Garcia next year?
-- @chob153
Ziegler and Tazawa are on two-year contracts. Barring trades, both are expected to return in 2018. Neither, however, stands in the way of Garcia's development. The left-hander has done a nice job in the bullpen, and he's now throwing in the late innings. Garcia could get a few save chances down the stretch. Closing may not be in his future, however. A starter for much of his Minor League career, Garcia could be part of the rotation in 2018. Manager Don Mattingly said on Wednesday the organization may be open to giving the lefty a chance to start next year.
What was the Marlins' high requesting price for Dan Straily?
-- @Jteichner
I didn't hear specific names from specific clubs, but the general feeling I've received is the Marlins were seeking three players total -- two highly regarded prospects and a third player who could be big league-ready. My guess would be one top 10 prospect, one top 20 prospect and a serviceable player. That's basically what Miami used to acquire Straily from Cincinnati in January.
I've heard teams basically were offering a couple of fringe starting players, not necessarily pitchers. If that's the case, the Marlins were absolutely correct to hold onto Straily. There is no urgency to deal him any time soon, unless the return makes sense for them. Also keep in mind, depending on the direction the club is headed, Straily and other core players could be dealt by the 2018 non-waiver Trade Deadline.
Who do you see the Marlins calling up in September?
-- @marlinso05
The player fans should be most excited to see is third baseman Brian Anderson, who is ranked by MLBPipeline.com as Miami's No. 3 overall prospect. He's at Triple-A New Orleans, getting promoted shortly after appearing in the SiriusXM All-Star Futures Game.
Left-hander Dillion Peters, rated as the No. 4 prospect, is recovered from his fractured left thumb and is a possibility to see some big league time in September.
Joe Frisaro has covered the Marlins for MLB.com since 2002. Follow him on Twitter @JoeFrisaro and listen to his podcast. This story was not subject to the approval of Major League Baseball or its clubs.