Mets rue missed chances in loss to Rockies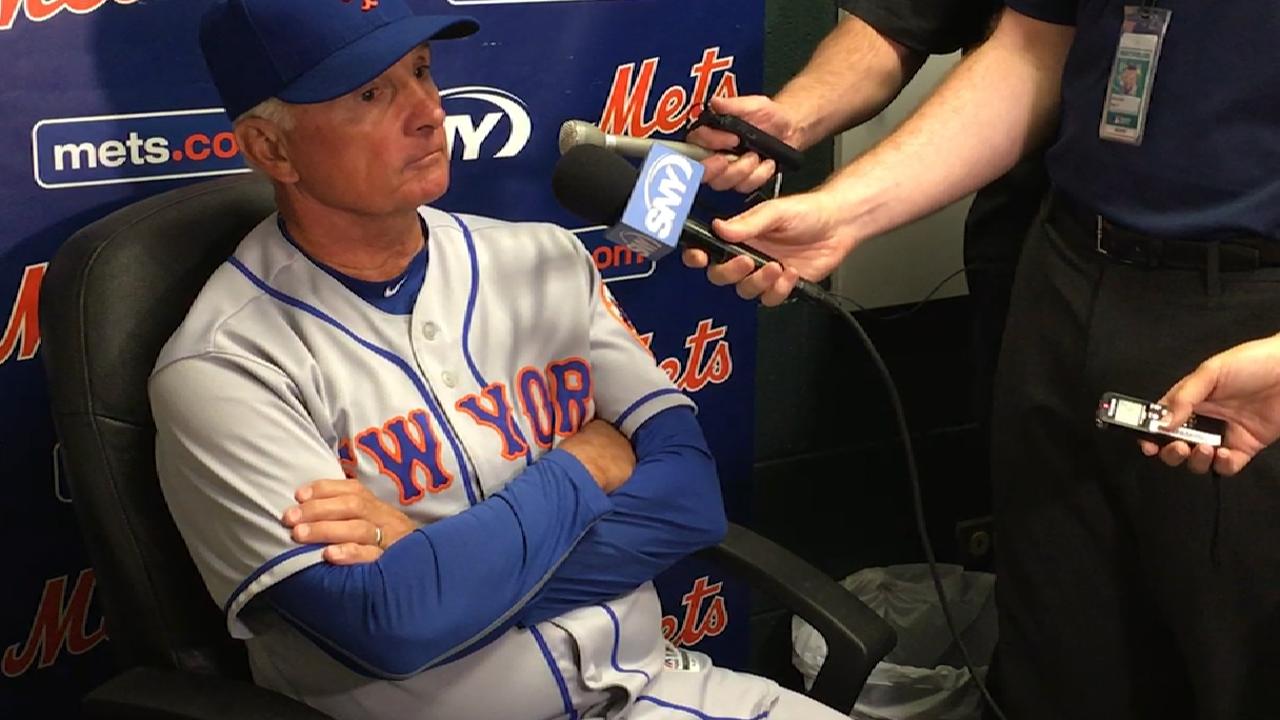 DENVER -- In a hitter-friendly environment like Coors Field, missed chances come back to bite. In the Mets' 5-4 loss to the Rockies on Thursday, a big missed chance occurred in the fifth inning.
The Mets had just tied the game at 2 against tiring Rockies starter German Marquez, after Rafael Montero recorded his first career RBI to drive in Amed Rosario with a single. Then, they loaded the bases and brought slugger Yoenis Cespedes to the plate with one out. Cespedes had homered in his previous at-bat, so the threat loomed large.
But Cespedes fell behind, 0-2, and after fouling off a couple curveballs, he struck out swinging on a 99.3-mph fastball. Jay Bruce followed but ran into some bad luck, hitting it hard right at left fielder Gerardo Parra for the final out of the inning.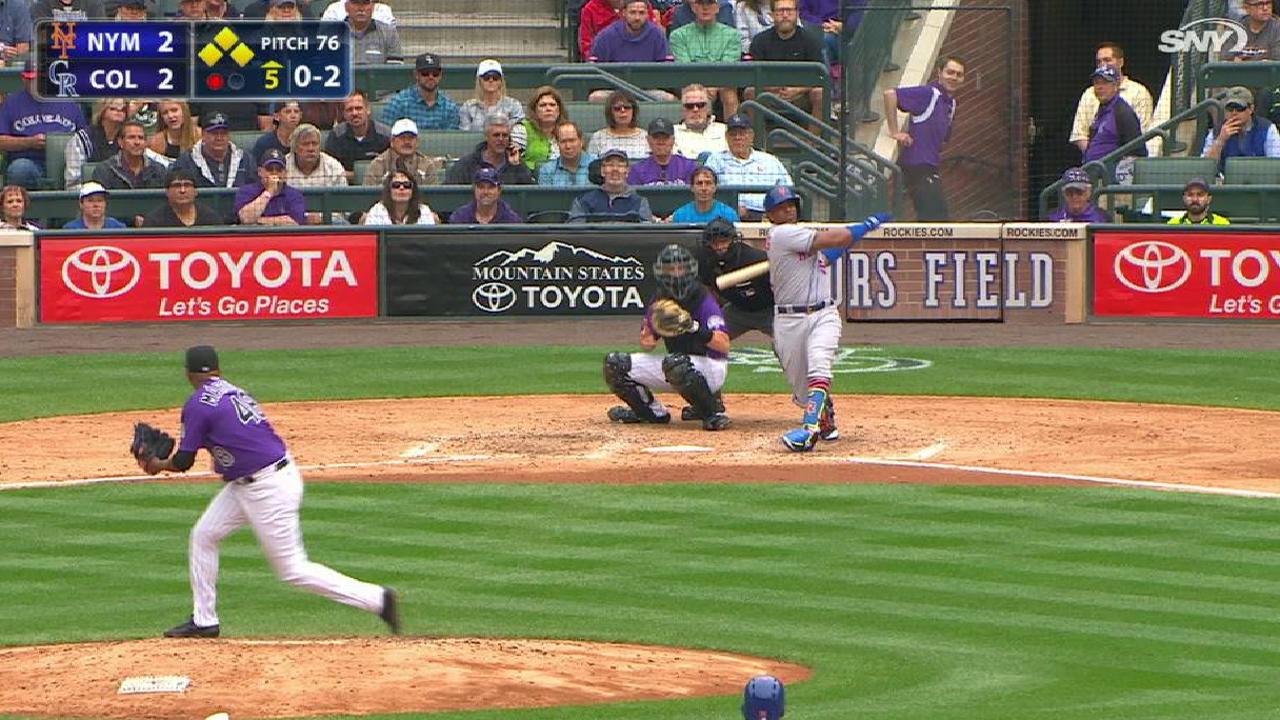 "I feel like I made the most out of my opportunity. Cespedes, who's a run producer as well, more times than not he's gonna get at least one of those guys in," Bruce said. "I hit the ball pretty much as hard as I could right at the guy."
The Mets left nine men on base Thursday. On multiple occasions, they tied the Rockies after falling behind, but they could not pull ahead.
In the seventh, after the Mets tied it at 4 on an Asdrubal Cabrera RBI double, Cabrera was left stranded on second base when Cespedes struck out again, Bruce flew out and Curtis Granderson popped up. Jose Reyes led off the eighth with a walk but was caught stealing second after a review overturned the original safe call.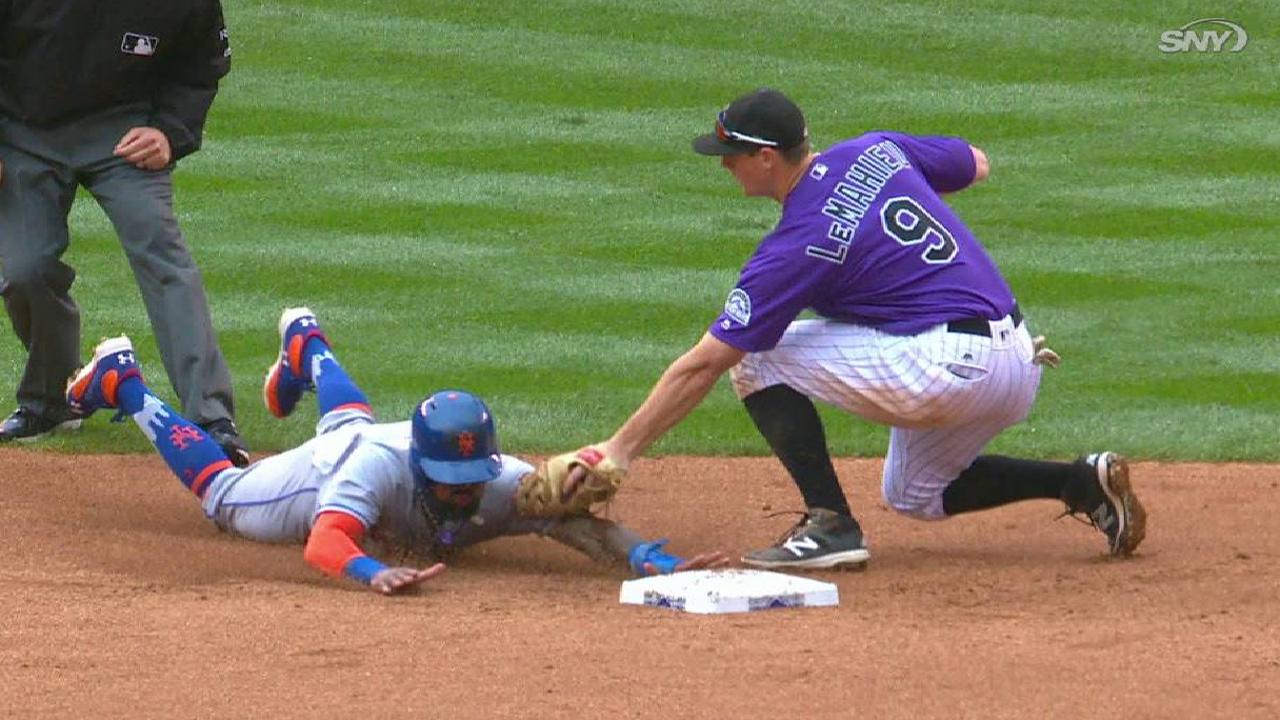 "Any time you come into this park and you give up three or four, I thought [Montero] handled himself pretty well," manager Terry Collins said. "We had some opportunities and didn't get some big hits when we needed them."
Despite the stranded baserunners, the Mets went 3-for-10 with men in scoring position. That included Montero's single, a Cabrera single later that inning and Rene Rivera's RBI hit in the sixth that tied the game at 3.
Bruce said the Mets had a consistent approach throughout the series, and that the missed opportunity for more damage was just baseball.
"I've been in some series here where there were 80 runs scored in a series," Bruce said. "It's one of those things, and you can't try and re-create the way you do things just because you come to a field where the ball may fly a little more."
Max Gelman is a reporter for MLB.com based in Denver and covered the Mets on Thursday. This story was not subject to the approval of Major League Baseball or its clubs.