Inbox: How long will Hand be Padres' closer?
Beat reporter AJ Cassavell answers questions from fans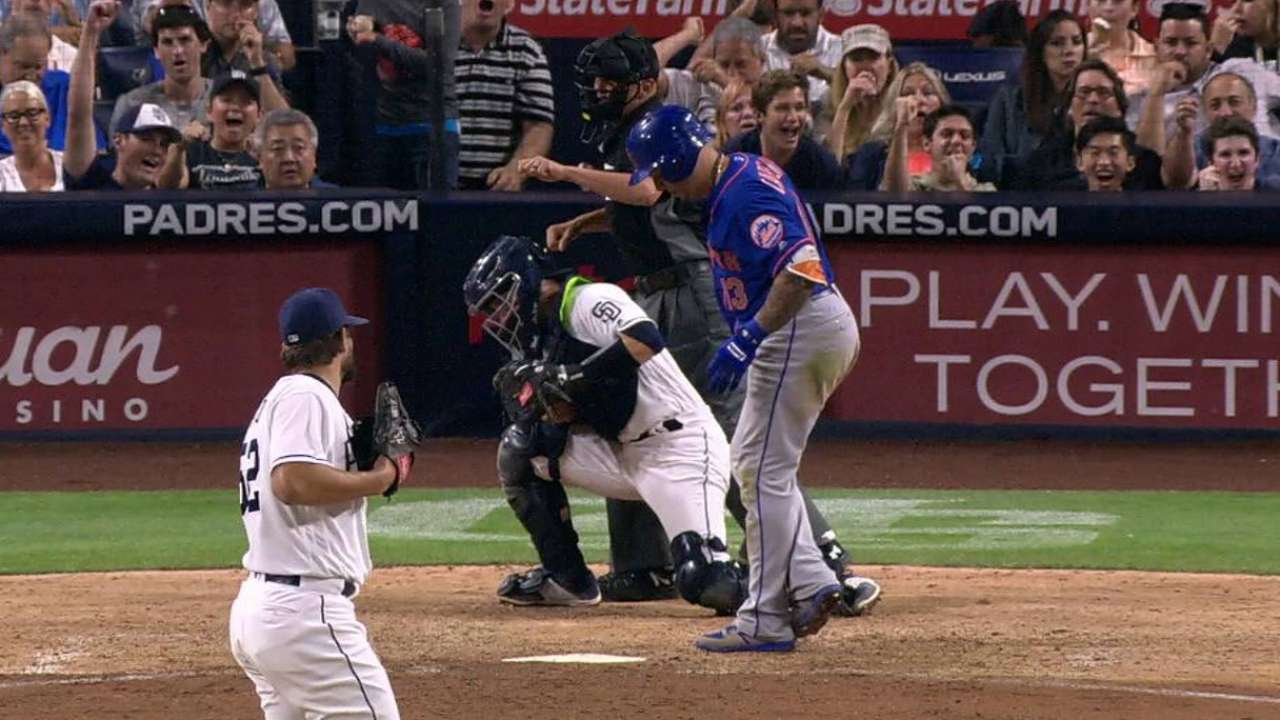 Should Brad Hand remain the closer for the long-term? Or is Phil Maton the more viable option?
-- Tyler C., Temecula, Calif.
Depends what you mean by "long-term." It's a near certainty the Padres will continue to shop Hand during the offseason. But until then, he's going to be their closer. That much is apparent, given that he's saved four games since Brandon Maurer was traded to Kansas City.
• Submit a question to the Padres Inbox
That said, the club views Maton as a candidate to close games for years to come. In his brief big league stint, he's posted a 2.82 ERA and a 0.81 WHIP. He's got the mental makeup to match those numbers. I'd guess that even if Hand is back for the 2018 season, Maton will get a chance to win the closer role in camp.
If Hand keeps this up, won't his value increase? Do you think any team will meet the price tag in the offseason?
-- Alex A., Nashville, Tenn.
Hand can't possibly keep this up, right? He hasn't allowed a run since June 10, and he's striking out one-third of the hitters he faces. He's due for at least some regression -- even if peripheral numbers indicate that he really is one of the best relievers in baseball.
As for Hand's value, it's tough to say how much it might increase with a strong finish. A longer track record certainly won't hurt when the Padres set their asking price this offseason. That said, Hand will be under team control for two seasons, instead of 2 1/2 seasons. That's an entire pennant race deducted from his value.
There's no doubt San Diego took a major gamble in its decision to hold onto Hand.
How many August waiver deals are likely (both in terms of getting a player through waivers, and getting what the Padres deem a fair price)?
-- Neil M., Oceanside, Calif.
If I had to guess, I'd say zero. Without any major contracts on the books, the Padres don't have any key contributors expected to clear waivers. Their roster is simply too young and too affordable. Almost everyone placed on waivers will be claimed.
With players like Jhoulys Chacin, Clayton Richard and Craig Stammen, the possibility remains that the Padres could work out a deal with the first team in the queue to make a claim. All three are free agents this offseason, meaning August is the last chance for San Diego to get something in return. That said, the Padres have made it clear they're content to finish the season with all three veteran pitchers in their current roles.
Who is more likely to re-sign at this point? Richard or Chacin?
-- Tyler C., Temecula, Calif.
There's a chance both will be back next year. At Monday's non-waiver Trade Deadline, A.J. Preller discussed the club's desire to have Chacin on board for 2018. Chacin, after his start Tuesday, indicated the feeling is mutual. No doubt Chacin has found a groove at Petco Park, where he's posted a 1.86 ERA -- the best home mark in the Majors.
Given the way Chacin has pitched over the past few months, he's likely to draw interest from across the league. Since the start of June, he's posted a 2.49 ERA with a WHIP below 1. Chacin doesn't appear to be part of the Padres' long-term plans, so if the price tag gets too high, they'll pass.
As for Richard, he's struggled mightily of late. But San Diego views him as a valuable clubhouse presence and a reliable innings-eater. In that sense, I'd give Richard a slightly better shot at returning.
Does the Padres' shortstop search continue in the offseason? Or will they try to go with Javier Guerra, Allen Cordoba, etc.
-- Kevin C.
The Padres' decade-long search for a shortstop will continue as long as it has to. Guerra, Cordoba and -- in the long-term -- Fernando Tatis Jr. are all options. But their presence won't prevent San Diego from exploring other possibilities.
One thing is clear though: Given the young shortstops in the organization, the Padres aren't desperate to add someone. And they certainly aren't going to sacrifice any prospects for a big league-ready shortstop (unless he can make a serious long-term impact).
Expect San Diego to add a shortstop this offseason, given Erick Aybar's impending departure. But don't expect the Padres to bet the farm on one.
AJ Cassavell covers the Padres for MLB.com. Follow him on Twitter @ajcassavell. This story was not subject to the approval of Major League Baseball or its clubs.