Martin, Gamel highlight impressive OF depth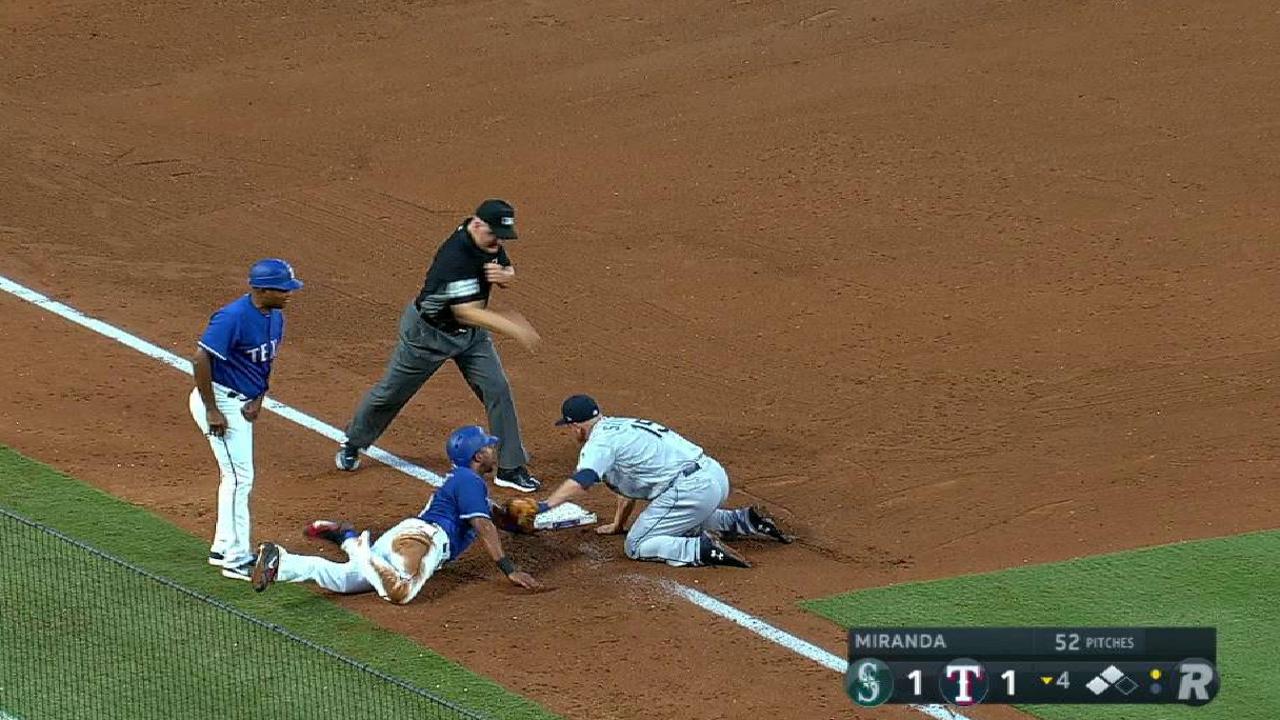 ARLINGTON -- When Mariners general manager Jerry Dipoto set about upgrading his club last year, one of his main focuses was adding outfield defense. In the process, he's added some impressive outfield depth, as well.
When Mitch Haniger went on the disabled list in late April with a right oblique strain, the Mariners called up Ben Gamel from Triple-A Tacoma. Gamel has proceeded to play himself into the American League Rookie of the Year Award conversation while posting the sixth-best batting average in the league at .312.
When Leonys Martin struggled early and was sent to Tacoma, Jarrod Dyson was moved from part-time left fielder to full-time center fielder and has provided one of the best defensive seasons in the Majors, with an MLB-leading 10 outfield assists along with a team-high 24 stolen bases. The 10th assist came during the Mariners' 5-1 loss to the Rangers at Globe Life Park on Wednesday.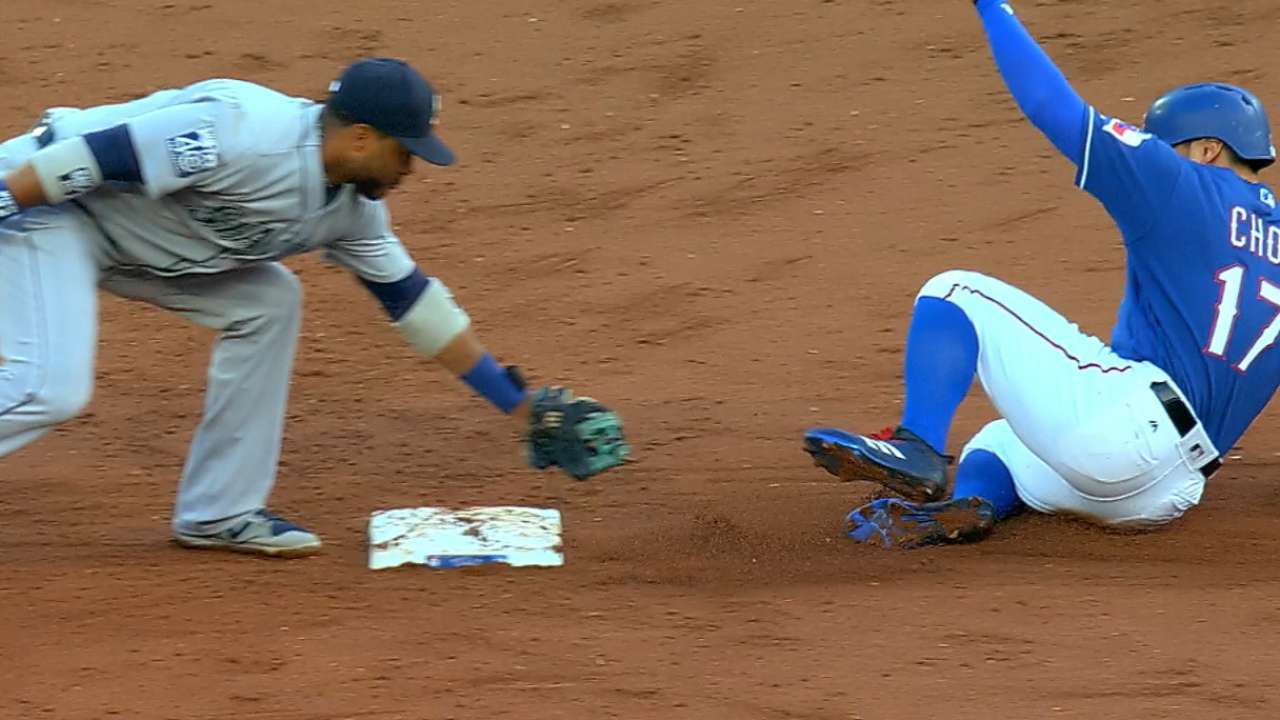 Now with Haniger going back on the DL after getting hit in the face by a Jacob deGrom fastball last week, Martin was recalled from Tacoma and provided an instant spark in right field.
Though Martin went 0-for-4 at the plate on Wednesday, he's 5-for-17 with a triple, homer and five RBIs in his first four games back and reminded folks again of his defensive prowess in the series finale with Texas, throwing out Elvis Andrus trying to go from second to third on a sacrifice fly with a rocket throw from right field in the fourth.
"It's amazing to be here and doing my little bit to help," said Martin, a seven-year veteran.
Martin hit .312 with 11 home runs, 39 RBIs and 24 stolen bases in 84 games for Tacoma, but the Mariners didn't have a spot to bring him back until Haniger got hurt again, which speaks volumes about the improved options this season.
"I wish I could say I did all that planning, but that's our front office guys and Jerry making sure we have depth," Mariners manager Scott Servais said. "You're going to have injuries and guys who maybe don't play that well, and you need other guys to step in. I really tip my hat to those guys.
"A lot of clubs don't have that. We knew it was something we needed to get better at, we addressed it and everybody we've thrown in there has contributed."
Even with Haniger sidelined another couple weeks, the Mariners still have four excellent defensive outfielders. Dyson threw out a runner for the second game in a row on Wednesday, and with Gamel needing a day off after a recent mini-slump at the plate, Guillermo Heredia filled in capably again in left field and went 2-for-4 with a double to put his average at .277.
Gamel pinch-hit in the ninth in the series finale and will be back in the lineup on Thursday as Seattle opens a key four-game series in Kansas City.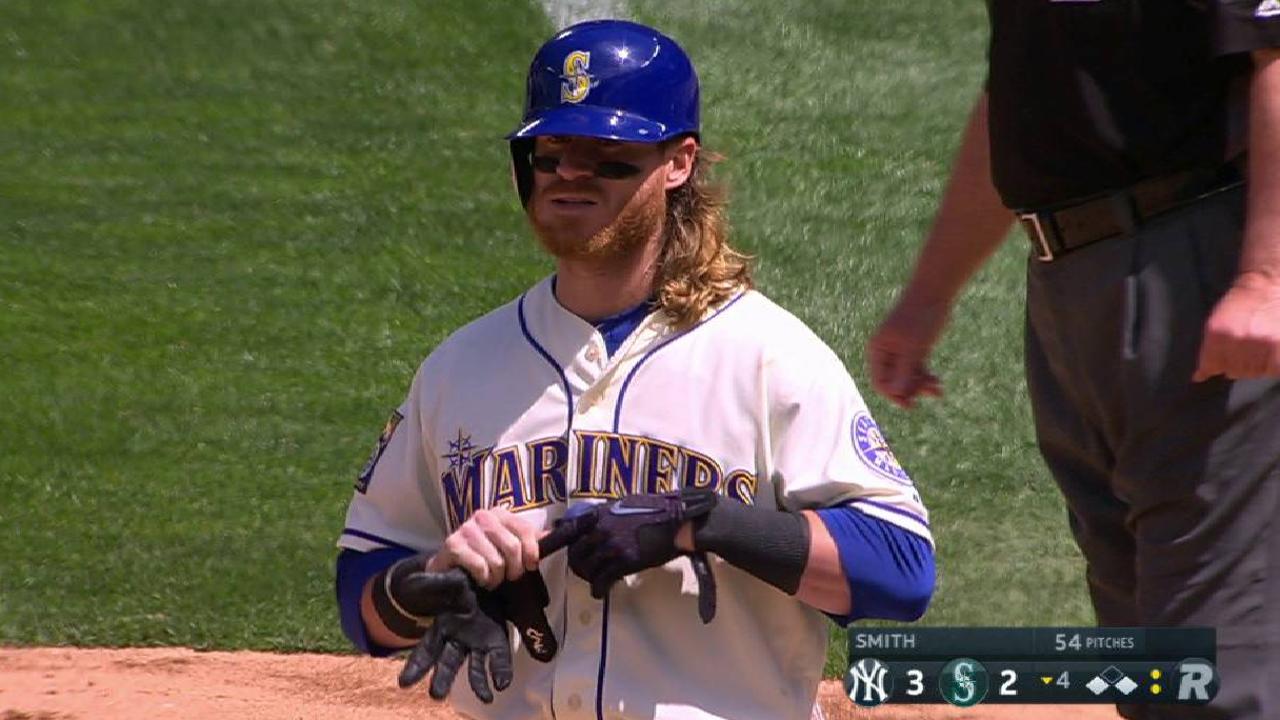 "He plays really hard," Servais said of his decision to give the rookie his first day off since June 25. "I appreciate it, and that's one of the reasons I really like young players. They should play like they've got something to prove every day, and that's what he does. He's been a great fit on our team, not just what he's done statistically, but the way he plays. He's really been valuable."
Greg Johns has covered the Mariners since 1997, and for MLB.com since 2011. Follow him on Twitter @GregJohnsMLB. This story was not subject to the approval of Major League Baseball or its clubs.