Tripped up: Moose, Yost ejections cap series
Strike calls are source of ire as Royals' bats go silent vs. O's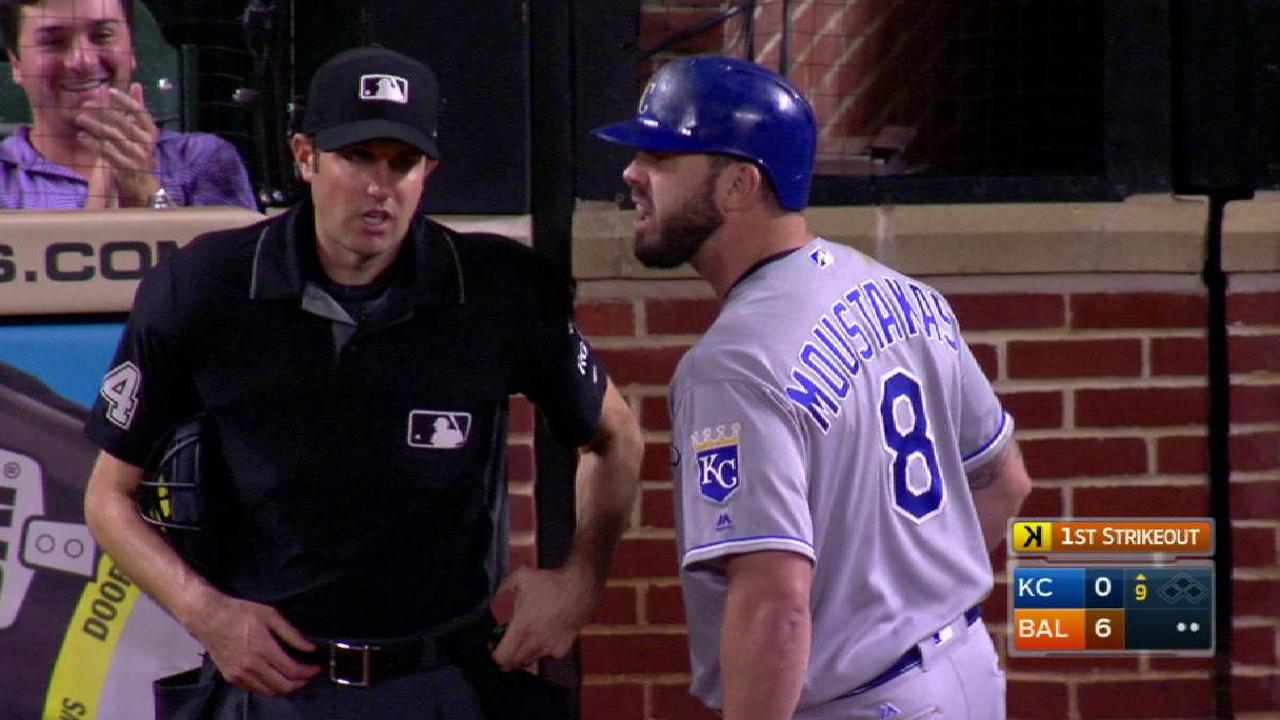 BALTIMORE -- The Royals came into Camden Yards as one of the hottest teams in baseball, and certainly the hottest offense in the American League over the past 14 games, averaging 6.4 runs per contest.
Conversely, the Orioles' rotation came into the series as the league's worst, with an ERA of 5.83.
But after a 6-0 win on Wednesday night, the O's beleaguered rotation had somehow silenced the Royals' bats, allowing just two earned runs during a three-game sweep.
And the Royals' frustration mounted in the ninth when third baseman Mike Moustakas was ejected for arguing a questionable strike three call by umpire John Tumpane.
"We got a team that doesn't quit," Royals manager Ned Yost said. "It doesn't matter what the situation is. That pitch was nowhere near being a strike. I don't mind if it's the first strike. You got a chance to recover. But the third strike?
"I know an umpire has a tough job, but that's not a strike."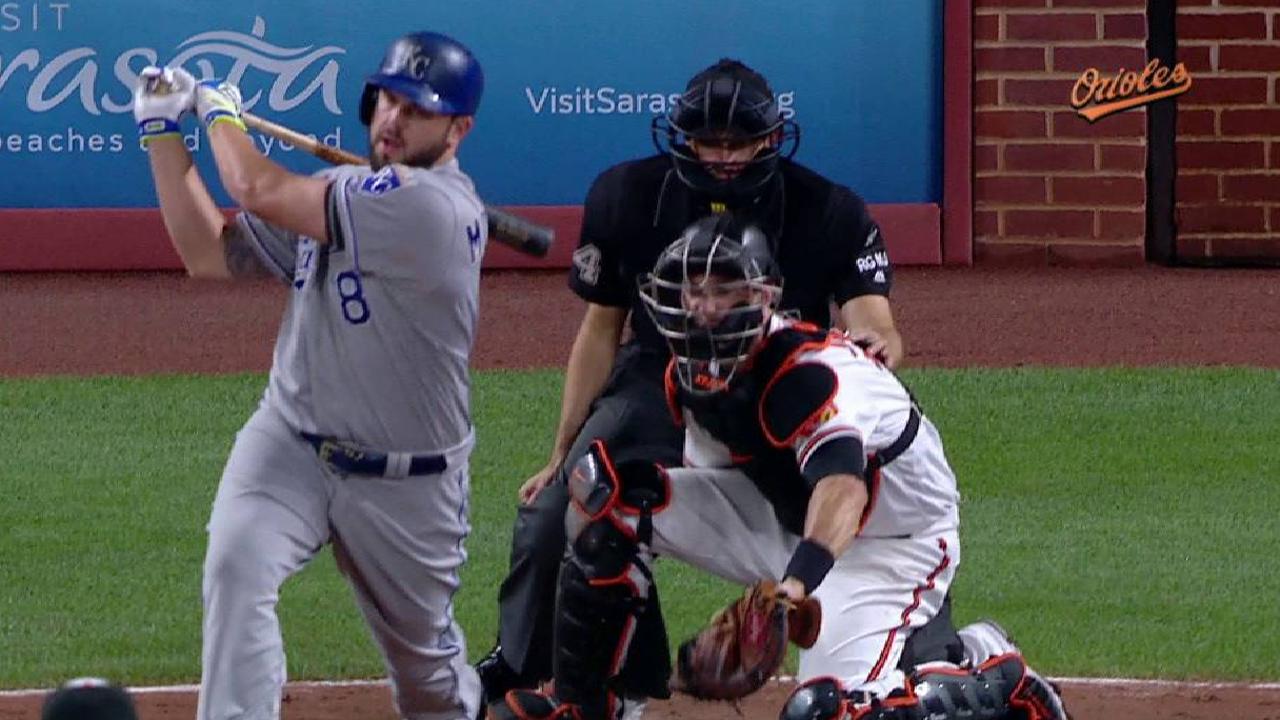 Actually, Moustakas' frustrations with the home-plate umpire started in the sixth inning. The Royals, down just 3-0 at the time, had runners on second and third with one out. Moustakas fouled a two-strike pitch that may have hit the dirt before catcher Caleb Joseph caught it. But Tumpane ruled Moustakas out.
The Royals then didn't score.
"It hit the dirt, for sure," Moustakas said. "I'm pretty sure [Orioles starter Jeremy Hellickson] asked for a new ball right after, and that's pretty standard if the ball is scuffed or has dirt on it.
"I just know that a runner on second and third in a close game, and you foul a ball off the ground, he needs to see that. Somebody on the field needs to see that. At the end of the day, it's on me, I struck out. But someone has to see that."
Yost agreed.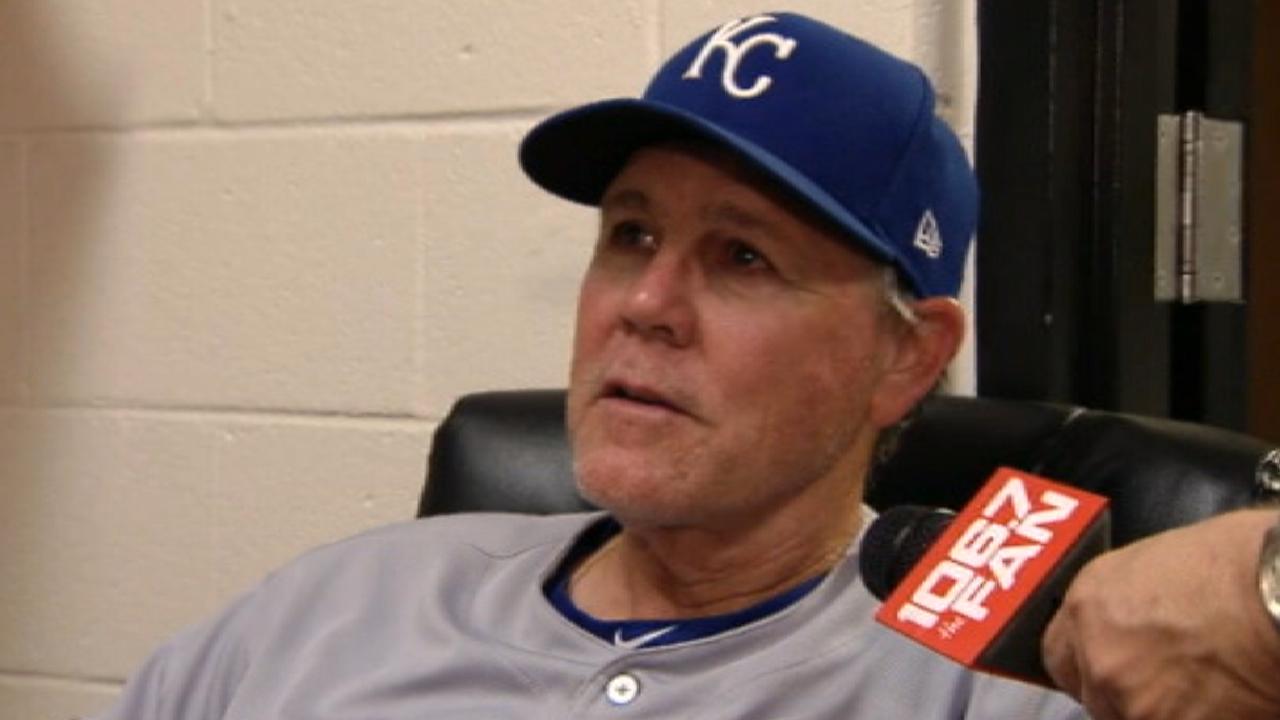 "I didn't think the ball fouled off and hit the dirt. I know it did," Yost said. "It's an umpire's job to see that. There are four of them out there and no one saw it. That's a crucial situation. A guy with 30 home runs up there and it's a third strike, which was actually a foul ball."
The hard feelings toward Tumpane started on June 25 in an 8-2 loss to the Blue Jays when Tumpane was behind the plate as well. Several Royals pitchers complained they were getting squeezed on numerous occasions, and reliever Peter Moylan was ejected.
But Moustakas said that game wasn't a factor for him.
"Not for me," Moustakas said. "I didn't have any hard feelings toward him until tonight."
Still, the Royals finished a 5-4 road trip and have won 10 of 14, and are 2 1/2 games behind the AL Central-leading Indians, while also holding onto the second Wild Card spot.
"We take it back home and we feel like we had a really good road trip," left-hander Jason Vargas said. "We're looking forward to getting back to K.C."
Jeffrey Flanagan has covered the Royals since 1991, and for MLB.com since 2015. Follow him on Twitter @FlannyMLB. This story was not subject to the approval of Major League Baseball or its clubs.