Stanek's back, and brought a splitter with him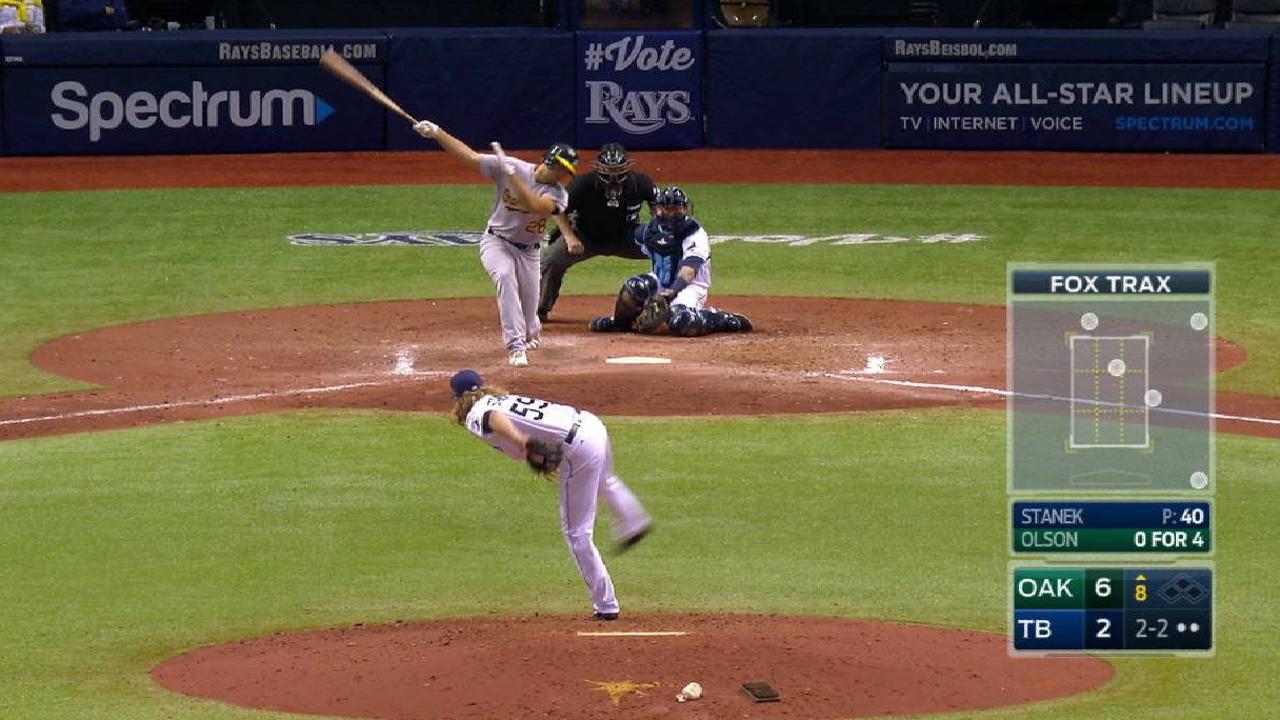 HOUSTON -- Hard-throwing right-hander Ryne Stanek is back with the Rays, and he now has a splitter to go with his 100-plus heater.
"I think [Triple-A Durham pitching coach] Kyle [Snyder] and him discussed that maybe there was some more comfort with that pitch to put guys away with," Rays manager Kevin Cash said. "And he kind of chose to attempt that over the slider for a couple of weeks, and I think he got really good results with it.
"So he changed a little bit. He said, 'I'm going to be more of a fastball-split guy rather than a fastball-slider guy.' And he saw his success go in a good direction."
The Rays recalled Stanek from Durham on Tuesday to begin his second stint with the team this season (the first lasting from May 14 to June 10). After he was optioned back to Durham, Stanek recorded a 0.51 ERA, allowing one earned run with eight walks and 22 strikeouts in 16 appearances. His last 14 appearances were scoreless.
Stanek experimented with the splitter during the offseason, and during Spring Training, but didn't really buy into it until he returned to Durham.
"I went down there and worked on it with Snyder a lot," Stanek said, "and it became a pretty big focal point for development."
Learning the pitch required gaining a feel for the pitch.
"It's feel and being able to repeat the release point and not have one do what it's supposed to, and one do nothing," he said. "[You need] the ability to repeat something consistently. And if you can't do that, it's almost not usable."
Stanek explained that the pitch has a "straight down action" and sometimes heads to the arm side, but it looks like a fastball to hitters before the bottom falls out.
"That's the whole point, sell fastball," he said.
Other than refining his split, Stanek said he's not that much different than before.
"I don't think I changed a lot," he said. "I just stayed aggressive and worked on my split a lot. ... My approach on the mound is just to stay aggressive and make them beat me instead of nibbling, then getting behind."
Worth noting
• Steven Souza Jr. was scratched from the lineup on Wednesday for a second consecutive night. He fouled a ball off his left foot on Monday night and has felt pain when he's tried to run.
Bill Chastain has covered the Rays for MLB.com since 2005. This story was not subject to the approval of Major League Baseball or its clubs.