Wright taking part in drills at Mets' complex
Veteran third baseman throwing, fielding, hitting in Port St. Lucie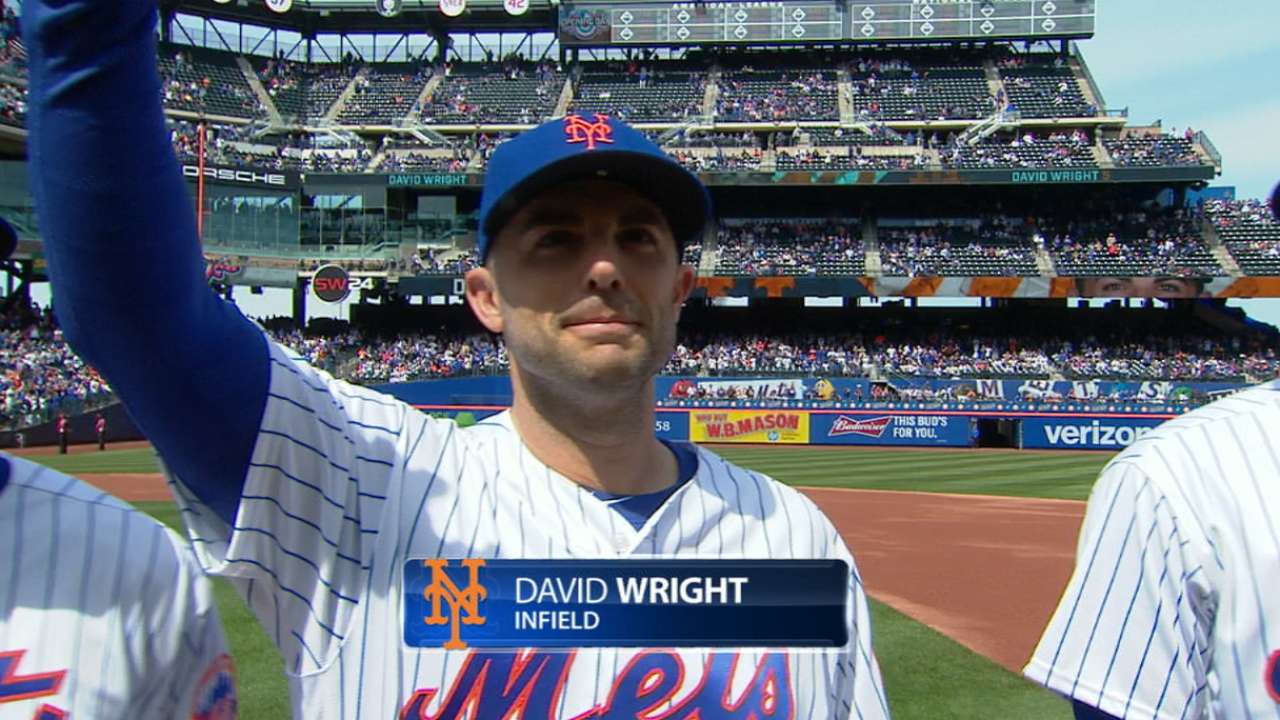 DENVER -- Mets third baseman David Wright resumed "low-level" baseball activities Tuesday, assistant general manager John Ricco said before Wednesday's game against the Rockies, a significant step forward in his long comeback from neck, shoulder and back injuries.
Ricco said Wright is playing catch, fielding ground balls and hitting off a tee at the Mets' complex in Port St. Lucie, Fla. Wright arrived there Tuesday, took part in drills and then repeated them Wednesday without issue.
"It's a good sign," Ricco said. "[He'll] kind of take it and see how his body responds as he starts to ramp up a little bit."
Ricco did not give a timeline for Wright's return to the Majors, and said the Mets are going to take it "a day at a time" with the veteran third baseman.
"We're looking too far ahead, we're just trying to see how it goes over these next few days," Ricco said.
Wright had been in California staying in shape, Ricco said, before heading to Port St. Lucie. Ricco added that he couldn't remember the last time Wright threw a baseball, but "it's been quite a while."
The Mets' franchise leader in hits hasn't appeared in a game since May 27, 2016, then underwent surgery to repair a herniated disk in his neck a few weeks later. Wright started Spring Training with the Mets this season, but a shoulder impingement has kept him out.
In 2015, Wright played just 38 games after being diagnosed with spinal stenosis, a chronic back condition that forced him to go through extensive preparation before each game. He returned in late August that season, helping the Mets reach the World Series. However, he has played just 75 games over the past two seasons.
Worth noting
• Right-hander Jeurys Familia threw his first bullpen session since being diagnosed with a blood clot in his throwing shoulder in May, Ricco said. Familia's bullpen session was 25 pitches, and he is still a "few weeks away."
• Left-hander Josh Edgin has cleared waivers and has been assigned to Triple-A Las Vegas, Ricco said. Edgin was designated for assignment to make room for new acquisition AJ Ramos last week. Edgin had the option to elect free agency, but decided to stick with the club.
• Infielder T.J. Rivera arrived in Port St. Lucie this week, and will try to see if he can play with the partially torn UCL in his elbow. Ricco said Rivera is going to try a conservative approach before determining whether he needs surgery.
• Outfielder Juan Lagares played five innings in a rehab start with Double-A Binghamton, and will play seven innings Wednesday night. Ricco said Lagares' thumb is feeling fine, and he just needs more at-bats to get ready. Lagares broke his left thumb making a diving catch June 15.
• Right-hander Robert Gsellman threw three rehab innings for Binghamton on Tuesday, and will make another rehab start there Sunday. Gsellman will likely throw 60-70 pitches, Ricco said, adding that Tommy Milone (knee) is a bit ahead of Gsellman.
Max Gelman is a reporter for MLB.com based in Denver and covered the Mets on Wednesday. This story was not subject to the approval of Major League Baseball or its clubs.