Schwarber hosts young fan's first Wrigley visit
Faulkner, 11, makes trip from Arizona with Make-A-Wish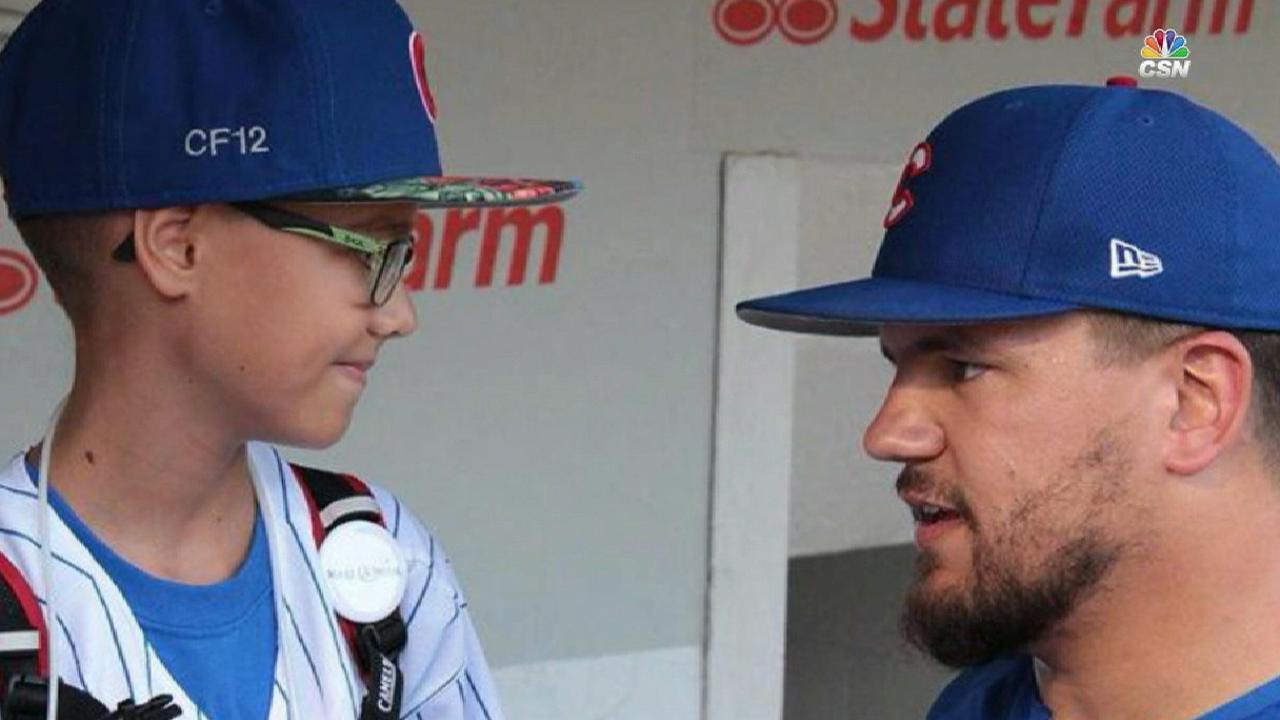 CHICAGO -- In Spring Training 2015, Cubs outfielder Kyle Schwarber met Campbell Faulkner, and the two became friends. On Wednesday, Faulkner, a spunky 11-year-old battling a rare form of mitochondrial disease, got to see where Schwarber plays for the first time.
Faulkner and his family were at Wrigley Field for the Cubs' series against the D-backs, thanks to the Make-A-Wish Foundation.
Schwarber, who has worn a bright green bracelet embossed with "Campbell's Crew" since he met the boy, had talked to the Faulkner family this spring about possibly going to the Cubs' season opener in St. Louis. But Faulkner chose Wrigley Field.
"He sent me the email that he chose coming here," Schwarber said. "At the time, I was in the Minor Leagues. He said, 'If you're still in Triple-A, we're going to go to Chicago and then go to Texas or wherever you are to watch you.' I said, 'That's perfect.' And I said, 'Hopefully, I'll see you up here.' Luckily, I'm back up. It's his first time at Wrigley, and it'll be fun for me to share it with him."
On Wednesday, Schwarber took Faulkner out to left field to stand near the ivy during batting practice. After their time together, Faulkner presented Schwarber with a donation to his Neighborhood Heroes Program.
Campbell's parents, Carrie and Shane, and his brothers, Clayton and Carsten, and sister, Sage, were all part of the traveling party. They were handing out green bracelets on their flight from Phoenix to Chicago on Tuesday.
Schwarber often points out his knee injury is minor compared to what Faulkner is dealing with. Schwarber tore two ligaments in his left knee in April 2016. Faulkner, a resident of Queen Creek, Ariz., has had difficulty walking and standing, and has struggled to gain weight. He wears a backpack to carry his feeding tube.
On Wednesday, none of that mattered. Campbell couldn't stop smiling.
"[If you go 0-for-4] what do you have to complain about?" Schwarber said. "The way he carries himself with the big smile on his face every day, and I'm sure he's not feeling 100 percent every day but he's living to the fullest. It's a prime example of how you should approach a sport like this where you have to grind through a season."
Faulkner has spoken at public events to raise awareness for his rare disease.
"I'm just happy to be a small part of his life and be a friend," Schwarber said.
Carrie Muskat has covered the Cubs since 1987, and for MLB.com since 2001. She writes a blog, Muskat Ramblings. You can follow her on Twitter @CarrieMuskat and listen to her podcast. This story was not subject to the approval of Major League Baseball or its clubs.