Veteran Phillips accepts switch to third base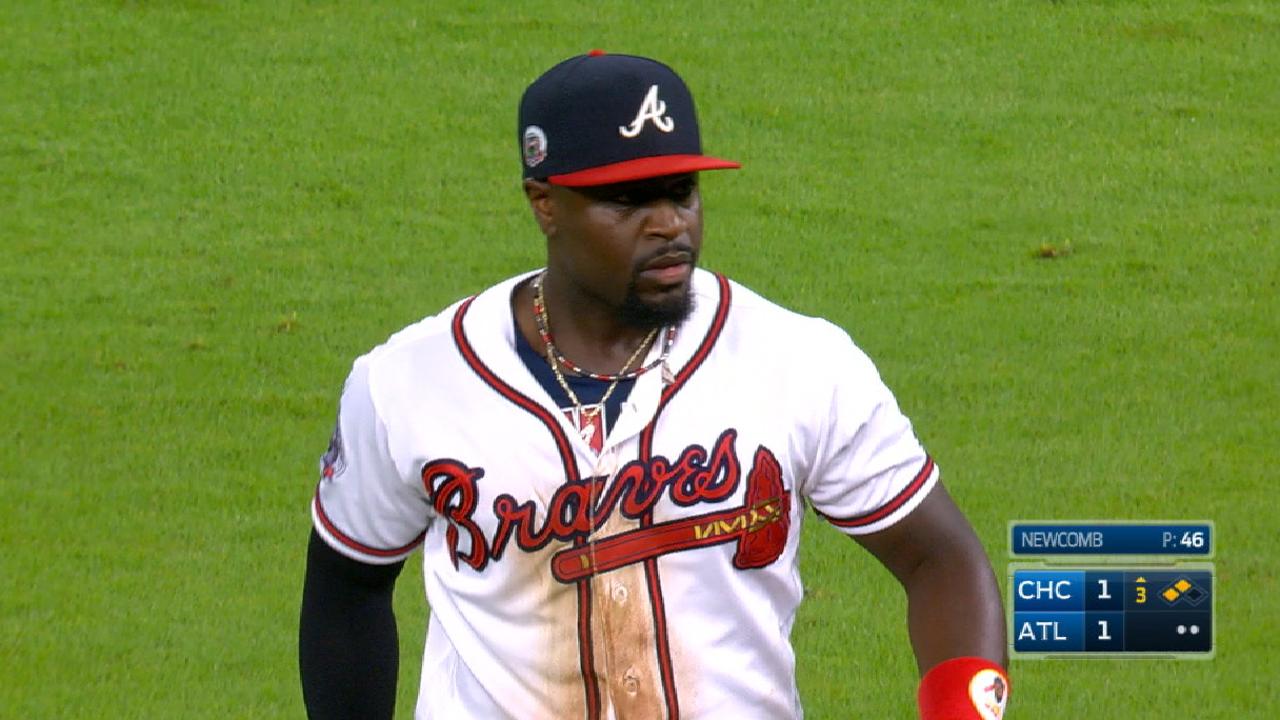 ATLANTA -- Brandon Phillips wasn't ready to provide an immediate response when the Braves asked him if he was willing to spend time playing third base. He was still dealing with the immediate disappointment he felt Tuesday afternoon, when he walked in the clubhouse, looked at the lineup and immediately realized he was no longer the Braves' starting second baseman.
But after having some time to digest the fact he was being unseated by freshly promoted top prospect Ozzie Albies, Phillips informed the Braves he was willing to switch to a position with which he has little familiarity. This was enough for manager Brian Snitker to utilize the 36-year-old veteran as his starting third baseman in Wednesday night's game against the Dodgers at SunTrust Park.
"He wants to play," Snitker said. "The guy is a ballplayer and he wants to play. I'm glad. He'll do a great job for us. It will be good for us to have him over there. ... It was a lot to process yesterday, and I get that."
While Phillips accepted the Braves' request to play third base, he declined to speak to reporters when approached Wednesday, a couple hours before making just his third career start at a position other than second base. He made two starts at shortstop for the Reds in 2006.
The Braves were unsuccessful in their attempt to trade Phillips before this past Monday's non-waiver Trade Deadline, but they will continue to attempt to move the four-time Gold Glove Award winner who has a partial no-trade clause that allows him to block a deal to 12 different clubs.
Snitker plans to utilize Phillips as his primary third baseman moving forward. This unexpected position switch was a product of all that transpired on Tuesday, when Albies was promoted from Triple-A Gwinnett and the Braves decided to end the experiment of using first baseman Freddie Freeman at third base.
While many Braves fans celebrated the promotion of Albies, who ranks as baseball's 19th-best prospect per MLBPipeline.com, the surprising revelation elicited different emotions for Phillips, who had to gather his thoughts before agreeing to the request to play third base, a position he played just once in his professional career, during a 2001 game for the Montreal Expos' Double-A affiliate in Harrisburg, Pa.
When Phillips arrived at SunTrust Park on Wednesday with his name already in the lineup as the starting third baseman, he told bench coach Terry Pendleton and third-base coach and infield guru Ron Washington he was ready to get familiar with the hot corner. These three worked together on the field for approximately 30 minutes before the start of batting practice.
As long as Dansby Swanson remains with Gwinnett and Johan Camargo continues serving as the starting shortstop, Phillips might actually prove to be a better option at third base than Sean Rodriguez or Danny Santana. In the process of learning the position, he can gain some versatility that could prove beneficial when he enters the free-agent market this winter.
"His hands, reaction and arm will play pretty well over there," Snitker said. "So going forward as he continues his career, this can do nothing but help him."
Mark Bowman has covered the Braves for MLB.com since 2001. This story was not subject to the approval of Major League Baseball or its clubs.