Former journeyman Kintzler honored by trade
New Nats reliever activated along with Cole; Fedde, Solis optioned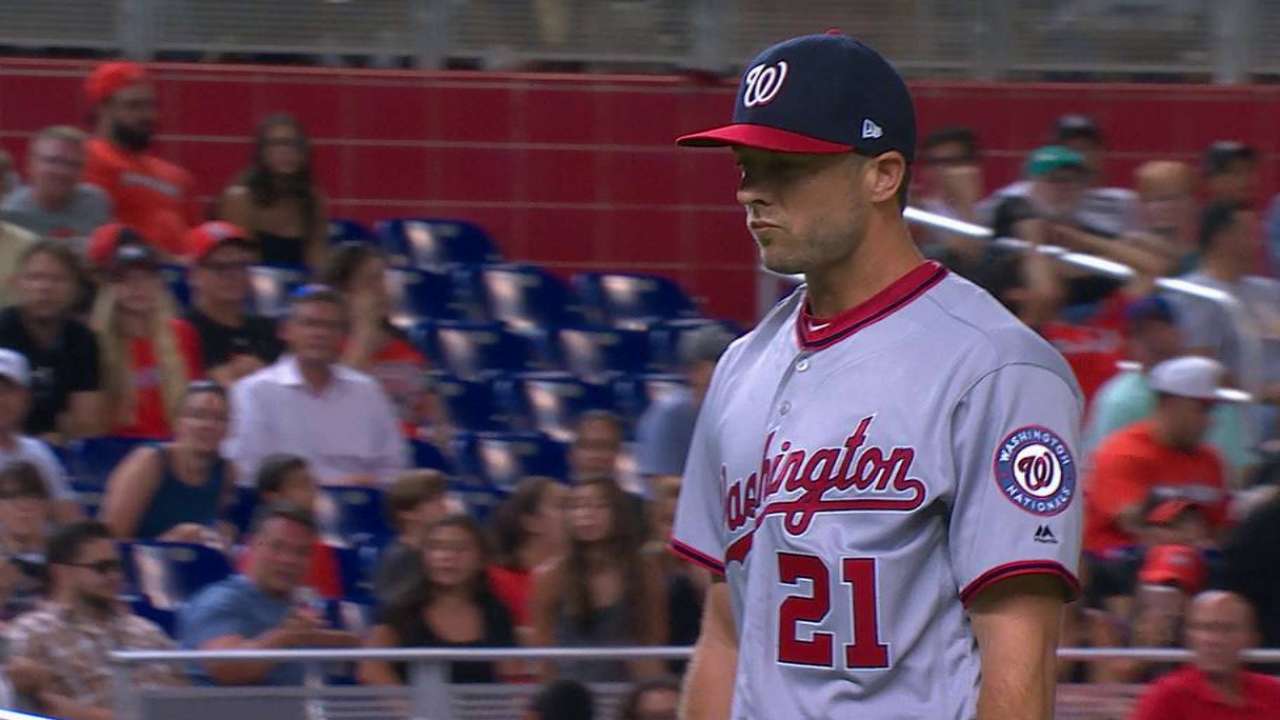 MIAMI -- Brandon Kintzler knew it would be a crazy day with rumors and speculation flying around before Monday's non-waiver Trade Deadline, so he took his wife and child to the San Diego Safari Park. They spent about five hours total there that day and he'd already fed a giraffe, saw lions and was in fact feeding a rhino when he got a call from a Minnesota phone number informing him he had been traded to the Nationals.
Kintzler officially joined his new team Wednesday afternoon after he spent the previous day -- which was also his 33rd birthday -- traveling to Miami. The reliever was activated, along with Wednesday's starter, A.J. Cole, as right-hander Erick Fedde and left-hander Sammy Solis were optioned to Triple-A Syracuse. And Kintzler retired all four batters he faced while notching a pair of strikeouts during his Nationals debut in Wednesday's 7-0 loss to the Marlins.
"It's an honor for someone to even want to trade for you," Kintzler said before the game in the visitors' dugout at Marlins Park. "A couple years ago, I couldn't even get a job in the Minor Leagues. So, all of a sudden someone wants to trade for you, I don't take it for granted."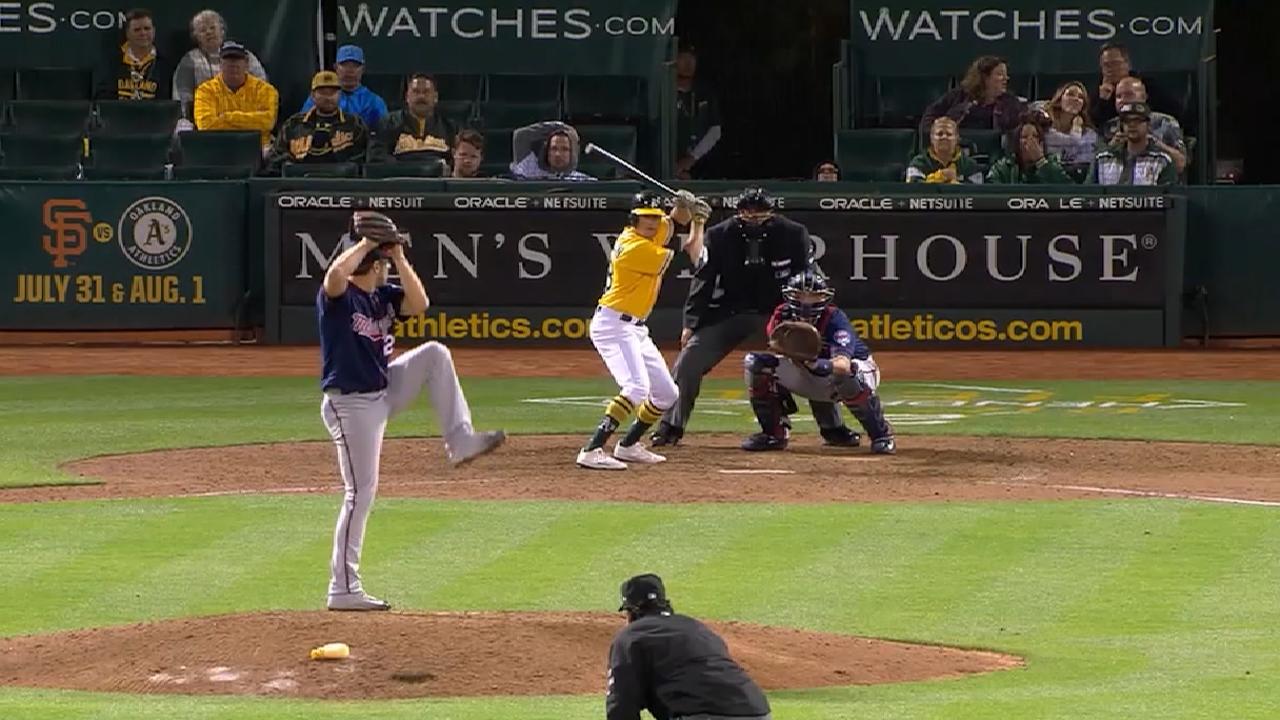 Kintzler was not sure exactly what his role would be, but during his career in Milwaukee and Minnesota, he has taken on every bullpen role from middle relief to setting up to closing. He will likely factor into the mix along with left-hander Sean Doolittle and right-hander Ryan Madson to help close out leads in the final three innings. And Kintzler made a good first impression Wednesday night.
"He has a pretty good idea of what he wants to do," manager Dusty Baker said. "He threw some balls up when he needed to. He threw some balls down, he threw some sliders in. And he threw strikes. I think his ratio was off the chart, like three or four, 3 1/2 to every four balls. He was around the plate and threw quality strikes. We liked what we saw."
Kintzler also brings an unconventional profile for a late-inning reliever. He has the lowest swinging-strike rate (6.8 percent) among right-handed relievers with at least 500 pitches thrown this season, but he makes up for it with lots of soft grounders. Opponents are batting under .200 with no extra-base hits when putting the ball on the ground against him this year.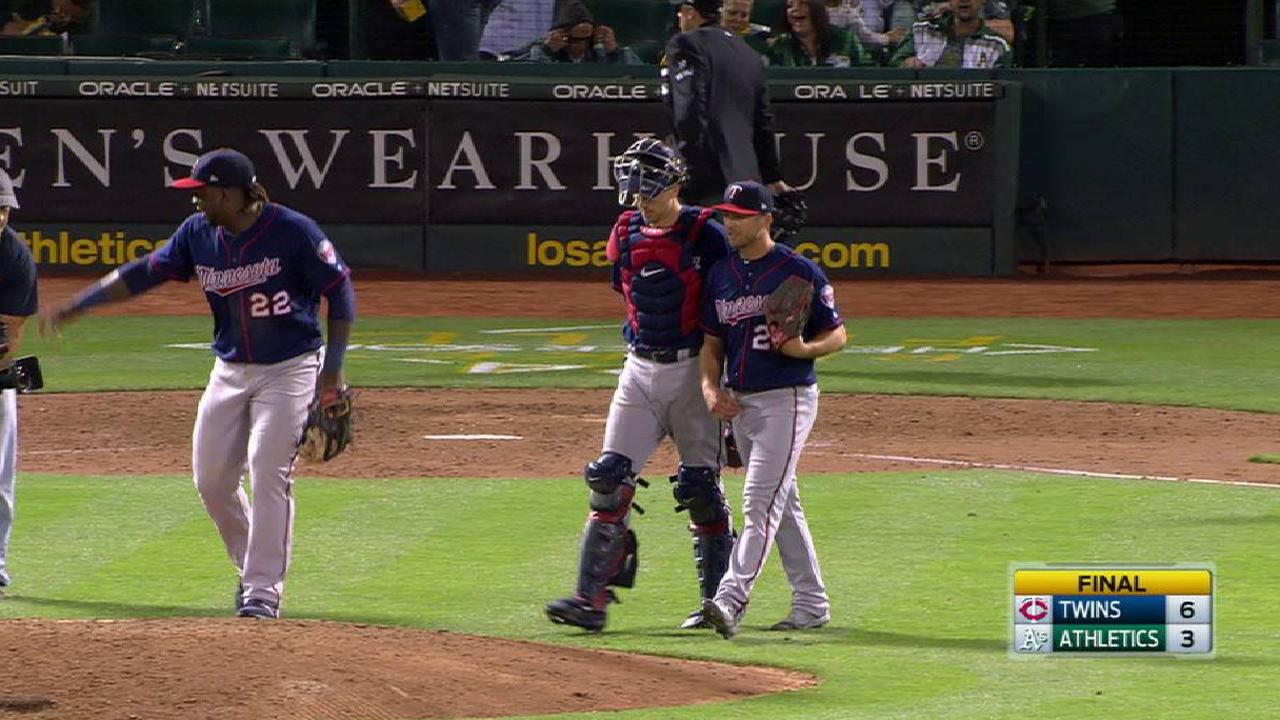 "You can get quick outs, and that makes me available every day," Kintzler said. "And that's what I like to be. I learned in the National League, you want to be available every day for your manager. ... Strikeouts will lead to a lot of pitches, which will lead to walks. I understand everyone loves them, and they're sexy. Maybe every once in a while, I'll get one. But it's something I'm not chasing for. I like to get in and out and see you tomorrow."
This was the first time Kintzler returned to this ballpark since the All-Star Game presented by Mastercard last month, when he tossed a scoreless fourth inning. He remembered how emotional he was warming up in the bullpen that night as he prepared to make his first All-Star appearance after a whirlwind of a career.
Kintzler had been released, spent two seasons in the independent league before being signed by Milwaukee, and he pitched through a torn tendon in his knee in 2013 and '14 that hindered his performance.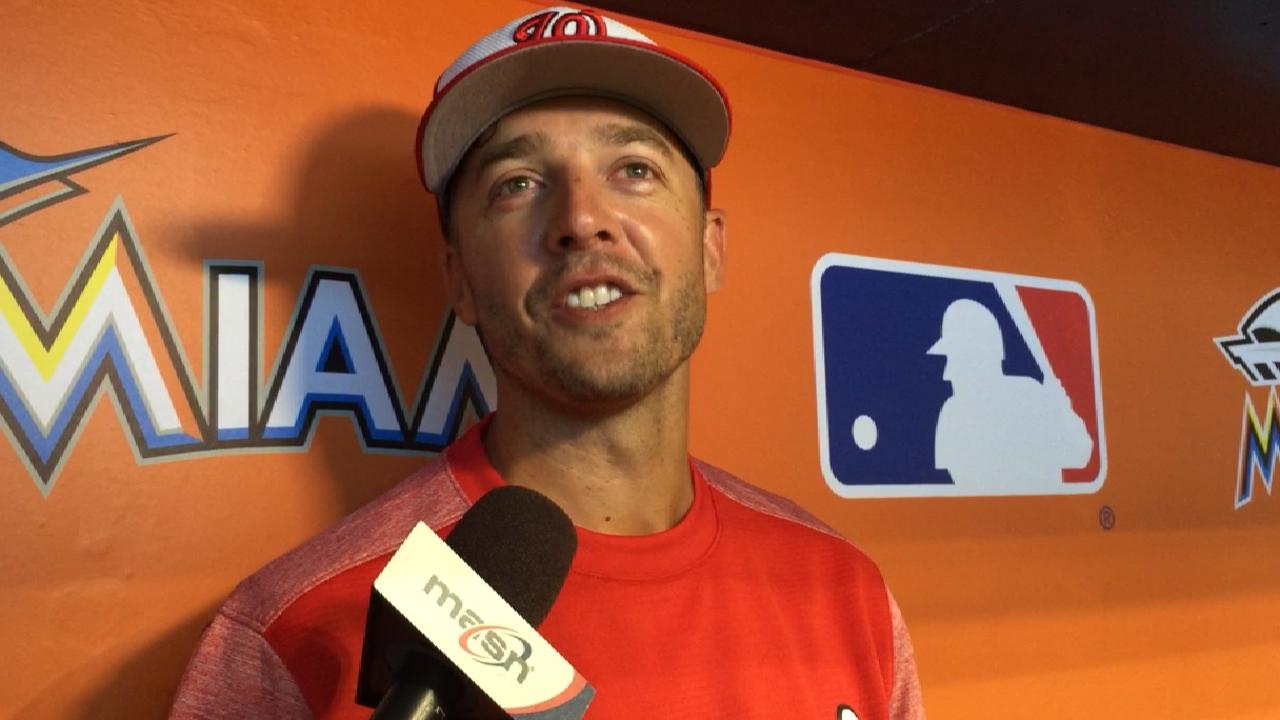 "This guy's probably the independent leagues' pin-up boy," Baker said. "He was a very interesting story. This guy, he said he's been through the bushes.
"That shows you a lot because a lot of times, I'm sure people will ask those independent guys, 'Why don't you just give it up and get a job?' He's an example of how you don't know how close you are to getting to the big leagues and finding success. I'm glad for him, and I've always heard he's fearless, and I see why. This guy really has nothing to lose."
Jamal Collier covers the Nationals for MLB.com. Follow him on Twitter at @jamalcollier. This story was not subject to the approval of Major League Baseball or its clubs.