Gardner squaring ball up during surge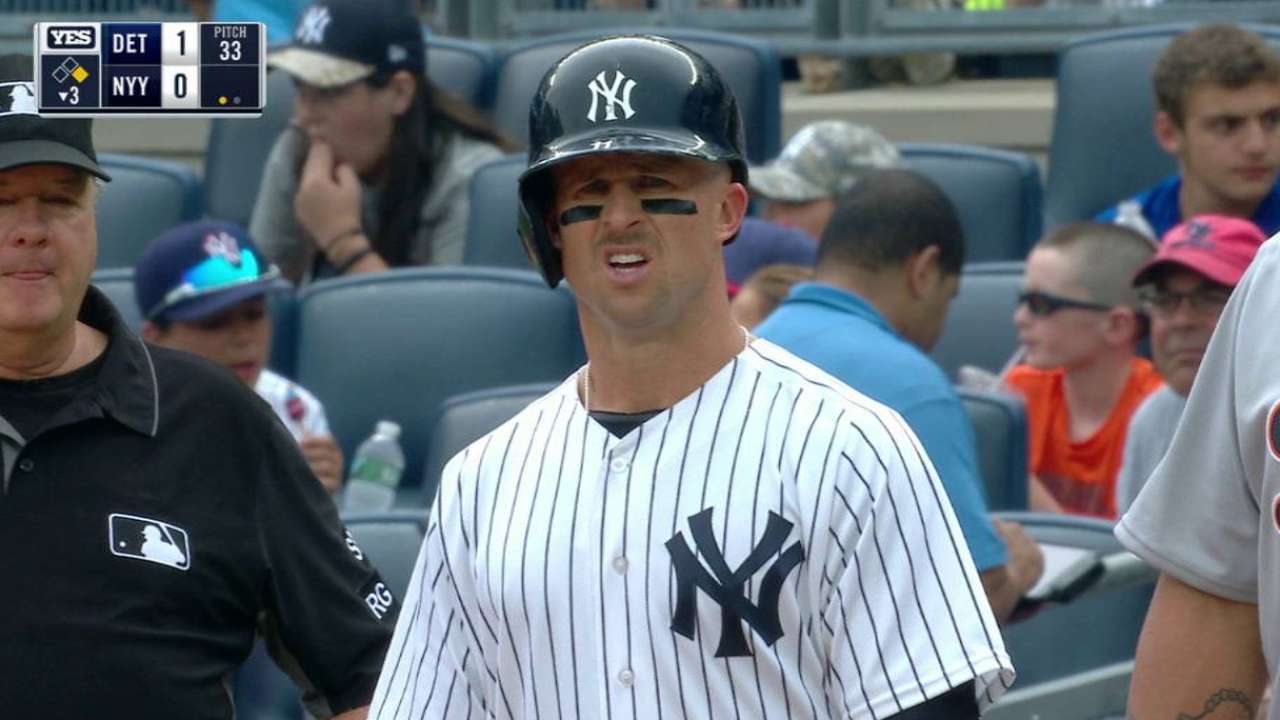 NEW YORK -- It was the ultimate sign of respect for a Major League hitter.
Brett Gardner, who represented the winning run, was intentionally walked with two outs in the ninth inning in the Yankees' 4-3 loss to the Tigers on Tuesday night. He proceeded to steal second base, sliding in safely without a throw, before Clint Frazier popped out to end the game.
"You know that he's going to steal second, and that's the winning run," said manager Joe Girardi of the Tigers' decision to walk Gardner. "I think [Tigers manager] Brad Ausmus showed him a lot of respect. And Clint Frazier has swung the bat pretty well in those big situations. It was a risky proposition, but it worked."
In spite of the Yanks' loss, Ausmus' move shows just how much of a force Gardner has been for his team this season, especially during his career-best 14-game hitting streak, which he extended with a single in his second at-bat of Wednesday's rainy 2-0 loss to the Tigers.
Entering Wednesday, Gardner was batting .321/.406/.607 with four homers, seven RBIs, 10 runs scored and two walk-off hits during the streak.
"He's really driven the baseball," Girardi said. "The magnitude of the hits, how important they have been to our club. He has been a big part of our success this year, a career high in home runs [19], scoring runs. He's hit the ball hard."
Gardner has seen an 8.7-percent increase (from 24 to 32.7) in his hard-hit percentage from 2016 to '17, according to Statcast™, which classifies any ball put in play with an exit velocity of at least 95 percent as hard-hit.
During his hitting streak, Gardner has a hard-hit percentage of 40.4. His hard-hit rate was 24.1 in the 13 games prior to the surge.
All season, Gardner said he's been hitting the ball harder because he's more focused on using his lower half when he swings. During the pitcher's delivery, he bends his knees and crouches down a bit to store most of his energy in his legs and his core. Then, as Gardner swings, he transfers all that built up energy as force through the baseball at the point of contact.
"I'm trying to make it a point to stay down on my legs a little more," said Gardner back in May when he was in the middle of another hot streak. "Just stay down on my legs and use my lower half."
Matthew Martell is a reporter for MLB.com based in New York. This story was not subject to the approval of Major League Baseball or its clubs.