After not getting traded, Bruce powers offense
Mets outfielder not dealt at Deadline, homers Tuesday
DENVER -- Jay Bruce doesn't like paying attention to trade rumors.
Bruce has been mentioned in trade rumors since last offseason, and teams targeted him heading into Monday's non-waiver Trade Deadline. But the Mets outfielder stayed put, and in Tuesday's 5-4 loss to the Rockies, he powered the offense by going 2-for-4 with a home run and a pair of RBIs.
To avoid trade talk, Bruce usually spends time with his family and plays with his 15-month-old son. But sometimes, whispers will get through.
"I honestly probably look at it and listen to it too much. As readily available as it is, it's hard to turn it off, you know?" Bruce said. "We were on the road, so my family wasn't with me, so that was kind of counter-multiplied.
"But yeah, I mean it's out there, people are reading it. You read it more than you should, and that's just the nature of it. I try my best to stay disconnected from it, but it gets in there."
Despite the Mets dealing Lucas Duda and Addison Reed to contenders, Bruce stayed put. The veteran outfielder, whose contract expires at the end of the season, had a big first game after the Deadline, hitting a leadoff homer in the eighth off Rockies reliver Chris Rusin and giving the Mets a brief 4-3 lead.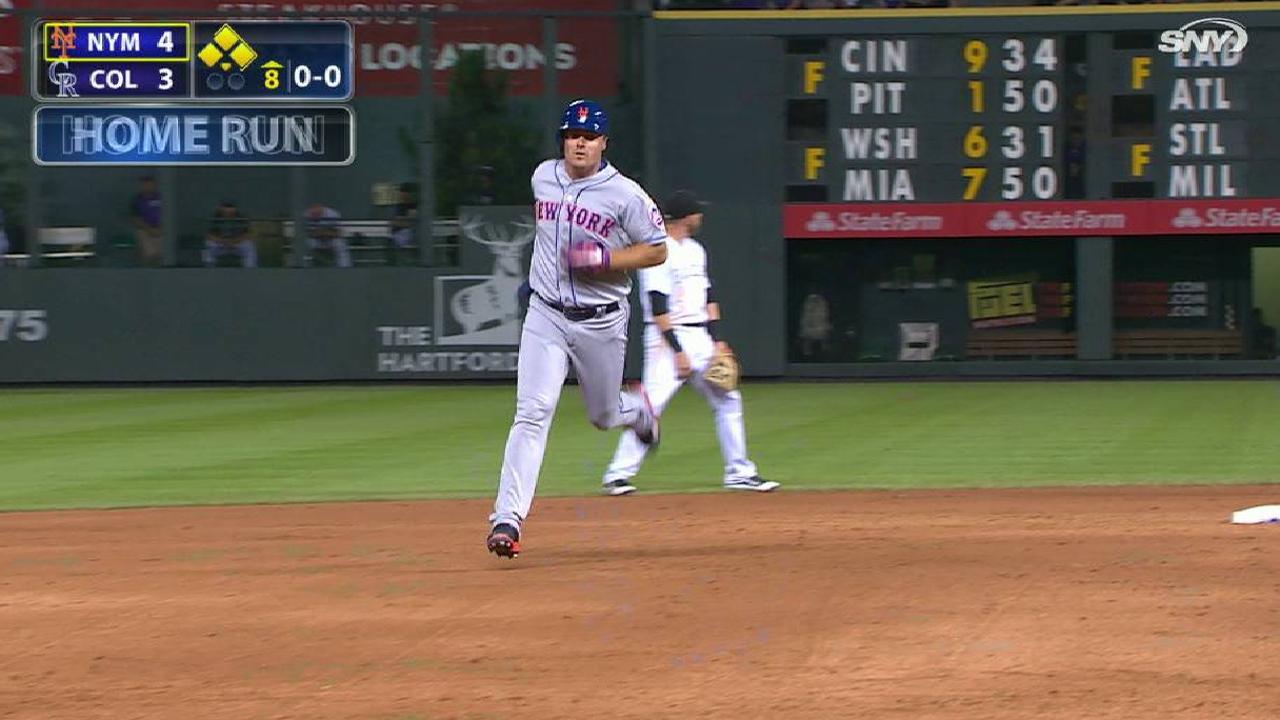 Bruce's attractiveness as a trade target this summer is similar to why the Mets acquired him from the Reds last July -- he's a left-handed power bat. His 28th home run moved him into sole possession of third place in the National League, trailing only the Marlins' Giancarlo Stanton (33) and the Dodgers' Cody Bellinger, who hit his 29th home run Tuesday.
But Bruce said his night didn't feel any different than it would have before the Deadline.
"I don't control any of those rumors. Anything that's said about me, I just come out here and do my job," Bruce said. "There's Twitter, there's the internet, which is pretty popular these days. It's all that stuff, it's just so easy … and the bottom line is none of it's true until it happens."
Bruce has been one of the Mets' top offensive weapons, which has been needed with slugger Yoenis Cespedes enduring various injuries. Manager Terry Collins lauded Bruce's professionalism.
"He'll always do what he does -- he comes and plays, he plays every day. He'll show up tomorrow and do the same thing," Collins said. "People don't give him enough credit, he's a good player."
Though the Mets only traded Duda and Reed -- and even obtained former Marlins closer AJ Ramos -- Bruce, Curtis Granderson and Asdrubal Cabrera were also the discussion of trade rumors. There is still a chance they could be traded in August, should they clear revocable waivers.
But for now, Bruce remains focused on the Mets.
"I'm a ballplayer on the Mets. That's my job, is to help these guys win," Bruce said. "That's gonna be what I do, no matter where I'm playing."
Max Gelman is a reporter for MLB.com based in Denver and covered the Mets on Tuesday. This story was not subject to the approval of Major League Baseball or its clubs.