After rough July, Berrios starts August strong
Twins' right-hander opens start with five no-hit innings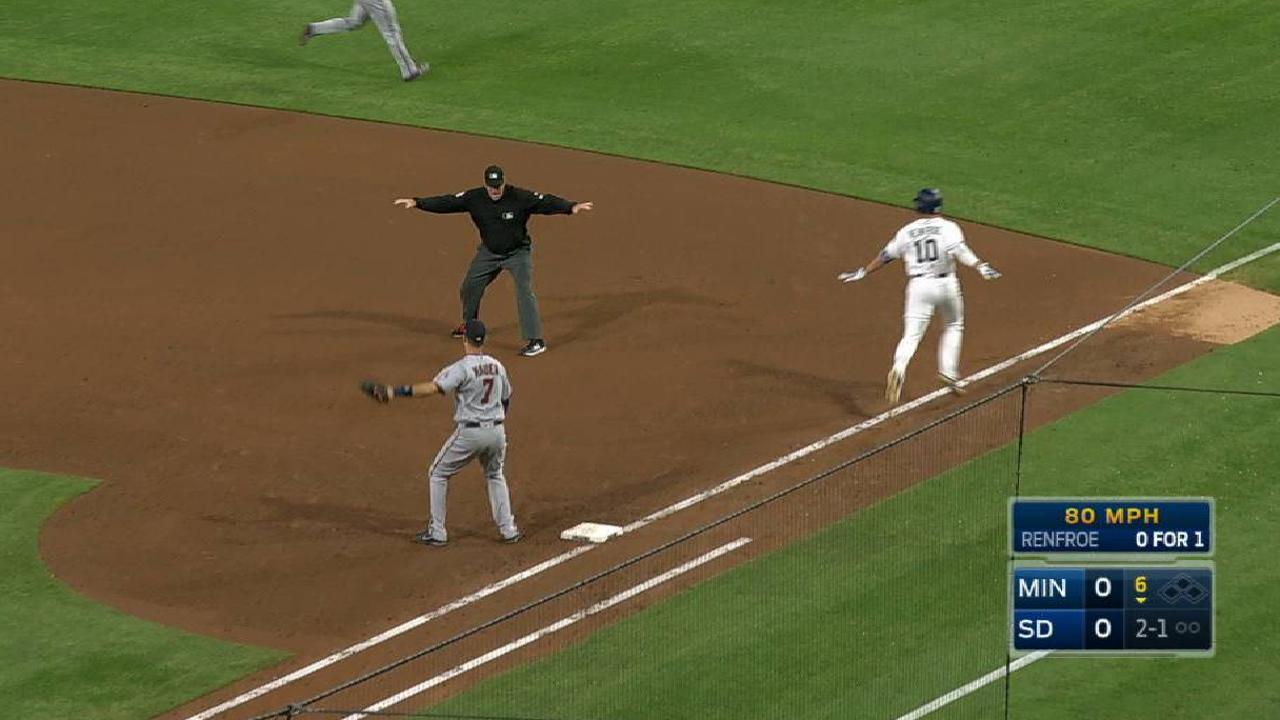 SAN DIEGO -- After a July that saw Jose Berrios scuffle with a 5.79 ERA in five starts, the right-hander bounced back with a strong effort against the Padres on Tuesday.
Berrios attacked the strike zone, allowing one run on two hits and two walks over seven innings, throwing 75 pitches before being lifted for a pinch-hitter in the eighth. But his effort wasn't enough in a 3-0 loss at Petco Park, which was Minnesota's seventh loss over its last eight games.
It was still a positive sign for Berrios, however, as the 23-year-old was efficient and showed better command. He threw first-pitch strikes against 12 of the 22 batters he faced, and didn't allow a hit until the sixth inning. Of his 75 pitches, 46 were strikes, and he believed watching video of his last start against the Dodgers helped him turn it around.
"My [command] was much better," Berrios said through a translator. "I looked back at the fourth inning against the Dodgers and noticed that when I fell behind, I don't want to say I didn't compete, but I didn't come back with quality pitches. But today, when I fell behind, I threw quality pitches. My control was much better."
Berrios, though, was hurt in the sixth when he fell behind hitters, although he suffered from some tough luck, as the first hit from the Padres came on a slow roller down the third-base line from Hunter Renfroe. Austin Hedges followed with a double on a ball that right fielder Max Kepler couldn't handle after he initially broke in on a ball hit over his head.
The winning run came on a sacrifice fly to center from Manuel Margot with Hedges getting caught in a rundown to end the inning on a double play. It was an effort worthy of a win for Berrios, but the offense struggled with three hits and Berrios was saddled with the loss.
"He was unlucky on a couple fronts," Twins manager Paul Molitor said. "We didn't have much offense and then there was the swinging bunt to open the sixth and it looked Kep had some trouble with that ball and it ended up behind him."
The move to pinch-hit Berrios also didn't work out, as Robbie Grossman struck out to open the eighth and Alan Busenitz served up a two-run homer in the bottom of the inning to essentially seal the loss.
It was another rough ending for the Twins, who failed to capitalize on both the Indians and Royals losing, and remain on the fringes of contention after the front office's decision to trade closer Brandon Kintzler and lefty Jaime Garcia. The Twins are 6 1/2 games back of Cleveland and 4 1/2 games behind Kansas City.
"It's not the best feeling," Berrios said of the tough-luck loss. "It's not fun when you do well and then things don't go our way. But we're still trying to compete and make the playoffs."
Rhett Bollinger has covered the Twins for MLB.com since 2011. Follow him on Twitter @RhettBollinger and Facebook. This story was not subject to the approval of Major League Baseball or its clubs. This story was not subject to the approval of Major League Baseball or its clubs.