Hedges has breakout game after DL stint
Padres catcher slugs two-run homer in win over Twins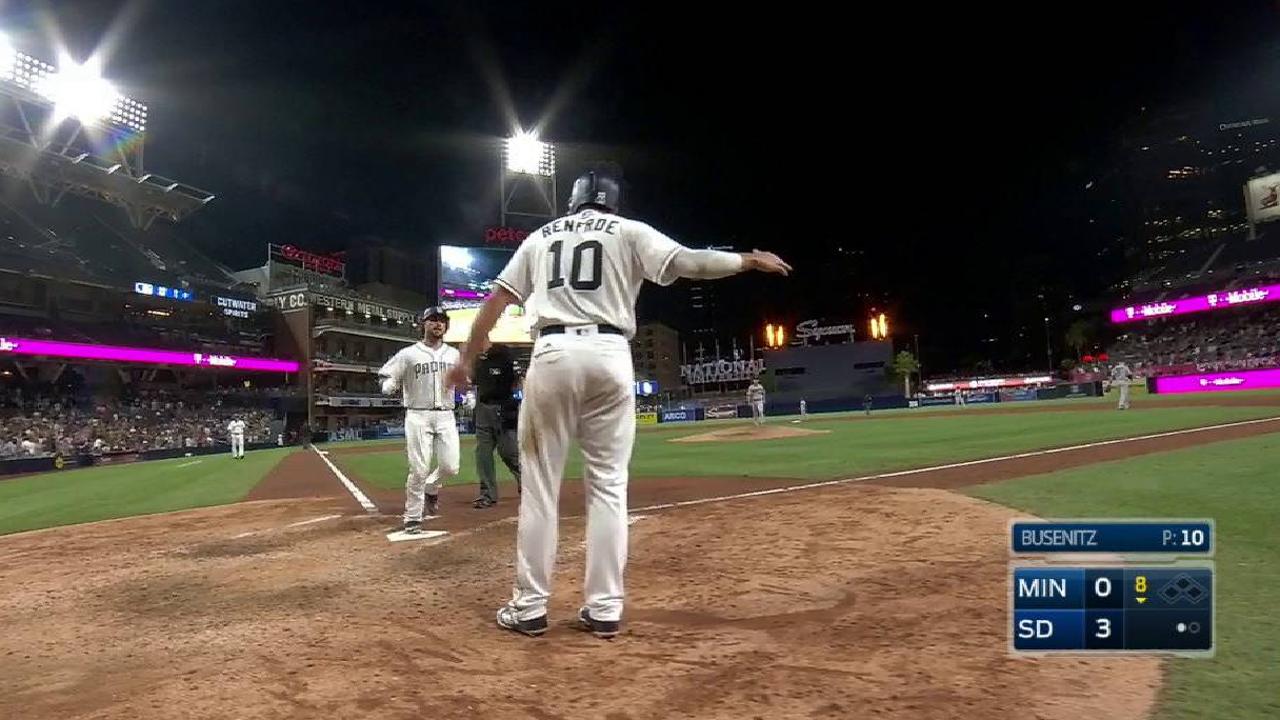 SAN DIEGO -- In some ways, Tuesday night marked both vindication and validation for Austin Hedges.
Vindication because the Padres' 3-0 victory against the Twins was Hedges' second game since coming off the disabled list after he dealt with concussion symptoms for two weeks. Validation because he used that time off to work on his swing, which proved fruitful as he provided a pair of opposite-field, extra-base hits, including his 14th home run.
Hedges, the Padres' catcher, took a foul tip to the mask July 14 and was out until Sunday, battling vision issues and haziness. His return not only benefits San Diego's lineup, but also its defense, as the Padres pitched their seventh shutout, all of which have come with Hedges behind the plate.
"He's been through so much in the last two weeks," manager Andy Green said. "We've missed him when he was on the concussion DL. We have him back swinging the bat. He's impacted us."
After Twins right-hander Jose Berrios held the Padres hitless through five, Hunter Renfroe beat a grounder to third for an infield single to start the sixth. Hedges then sent a Berrios two-seamer to right, over the head of Max Kepler, to set up Manuel Margot's go-ahead sacrifice fly.
In the eighth, Hedges went further, streamlining Alan Busenitz's 0-1 pitch out to right-center field for a two-run homer. His 14 home runs are tied for second among National League catchers, but Tuesday's was only his third to the opposite field.
"When I'm hot, when I'm going good, I'm using the whole field," Hedges said. "It allows me to stay on more pitches. I know sometimes I can get pull happy. A lot of times, that's where my power comes from, is pull side, so to have some power going the other way is really nice to see."
He did his work behind the plate, too. Jhoulys Chacin posted a 3.63 ERA in his past three starts, all without Hedges as his battery mate, but he twirled seven scoreless innings Tuesday, holding Minnesota to three hits. Kirby Yates and Brad Hand each pitched perfect frames to complete the shutout.
"You know how well Hedges is calling games and how smart he is," Chacin said. "I always say it doesn't matter how well or how bad he's hitting. He's always studying the hitters and giving us the best he has."
Hedges' season average is .220 with the two-hit performance, but that does not dull Green's confidence in him.
"The numbers don't look great, but the guy gets big hits," Green said. "He's done it repetitively this year. ... He's good to have in the lineup, especially for what he does behind the dish."
Nathan Ruiz is a reporter for MLB.com based in San Diego. This story was not subject to the approval of Major League Baseball or its clubs.