Descalso provides relief, pitches perfect 8th
Infielder saves inning from 'pen after Corbin chased early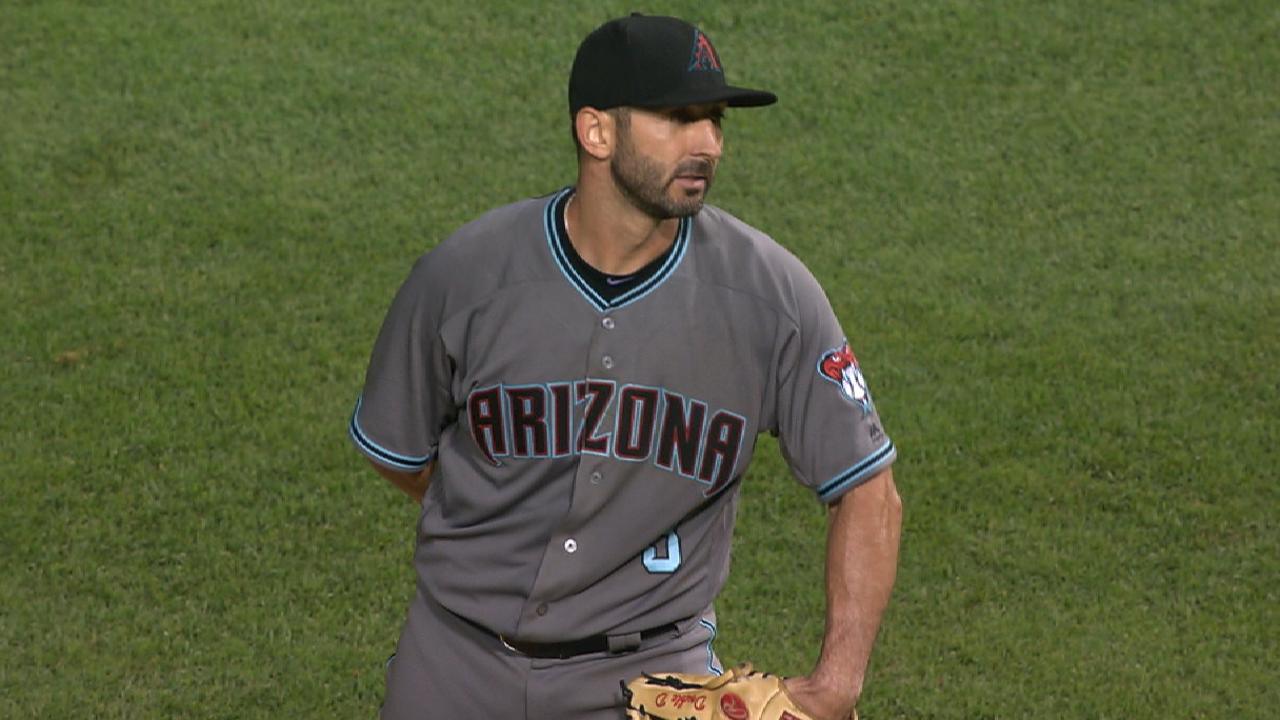 CHICAGO -- As he watched his team allow seven runs during the sixth inning of a 16-4 loss to the Cubs on Tuesday night, D-backs manager Torey Lovullo pulled infielder Daniel Descalso aside.
Lovullo asked: Would Descalso be willing to pitch the bottom of the eighth?
"I'm not a huge fan of it," Lovullo said of having a position player pitch. "But sometimes it's needed. Daniel did a good job of saving the bullpen for tomorrow. I walked up to him and asked if he's pitched before. He said he's done it and he's comfortable doing it. And he knows how to do it without getting hurt, and that was the most important thing."
Descalso threw one-third of an inning on May 12, 2014, while with the Cardinals. That game also happened to be against the Cubs.
He ended up having more success than any of the other four pitchers the D-backs used Tuesday, retiring all three hitters he faced on flyouts.
One of those was Ian Happ, who had never faced a position player in a game before.
"When you're used to facing 90, 95 [mph], 75 feels not that fast," Happ said. "I can't imagine what the guys who were facing Jon Jay, who was throwing 55, felt like."
Jay pitched an inning for the Cubs last month.
Descalso became the sixth position player in D-backs history to pitch, joining Josh Wilson, Jeff Cirillo, Augie Ojeda, Mark Grace and Steve Finley.
Sometimes having a position player take the mound can lighten the mood of a tough loss, and there was some laughing going on when Descalso tossed the 1-2-3 inning.
"How we accept losing and know why it happens and move off of it as fast as possible is one of the good characteristics of this ballclub," Lovullo said. "Maybe that got us kick-started a little bit early. I know the guys were laughing and joking as he came into the dugout. You're looking for moments like that in games like this. We'll see how this team responds tomorrow. They've done it all year long."
Descalso declined to comment on his outing after the game.
Catcher Jeff Mathis, who tried to nurse starter Patrick Corbin through a tough first three innings, said the biggest thing was to just move on after the loss.
"We know what they got," Mathis said of the Cubs. "We prepare, we go over what we're going to do to them. Obviously, we'll learn from tonight, put it behind us and get after it tomorrow."
Steve Gilbert has covered the D-backs for MLB.com since 2001. Follow him on Twitter @SteveGilbertMLB. This story was not subject to the approval of Major League Baseball or its clubs.