Avila, Wilson excited to join Cubs' quest
Maddon: Veteran catcher to fill more than backup role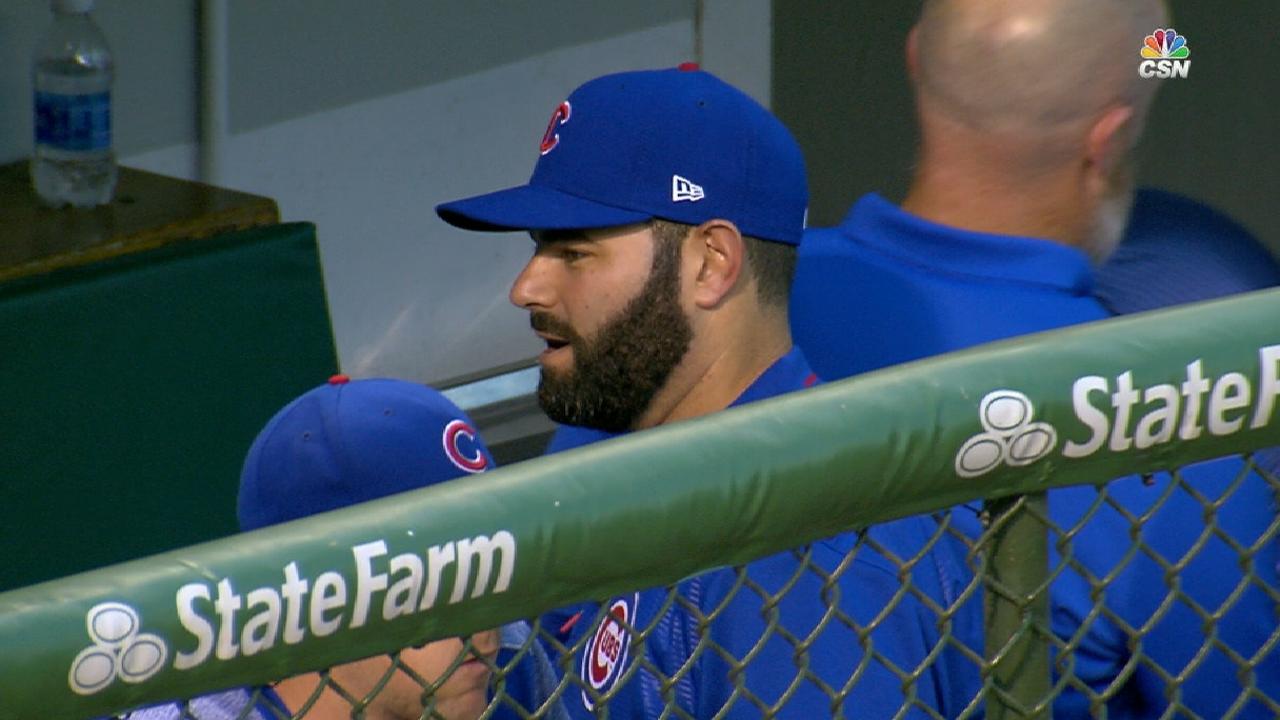 CHICAGO -- When Alex Avila's dad, Tigers general manager Al Avila, called the catcher to say he'd been traded to the Cubs, it was not that surprising.
"It's been a month in the works that my name's been out there," Alex Avila said Tuesday, his first day in the Cubs' clubhouse after being acquired, along with reliever Justin Wilson, for two Minor League players. "We'd talked about it over the last month and a half, if that was the direction he was going to decide to go in, I would be a player who teams were looking at. That's understandable."
It's just rare to have a father trade a son. Al Avila is the first general manager since 1968 to make a Major League-level trade involving his son.
"We have a great relationship," Alex said. "But when it comes to doing our job, we both have to do our jobs. He had to. There was nothing more to it than that. I know a lot of people like to crack jokes, and obviously it's a unique situation. We got to spend a lot of time together, he got to watch me play a lot of Major League Baseball games over the last eight, nine years. It's been amazing. We've had something a lot of people don't get to experience.
Alex Avila said his mother was more disappointed about the deal.
"I think she's more upset she won't see her grandchildren as much," Avila said. "My family understands. We're a baseball family, we've been in it forever. When you grow up in this industry, you understand what it takes to succeed and the sacrifices you have to make as a family. It's nothing new to us."
Wilson had heard his name mentioned so many times in trade rumors that he took two suitcases on the Tigers' last road trip in case he was dealt and didn't have time to get back to Detroit. Instead, he flew to Detroit on Monday, then drove to Chicago. He just threw the two suitcases in the car.
"I'm so excited to be here and be a part of this," Wilson said. "I just want to go win ballgames now -- that's what it's about."
The lefty wasn't surprised to be traded.
"I was more relieved it was over," he said. "The Tigers were great and upfront with me. They understood my stock was very high and the team didn't play as well as they wanted in the first half. They told me there was a good possibility I'd be traded, and they didn't have to do that. I was prepared."
Welcome to the party, Justin Wilson!

You're going to fit in just fine. #ThatsCub pic.twitter.com/hhjBd70LT9

— Chicago Cubs (@Cubs) August 2, 2017
Wilson's role in bullpen
Now that Cubs manager Joe Maddon has a new lefty in the bullpen, how will he use Wilson?
"My thought process is to not wear anybody out and spread out the work and hopefully have everybody ready by the end of the season," Maddon said.
Wilson, who was 13-for-15 in save opportunities with the Tigers, could close if Wade Davis is not available, although Maddon also said Carl Edwards Jr. is an option to close as well.
As for Avila, Maddon made it clear the veteran will have an active role.
"I want him to know, 'I know people are saying you're a backup, you're not a backup catcher,'" Maddon said. "He is not. Look at his numbers. This guy is not a backup catcher."
Maddon said he wants to make sure they don't abuse Willson Contreras and overwork him.
"[Avila] is a very good receiver, really handles pitchers well," Maddon said. "I'm not afraid to put him out there at any time."
Avila will not automatically be paired with Jose Quintana, even though they were teammates on the White Sox in 2016. Avila didn't waste any time getting to work and did catch Quintana's bullpen session on Tuesday.
Roster crunch
The Cubs optioned right-hander Justin Grimm and catcher Victor Caratini to Triple-A Iowa to open roster spots for Wilson and Avila. Cubs president of baseball operations Theo Epstein was asked if the team will be looking to add any more players in August.
"It's always possible," Epstein said. "But right now we have a pretty crammed 25-man roster. We had to option two good players, Justin Grimm, a Major League reliever and a good one, and Victor Caratini, who showed great in his first showing in the big leagues.
"For the right player, we'll get creative, but we like our 25-man roster right now."
Rizzo returns
Anthony Rizzo was back in the Cubs' lineup after missing a game because of back stiffness. The first baseman said he felt better after getting treatment on Sunday in Milwaukee.
"I don't think it's anything to be concerned about," Rizzo said.
Maddon said he will try to give Rizzo more days off to avoid any more problems. Kris Bryant, Javier Baez or Contreras could start at first base if needed.
"We need to be proactive to make sure Anthony is well," Maddon said.
Quote of the day
"Coming off two out of three in Milwaukee in a really hard-fought series, our confidence is definitely pointing in the right direction. It's more of a '15, '16 feel as opposed to the beginning of '17. It's like the old Plymouth did not want to turn over, it did not want to engage, and all of a sudden it's kicked in, and we're starting to look like we're supposed to look." -- Maddon, on the feeling around the Cubs since the All-Star break
Carrie Muskat has covered the Cubs since 1987, and for MLB.com since 2001. She writes a blog, Muskat Ramblings. You can follow her on Twitter @CarrieMuskat and listen to her podcast. This story was not subject to the approval of Major League Baseball or its clubs.