Darvish's Dodgers debut set: Friday vs. Mets
Fellow Deadline acquisition Cingrani will join club in Atlanta on Thursday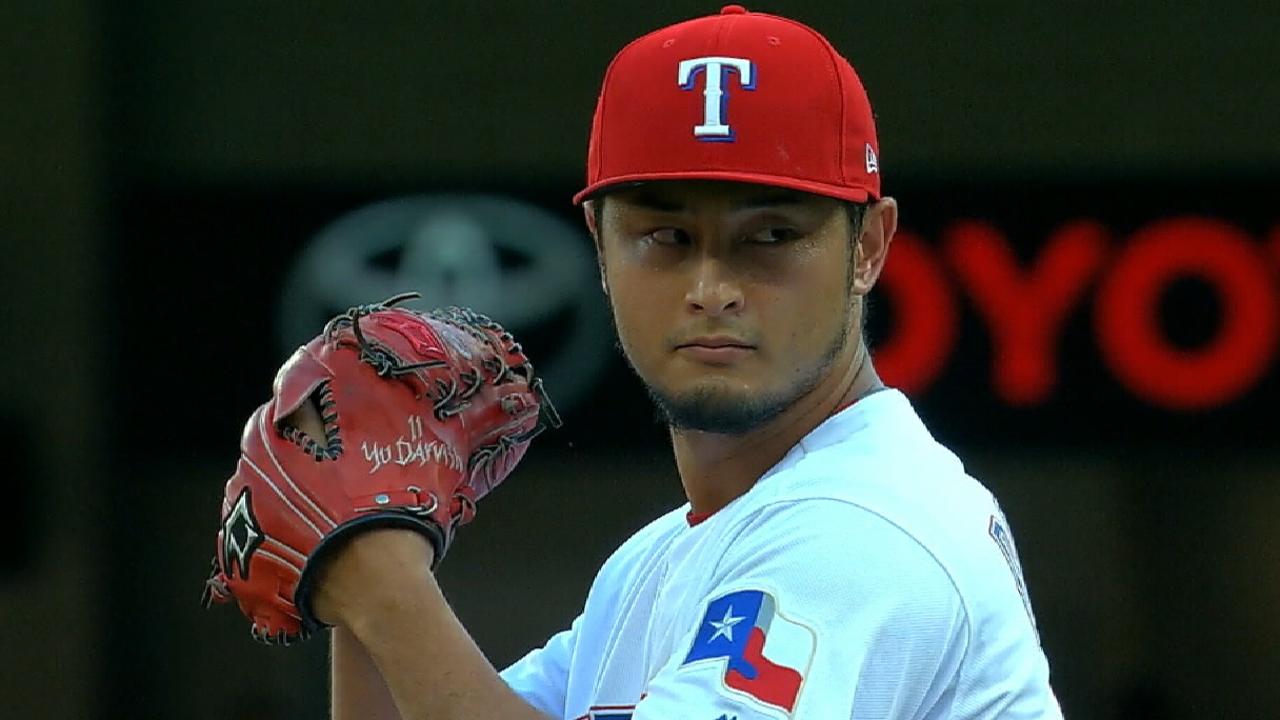 ATLANTA -- Things will look a little different for Yu Darvish when he makes his Dodgers debut against the Mets at Citi Field on Friday. He will sport a new number, wearing No. 21, and the righty will throw his first bullpen session with his new team on Wednesday.
Dodgers manager Dave Roberts has already exchanged text messages with Darvish and said that he was excited to have the ace pitcher on board. He knows that Darvish can help the starting rotation flourish down the stretch.
"He is an elite pitcher, and talking with certain people over there [with the Rangers] that were teammates of his that I played with, he is a great teammate and competitor," Roberts said.
Darvish, whom Los Angeles acquired on Monday in a non-waiver Trade Deadline blockbuster, made his last start on July 26. He gave up 10 runs in the start, but will be pitching on eight days' rest when he faces the Mets. Darvish has a career 3.06 ERA in games with six or more days of rest, compared to a 3.49 ERA in all other starts.
"When you see him from the other side, he has a great pitching mix and is very elite," Roberts said. "You add him to the pitching staff that we already have, and that makes us considerably better."
The Dodgers acquired Darvish from the Rangers for a package of three prospects, headlined by MLB Pipeline's No. 69 overall prospect, Willie Calhoun. Darvish has a 4.01 ERA with 148 strikeouts over 137 innings this season.
Darvish has thrived against National League competition in his career. He is 8-3 with a 3.07 ERA in 105 2/3 innings pitched vs. the NL. He also has struck out an impressive 11.8 batters per nine innings, while opposing NL batters are hitting just .208 against him.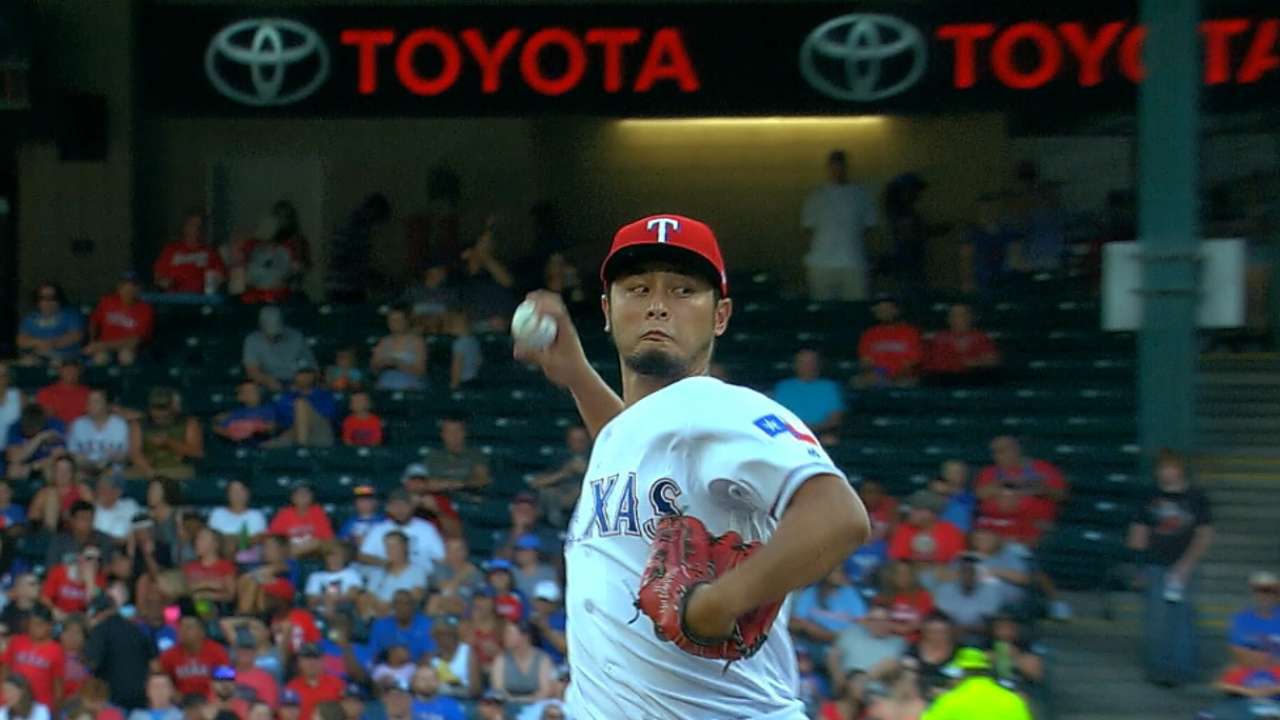 The Dodgers don't think it will take long for him to adjust to the NL, but they are determined to help him make the transition.
"I don't think that he will need too much help, but there are some subtle differences between the American League and the National League," Dodgers starter Alex Wood said. "I think his stuff pretty much plays anywhere. I think the biggest thing for him is getting locked in with Yasmani [Grandal], Austin [Barnes] and Kyle [Farmer] on what he likes to do and how he likes to pitch."
Roberts also announced that another of the club's Deadline acquisitions, left-handed reliever Tony Cingrani, will join the Dodgers on Thursday.
The Dodgers are currently using a six-man rotation, with Kenta Maeda pitching Tuesday, followed by Brock Stewart, Wood, Darvish and Rich Hill. Hyun-Jin Ryu pitched on Sunday, and injured ace Clayton Kershaw and Brandon McCarthy are expected to return before the end of the regular season.
Darvish, who is set to hit free agency this offseason, has been among the best pitchers in baseball since he came over from Japan in 2012. His 11.04 strikeouts per nine innings rank second only to the late Jose Fernandez among qualified starters since '12, and his 3.42 ERA and 3.30 FIP are also among MLB's leaders.
"We have a very good ballclub that is very focused and we have shown that so far this season," Roberts said. "I expect us to do the same thing going forward."
Jaylon Thompson is a reporter for MLB.com based in Atlanta. This story was not subject to the approval of Major League Baseball or its clubs.