Buxton activated; Gee recalled by Twins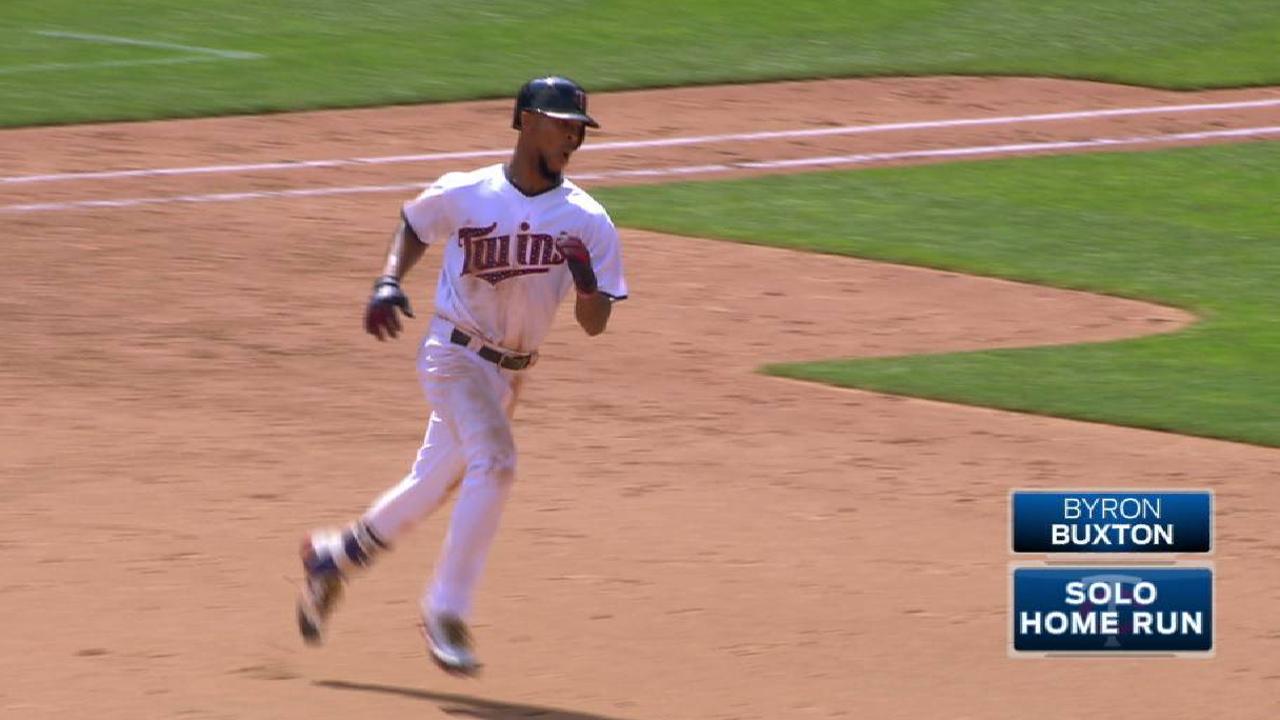 SAN DIEGO -- After trading closer Brandon Kintzler and lefty Jaime Garcia before Monday's non-waiver Trade Deadline, the Twins activated center fielder Byron Buxton from the 10-day disabled list and recalled right-hander Dillon Gee from Triple-A Rochester on Tuesday to take the vacated roster spots.
Buxton had been out since July 14 with a strained groin and was expected to return on July 25. But he suffered migraine headaches last week, and he was sent out on a rehab assignment with Triple-A Rochester over the weekend. Buxton went 5-for-12 with two homers while with Rochester.
"It was frustrating," Buxton said. "The biggest thing is I was ready to go back on the field and healthy, and then I get a migraine on that ninth day right before I was going to come off. But I couldn't control the situation and tried to make the best of it."
Rookie center fielder Zack Granite filled in for Buxton while he was out, but Buxton will remain the club's starting center fielder, while Granite will stay with the Twins as an extra outfielder. Granite hit with .267/.333/.300 with seven RBIs in 17 games in Buxton's absence.
"Every day up here is better than the Minor Leagues," Granite said. "We'll see what happens. A lot of things can change, but I'm happy to be here. I feel really good at the plate right now."
Gee was called up as a long reliever and rejoins the Twins after posting a 2.00 ERA in five starts with Rochester. He has yet to appear in a game with Minnesota this season, but he was on the active roster from June 23-27. Gee got the call over right-hander Kyle Gibson, who was optioned on July 25 and isn't eligible to be recalled until Friday.
"For right now, I'll be the guy stretched out in the 'pen," Gee said. "Today was start day in Rochester so I'm ready to go. There are some wheels in motion for when they need a fifth starter, but for now, I'm in the 'pen."
The Twins, though, need a fifth starter on Saturday, and it could be Gee or Gibson depending on Gee's workload in long relief. Gibson's start with Rochester was pushed back to Friday from Wednesday.
With the decision to trade Kintzler, the Twins don't have a full-time closer. Left-hander Taylor Rogers and right-hander Matt Belisle are expected to close based on matchups.
"I'm not going to name a closer," Twins manager Paul Molitor said. "We're not really in the position to do that. Obviously, Rogers has pitched well late and Belisle has been throwing the ball well recently, so those are two guys I have confidence in. I can use that combination depending on where we are with matchups and things like that."
Rhett Bollinger has covered the Twins for MLB.com since 2011. Follow him on Twitter @RhettBollinger and Facebook. This story was not subject to the approval of Major League Baseball or its clubs.