Reed excited to be in thick of playoff race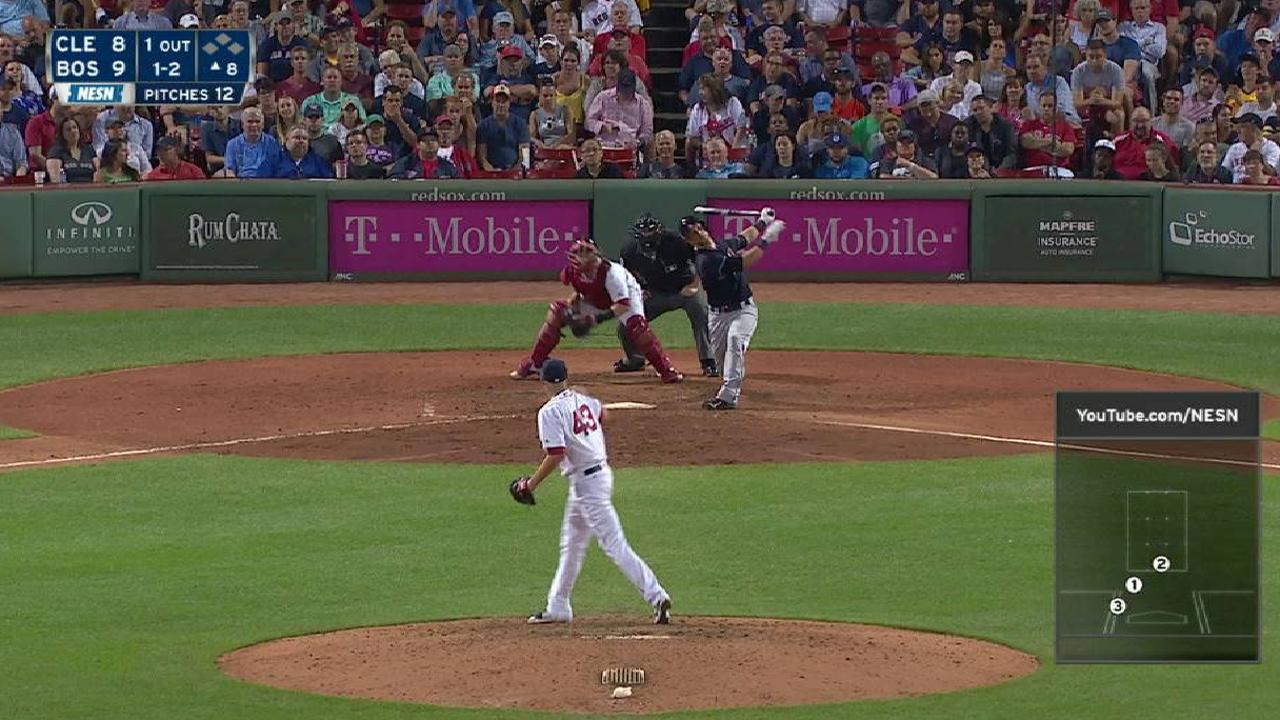 BOSTON -- After hearing his name in a plethora of trade rumors the week leading up to Monday's non-waiver Trade Deadline, Addison Reed is happy to be with the Red Sox.
The right-handed reliever, who was acquired from the Mets hours before the 4 p.m. ET Deadline, is excited to be thrown right into a pennant race -- especially with the Red Sox.
"This has always been a dream of mine, to come here and play," said Reed, who allowed one run and fanned one in the eighth inning of the Red Sox's 12-10 win vs. the Indians on Tuesday night. "When I got the call yesterday saying that I was coming here, it was awesome. It's everything I thought it would be. I'm excited to be here and to get ready to roll."
Reed, who spent a majority of the season as the Mets' closer in place of the injured Jeurys Familia, will become the setup man to Boston closer Craig Kimbrel. Reed said the role change won't affect him.
"Start stretching an inning earlier," Reed said. "That's the only difference."
Reed went 1-2 with a 2.57 ERA in 48 appearances with the Mets this season.
Reed is moving from the Mets, who began play Tuesday 14 1/2 games out of first in the National League East, to a Red Sox team that is in a heated race for the American League East's top spot.
Reed has experience being dealt in the midst of the season, as he was traded from a struggling D-backs team to a World Series-bound Mets squad in 2015. Reed said having gone through a midseason move already is an advantage.
"I don't think it can hurt," Reed said. "It can only help. Just going through that two years ago in 2015, I know what to expect. I kind of know what it's like to be in the middle of a pennant race."
Reed has long been an admirer of this year's Red Sox team, noting that he can't avoid them when turning on a television.
"They've been fun to watch -- you always see them on TV," Reed said. "Like every time I turn on MLB Network or SportsCenter, they're showing the highlight of one of the guys in this clubhouse. ... Every time I turn on the TV, it seems like they're showing a highlight catch or guys dancing in center field."
As for motivation to perform with his new team, Reed doesn't think he'll have to look too far.
"If you can't get ready to go here, you shouldn't be playing baseball," Reed said. "If you can't get pumped up playing in front of these fans and in this atmosphere, then there's something wrong with you and you need to go home."
Evan Chronis is a reporter for MLB.com based in Boston. This story was not subject to the approval of Major League Baseball or its clubs.