Wild 9th fitting end to Sox-Indians classic
BOSTON -- Through eight innings, the Red Sox and Indians had already staged one of the most entertaining and eventful games of the season on Tuesday night at Fenway Park.
But in the wild back-and-forth final act known as the ninth inning, the two teams who lead their respective divisions elevated the contest into a classic that won't be forgotten any time soon.
The Red Sox had the final word -- and the 12-10 win -- as Christian Vazquez hit a soaring, three-run walk-off homer to left-center with two outs in the bottom of the ninth.
"It was a tough game," said Vazquez. "There were a lot of ups and downs. We never quit and kept grinding and kept fighting and we got the win."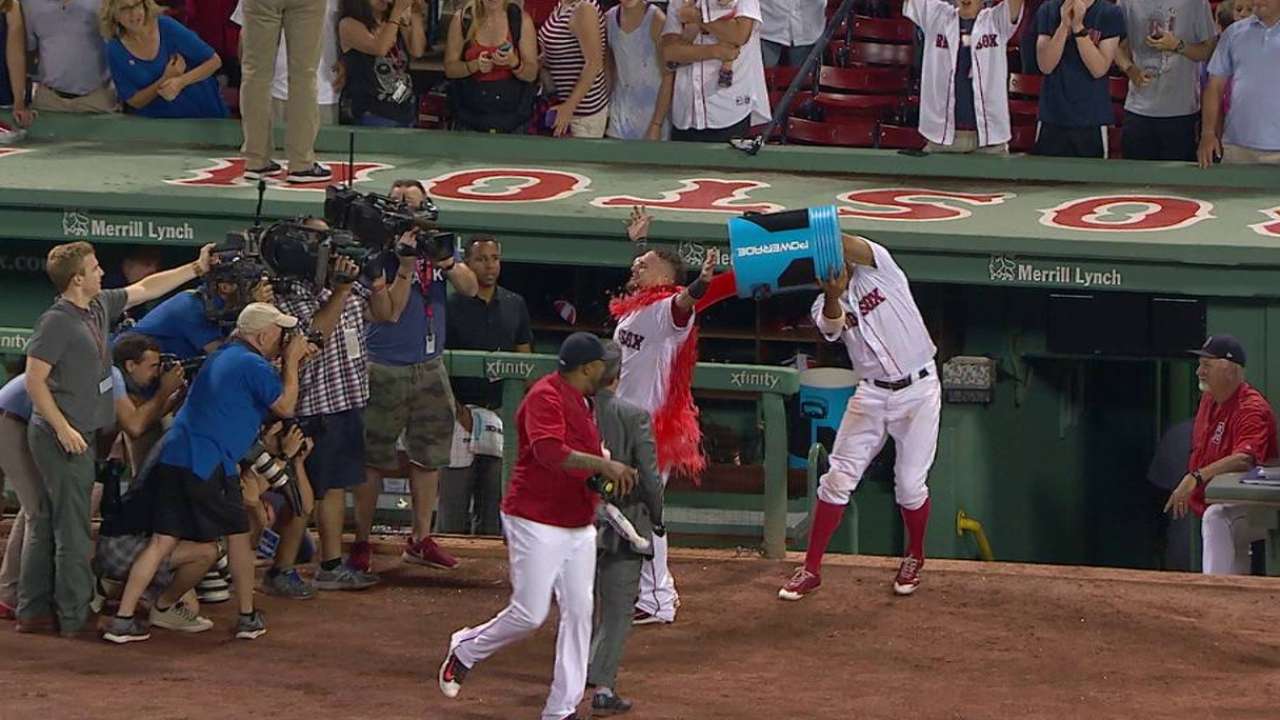 But there were so many moments in the ninth that led up to Vazquez's game-ending shot that had a projected distance of 408 feet, according to Statcast™.
When the final inning started, the Red Sox were up, 9-8, and had their lights-out closer on the mound in Craig Kimbrel.
Francisco Lindor, one of the best clutch hitters in the game this season, opened the inning by taking one of the best closers in the game out of the yard to tie it up.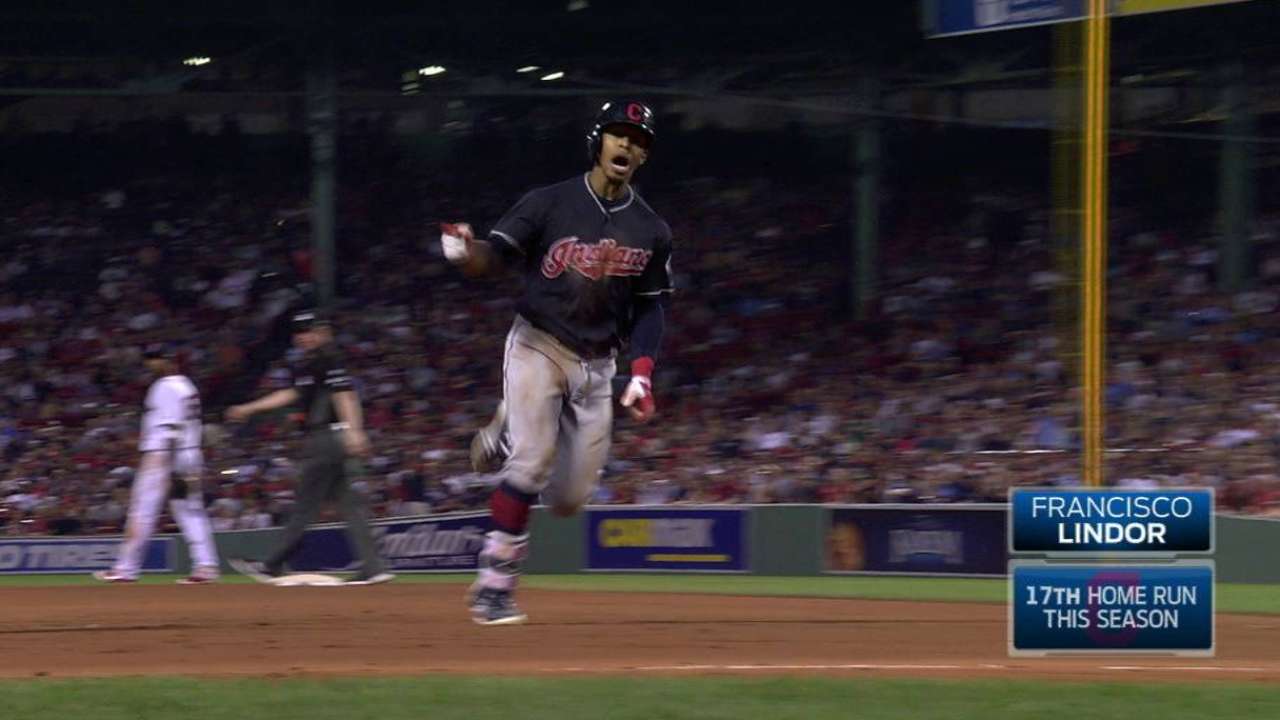 Kimbrel had thrown two straight curveballs that Lindor swung at and missed. The closer came back with a 98.7-mph fastball and Lindor roped it over the Green Monster.
"I felt like at 0-2, it might have had too much of the plate," said Kimbrel. "He put barrel on it. High fly ball and got it out. That's frustrating."
There would be more frustration for Kimbrel. After he retired the next two batters, the Indians started another rally off him with back-to-back singles and a walk to load them up. Then, an untimely wild pitch that sent Jose Ramirez roaring home to give the Indians the lead back after they had squandered 5-0 and 7-5 edges earlier in the game.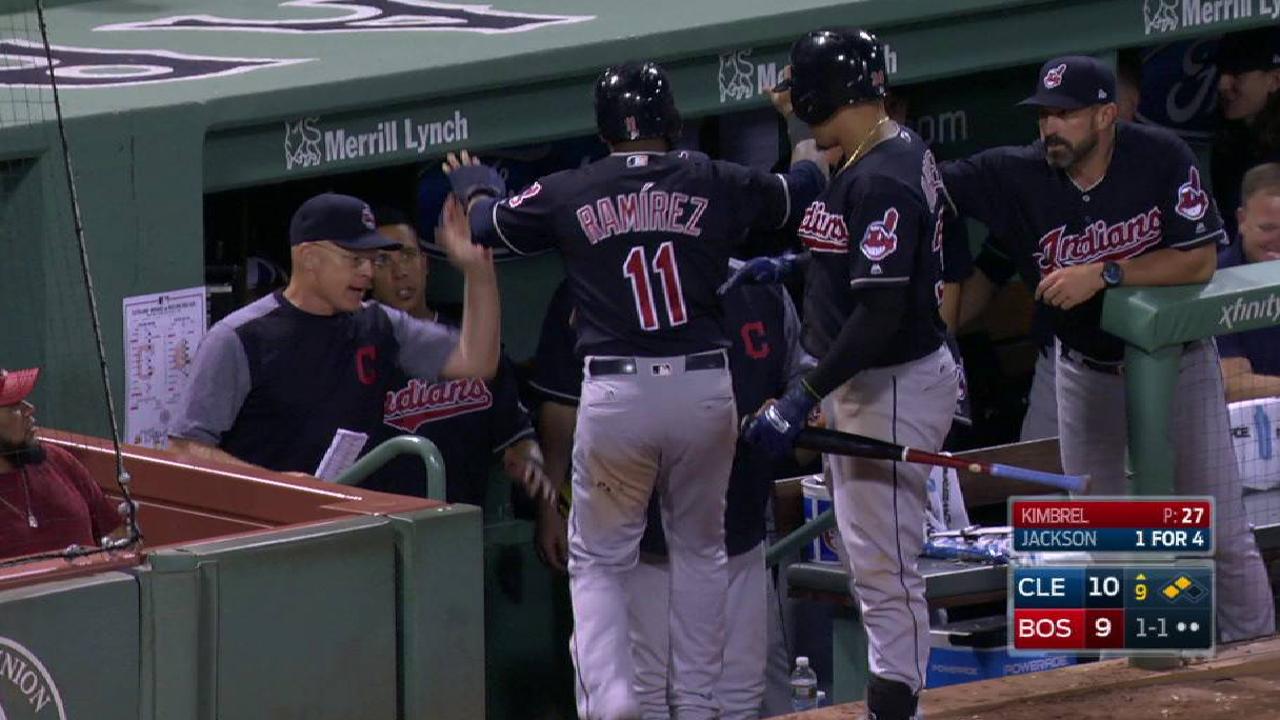 "I'm going to be more frustrated about throwing that ball away with the bases loaded," said Kimbrel. "We get to sit here a little bit happier now after the bottom of the ninth."
Indians closer Cody Allen would soon be feeling Kimbrel's pain, and more.
With two outs and a 2-2 count on Mitch Moreland, Allen got the strikeout he was looking for. Only it didn't end the game. The knuckle-curve bounced and catcher Yan Gomes couldn't contain it. Moreland reached first to keep the game going.
"Luckily the catcher didn't know where it was," Moreland said. "Yeah, I guess going from pretty low to being on base, I'll take it in that situation every time."
"That's a tough one," said Indians manager Terry Francona. "The pitch that can get him is the one that can get away. Moreland was swinging the bat so well tonight that you almost had to get a breaking ball out of the zone."
Making matters worse for the Tribe, Allen's first pitch to Vazquez was another wild pitch, putting the tying run at third and the winning run at second.
"It's something you deal with. It's baseball. You just keep playing the game until it's over," said Allen. "I had an opportunity there to get the next guy out and I didn't."
Then the righty fell behind 3-1. Even with first base open, Allen wasn't about to walk Vazquez. Not with Mookie Betts on deck.
"I know Vazquez is swinging the bat really well, but the guy on deck almost won the MVP last year," said Allen. "So I was going to try to throw my best fastball and hopefully get an out. I just threw it middle-away, down and he didn't miss it. It went a long way."
And that meant that Kimbrel was going to be able to get a good night's rest.
"That says a lot about our ballclub tonight," Kimbrel said. "We kept fighting until the last out, last pitch. That was a fun one."
Ian Browne has covered the Red Sox for MLB.com since 2002. Follow him on Twitter @IanMBrowne and Facebook. This story was not subject to the approval of Major League Baseball or its clubs.