Arizona Fall League releases 2017 schedule
Showcase for top prospects begins on Oct. 10, runs through Nov. 18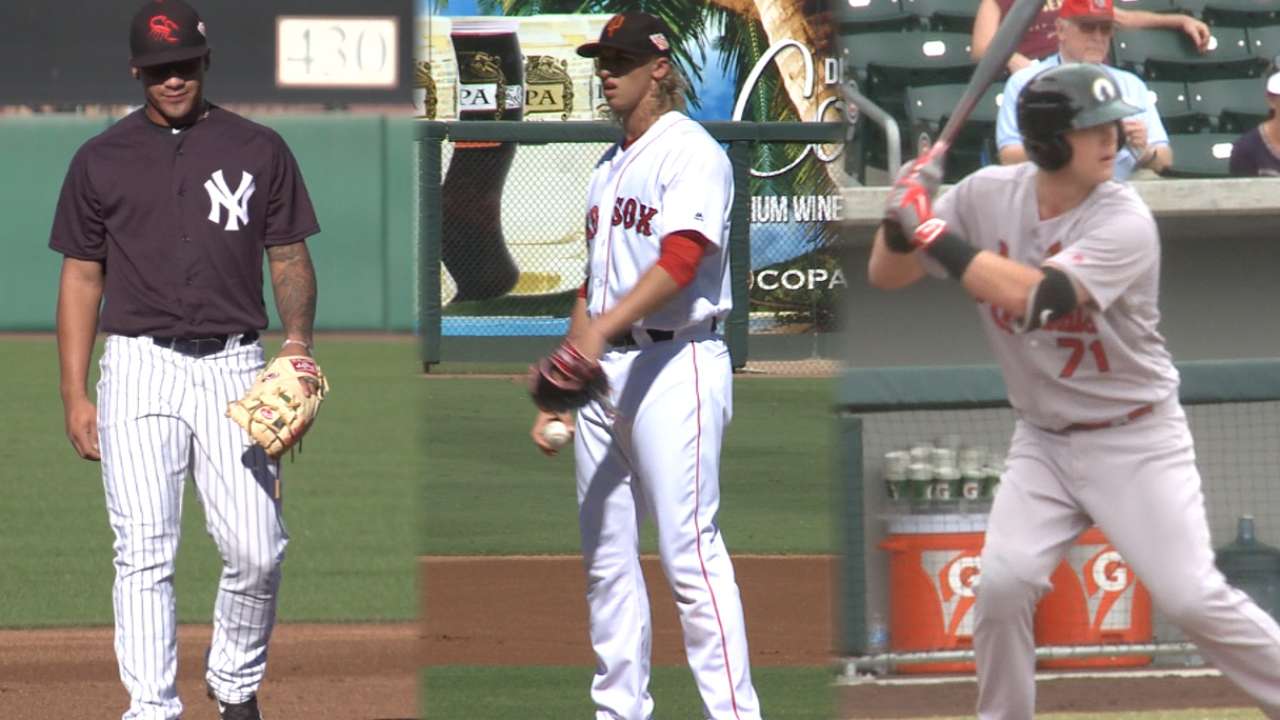 Last year's Arizona Fall League season was full of intrigue, with Yankees top prospect Gleyber Torres taking the AFL by storm en route to becoming the youngest player in league history to win not just the batting title but also the Most Valuable Player Award. The campaign also featured several young players -- Dodgers rookie slugger Cody Bellinger, the Cubs' Ian Happ and the Indians' Bradley Zimmer, to name a few -- who are already are making waves at the game's highest level as integral pieces to some of MLB's top teams.
This year's Fall League slate begins in just more than two months, and as always, it will offer a sneak peek of the game's most promising young prospects, many of whom could very well be starring in the big leagues as early as next year.
The league, regarded throughout professional baseball as the "finishing school" for top prospects, released the schedule for its 26th season on Tuesday. It opens on Oct. 10 and runs through Nov. 18.
• Complete Arizona Fall League coverage
Games are scheduled to be played Monday through Saturday, with each of the six teams receiving an off-day every Sunday throughout the season. Spring Training facilities -- Surprise Stadium, Scottsdale Stadium, Camelback Ranch-Glendale, Salt River Fields, Sloan Park and Peoria Sports Complex -- will provide a home for the six clubs.
The Bowman Hitting Challenge, which involves one batter from each Major League organization taking swings with the chance to win cash prizes, is scheduled to take place on Oct. 21 at Sloan Park.
• Schedule
The 12th annual Fall Stars Game is slated for Nov. 4 at Salt River Fields, and the league's championship game will conclude the season on Nov. 18 at Scottsdale Stadium.
The AFL's history of producing some of baseball's premier stars is striking. Approximately 2,600 of more than 4,500 Fall League participants have reached the Majors, while 261 have gone on to become MLB All-Stars. The league has produced 27 MLB Rookie of the Year Award winners, 16 MVP Award winners and six Cy Young Award winners.
Among them are some of baseball's brightest young stars -- Kris Bryant, Bryce Harper and Mike Trout -- who have ascended rapidly to professional baseball's elite.
Below is the list of AFL teams as well as their organizational assignments:
EAST DIVISION
Mesa Solar Sox: A's, Astros, Cubs, Tigers, Nationals
Salt River Rafters: Brewers, D-backs, Marlins, Orioles, Rockies
Scottsdale Scorpions: Angels, Giants, Mets, Reds, Yankees
WEST DIVISION
Glendale Desert Dogs: Dodgers, Indians, Pirates, Phillies, White Sox
Peoria Javelinas: Blue Jays, Braves, Mariners, Padres, Red Sox
Surprise Saguaros: Cardinals, Rangers, Rays, Royals, Twins
Oliver Macklin is a reporter for MLB.com based in Washington, D.C. Follow him on Twitter at @OMacklinMLB. This story was not subject to the approval of Major League Baseball or its clubs.