Manaea's slider putting hitters on their heels
Young lefty's breaking ball has potential to dominate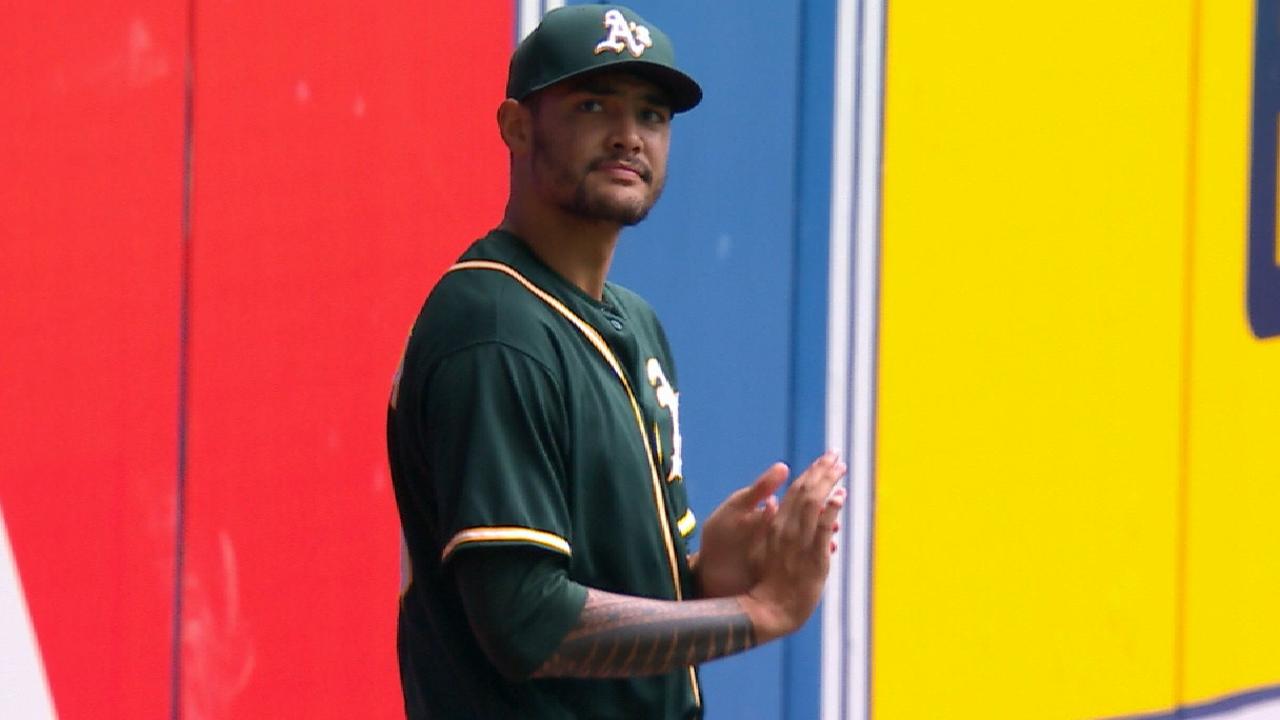 Jose Ramirez has crushed everything in recent months, but he couldn't touch this pitch. Same for Edwin Encarnacion. Justin Smoak has owned the strike zone this year, but even he was rendered powerless by it. American League MVP Award candidate Mookie Betts was left swinging at nothing but air.
These names rank among the AL's best hitters in 2017, but they've all fallen victim to A's left-hander Sean Manaea's slider. It's funny to think that Manaea still considers it a work in progress, considering how devastating the pitch has already become.
"I lost the feel for it right as I was called up last year," Manaea said. "I ended up going back to my old changeup."
Manaea's fastball-slider combination is what led the Royals to offer him $3.55 million to sign in 2013, which was a record at the time for a supplemental first-round pick before he came to Oakland two seasons ago in the Ben Zobrist trade.
That old changeup proved to be a good foundation, thanks in part to the different look Manaea gives hitters as he steps out and drops down from the left side. According to Statcast™, only Clayton Richard has averaged a wider release point among left-handed starters this year, and Manaea also owns the second-lowest release point among southpaws at 5.44 feet from the ground -- just a shade higher than Andrew Miller and a shade lower than Chris Sale. Take a look how far out Manaea's arm slot is compared to other southpaws:
"With that low release, the ball comes out almost under his hand," said A's catcher Josh Phegley. "It makes his fastball and changeup look exactly the same. Sean's really good at riding the fastball up, and [he] gets a lot of swings and misses that way. It's deceptive, and he trusts it."
But it's Manaea's breaking ball that's beginning to turn heads. He's getting more comfortable throwing it to hitters on both sides of the plate, going to it 17.5 percent of the time this season, per Statcast™, as opposed to just 12.9 percent in his first big league tour last year. Batters have missed on roughly 43 percent of their swings against the pitch in 2017, and they have recorded just 14 hits in 86 at-bats for a .167 average.
Manaea insists his slider hasn't been perfect, however, or at least it's not where he thinks it could be. The 25-year-old says much of it comes down to just trusting the pitch. That process took a step forward in his start at Seattle on July 7, when he held the Mariners to three runs over seven innings.
"I just decided to throw my slider and try not to worry about whether it was perfect every or whether it would hang," Manaea said. "It was the first time I felt I could throw it where I wanted to, and throw it in big counts."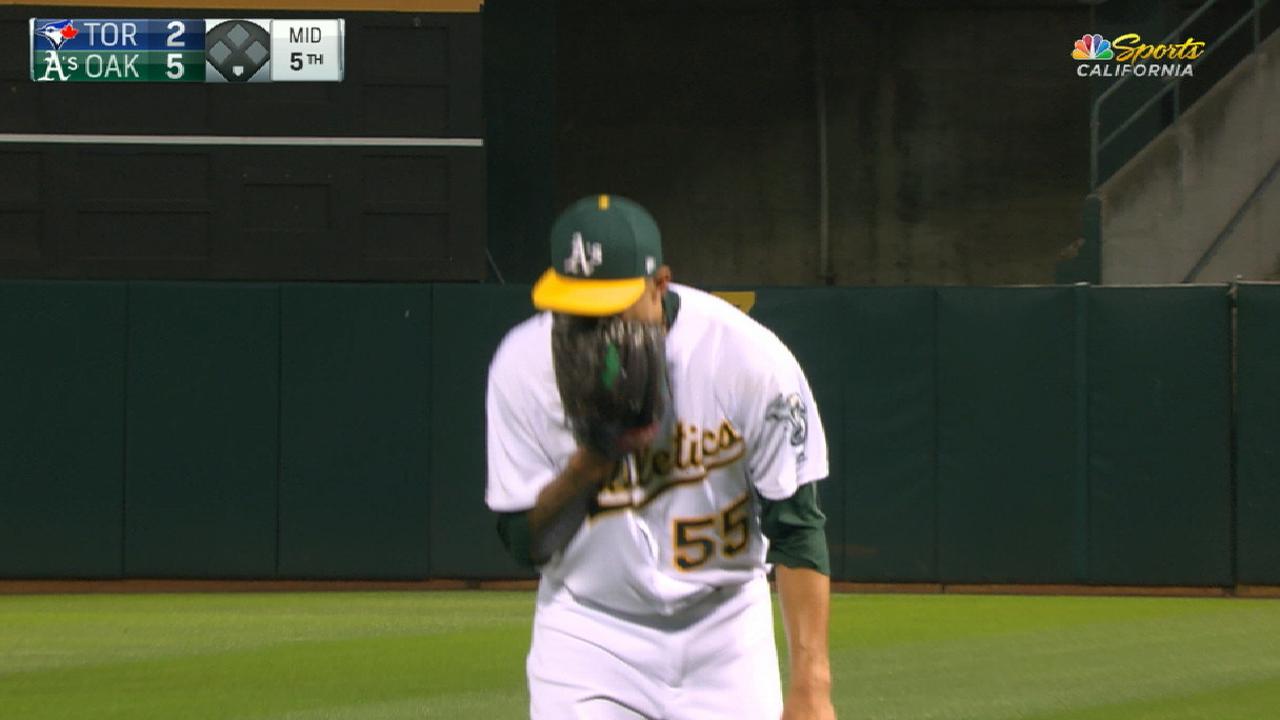 The change is slight; Manaea has thrown the slider 16.5 percent of the time while he was either even or behind in the count beginning with that start in Seattle, as opposed to 13.1 percent in those counts beforehand. But as the weapon becomes more repeatable, he has been able to put it more in places hitters just can't get to. As he sweeps all the way around from the far left side, Manaea's natural tendency is to throw the pitch down-and-in to righties and down-and-away to lefties. That spot is where he commands his slider the best and gets the most tilt. It's also a serious problem for batters on both sides if Manaea executes the pitch correctly.
"The breaking ball has more topspin, whereas the fastball has backspin," A's pitching coach Scott Emerson said. "But if [Manaea] keeps both pitches tight, it's hard to recognize that difference. The right-handers think fastball away and then his slider darts in, while lefties think fastball in and then it darts away."
Indeed, Manaea's natural spin rate does an excellent job of disguising the two pitches. His four-seam fastball averages 1,990 rpm of spin, per Statcast™, while his slider averages 2,024 rpm. That makes it difficult for hitters to read the seams and react in an extremely short window of time. Manaea's slider is even slower than the changeup, and the two offspeed pitches look the same until the slider cuts slightly before it hits the catcher's mitt. It's the type of deception that can leave a lefty slugger flailing and tie a righty up in knots.
Two elite RHBs in Mookie Betts & Jose Ramirez. One wipeout weapon.

Sean Manaea's backfoot slider is a force to be reckoned with #Athletics pic.twitter.com/aMvtgdhHkl

— Matt Kelly (@mattkellyMLB) July 26, 2017
Manaea's ability to spot the slider inside to to right-handed hitters is what could elevate him to Oakland's ace in the post-Sonny Gray era. His delivery draws natural comparisons to Sale, while a similar back-foot slider turned Miller into one of baseball's premier relievers.
"I don't necessarily watch [Sale] for his mechanics, it's more about his mentality on the mound for me," Manaea said. "But I love watching him pitch and just do his thing."
Direct comparisons between Sale and Manaea would be rash at this point. Manaea still battles command issues occasionally, which was the biggest knock on him coming out of Indiana State. He has to focus on becoming as durable as an ace like Sale, too.
But on the other hand, Manaea is already striking out nearly a quarter of the batter's he's facing, and his new weapon has real potential to neutralize the platoon advantage. Take his start against the defending AL champion Indians (a seven-inning, two-run victory) on July 16, when Manaea threw his slider down and in 21 times to Cleveland's right-handers and racked up four strikeouts.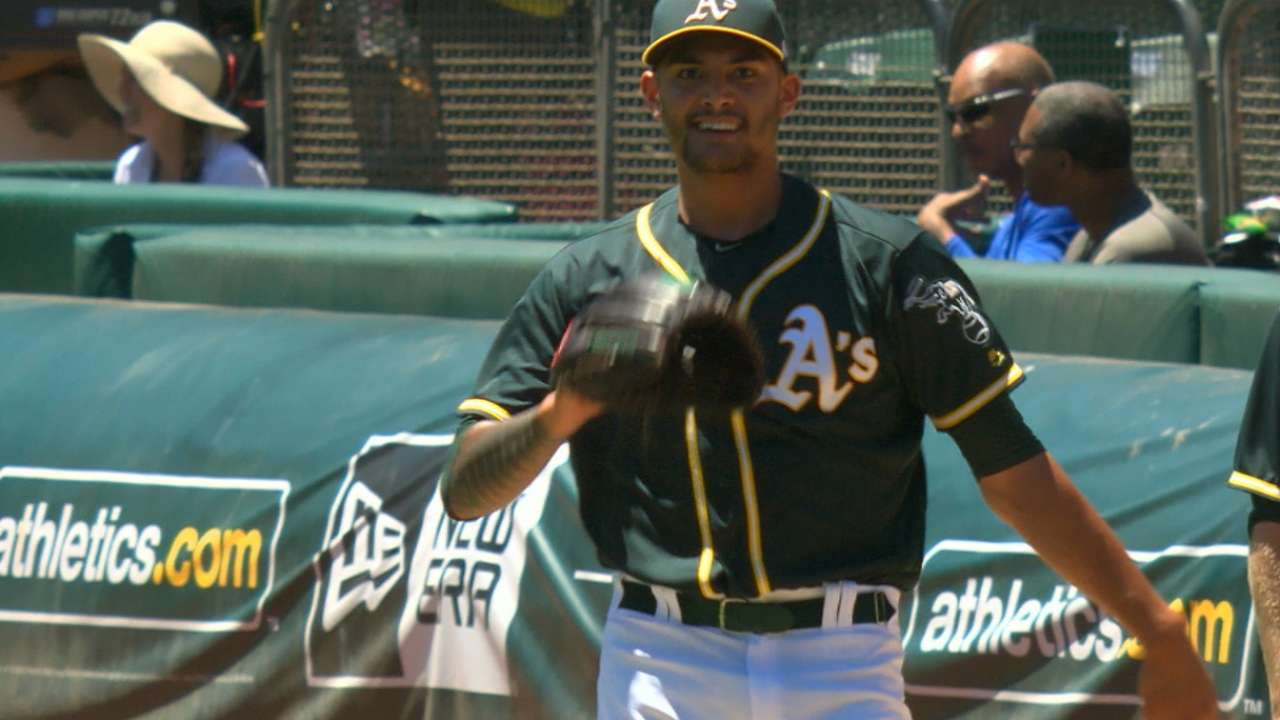 For the season, righties have gone just 2-for-29 and punched out 21 times when Manaea puts that pitch at their heels. And he's still tinkering.
"It's a pitch that Sean would say he struggles with," Emerson said, "but in reality, it's been pretty darn good."
Matt Kelly is a reporter for MLB.com based in New York. Follow him on Twitter at @mattkellyMLB. This story was not subject to the approval of Major League Baseball or its clubs.