What the last 5 WS winners did at Deadline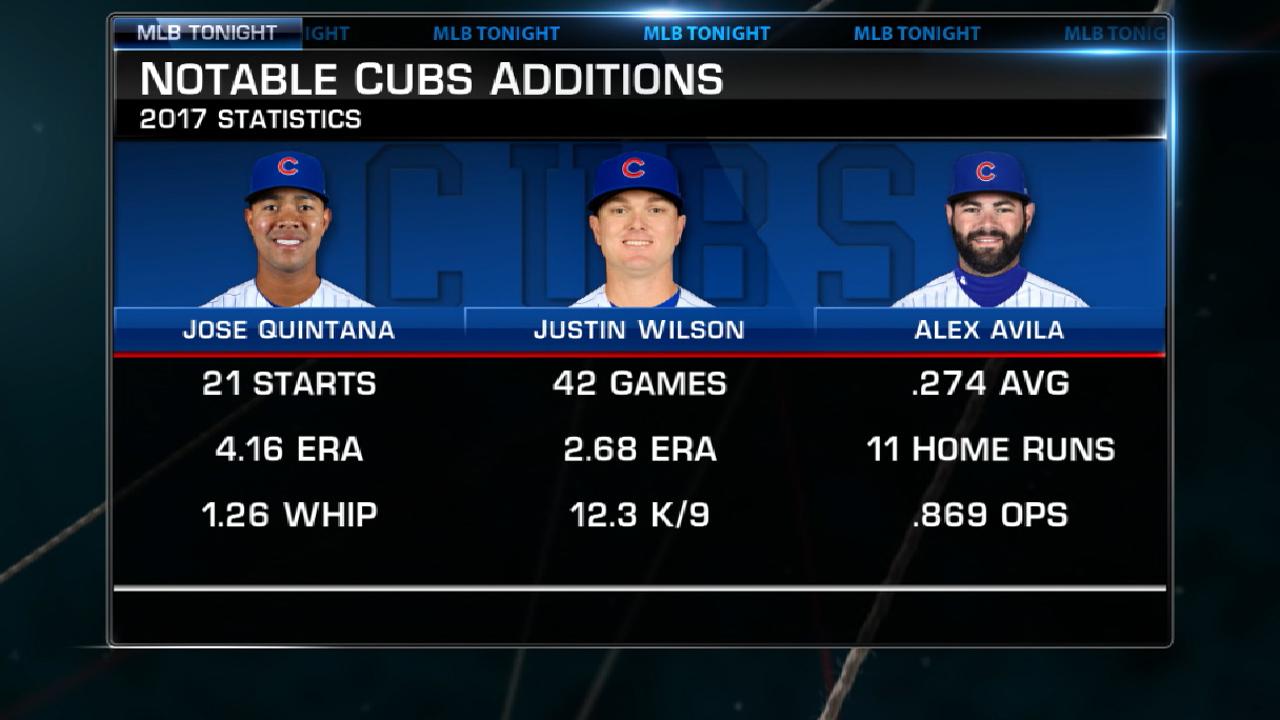 There was no shortage of activity in the days and hours leading up to Monday's non-waiver Trade Deadline, with postseason hopefuls attempting to bolster their rosters for the stretch run and beyond.
The Dodgers (Yu Darvish) and Yankees (Sonny Gray) were among the contenders who made high-profile acquisitions prior to 4 p.m. ET, while several other clubs also added potential upgrades. If recent history is any guide, the eventual 2017 World Series champion will have done something in the month leading up to the Deadline -- although not necessarily something headline-grabbing.
Here is a look at what each of the five championship teams in the two-Wild Card Era (since 2012) have added and given up between July 1 and the Deadline, as well as some of the other big names who were dealt in those seasons.
2016 Cubs
Players acquired: LHP Aroldis Chapman (Yankees) and Mike Montgomery (Mariners), RHP Joe Smith (Angels)
Chapman ably stepped into the closer role down the stretch (1.01 ERA, 16 saves), then went through an up-and-down postseason that included four saves and three blown saves -- including one in Game 7 of the World Series. Still, the fireballer followed up a rocky eighth inning with a perfect ninth in that game and finished the playoffs with Chicago's fourth-most relief innings (15 2/3) and third-most strikeouts (21).
Smith didn't appear in the postseason, but Montgomery was solid over 11 appearances (3.14 ERA) and staked a place in Cubs history by recording the final out of the World Series. He has split this year between the bullpen and rotation and won't reach free agency until after the 2021 season.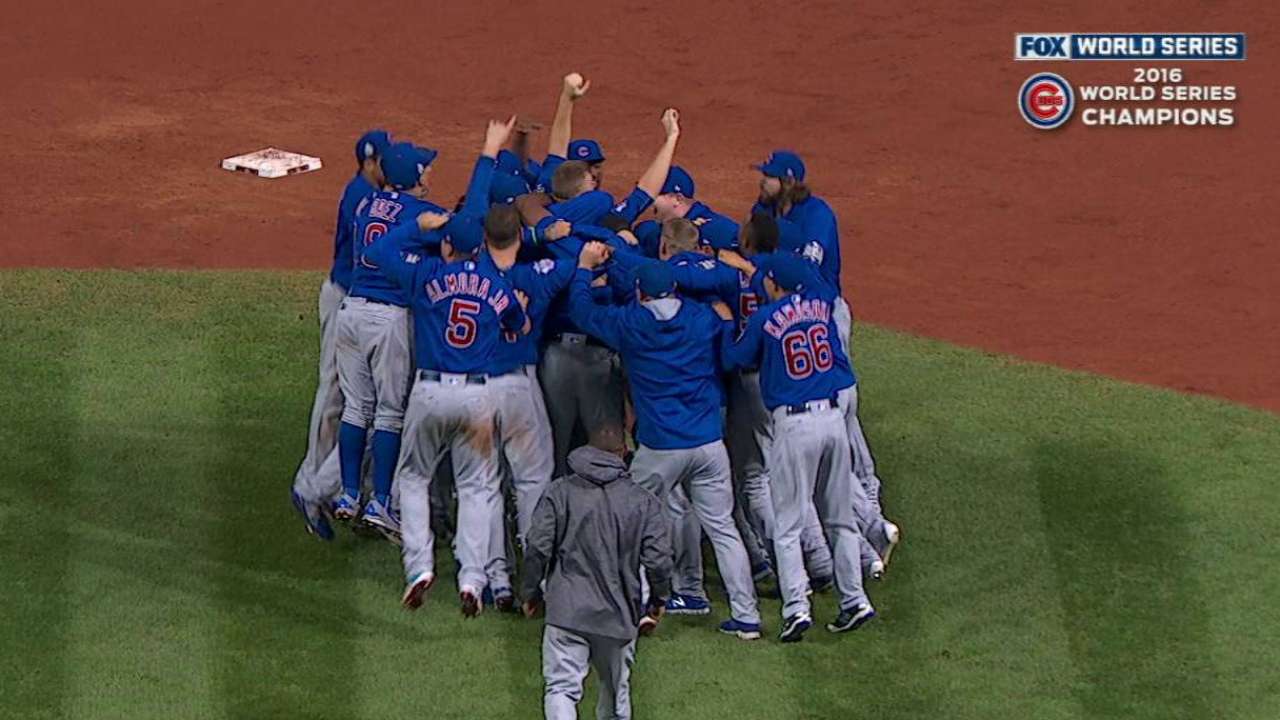 Players dealt: Adam Warren, Gleyber Torres, Billy McKinney, Rashad Crawford (Yankees); Daniel Vogelbach and Paul Blackburn (Mariners); Jesus Castillo (Angels)
Although Tommy John surgery ended his 2017 season in June, Torres has reached Triple-A and is MLBPipeline's No. 3 overall prospect as a multi-talented shortstop. Warren has been a stellar bullpen piece for New York in '17, and McKinney (Yankees No. 25 prospect) has an OPS greater than 1.000 since he was promoted to Triple-A in late June. Vogelbach (Mariners No. 12) has appeared briefly in MLB each of the past two seasons with Seattle, and Castillo (Angels No. 15) is starting at the Class A Advanced level.
Takeaway: While Chapman wasn't as dominant as hoped in the postseason, he and Montgomery ate up nearly half of Chicago's relief innings as the team broke the most infamous championship drought in professional sports.
Other notables: There's no way the Indians reach Game 7 of the World Series without electric lefty Andrew Miller, who remains a big piece of their 2017 club. Mark Melancon solidified the closer role in Washington but left as a free agent after a National League Division Series loss to the Dodgers, while the pitcher the Nats gave up (Felipe Rivero) is thriving in Pittsburgh.
2015 Royals
Players acquired: RHP Johnny Cueto (Reds), INF/OF Ben Zobrist (A's)
Cueto posted a 4.76 ERA in 13 regular-season starts for the Royals, and one of his four postseason outings (American League Championship Series Game 3) was a disaster (two innings, eight earned runs). However, he was brilliant in the decisive fifth game of the ALDS against the Astros (eight innings, two earned runs), and Game 2 of the World Series against the Mets (one-run complete game).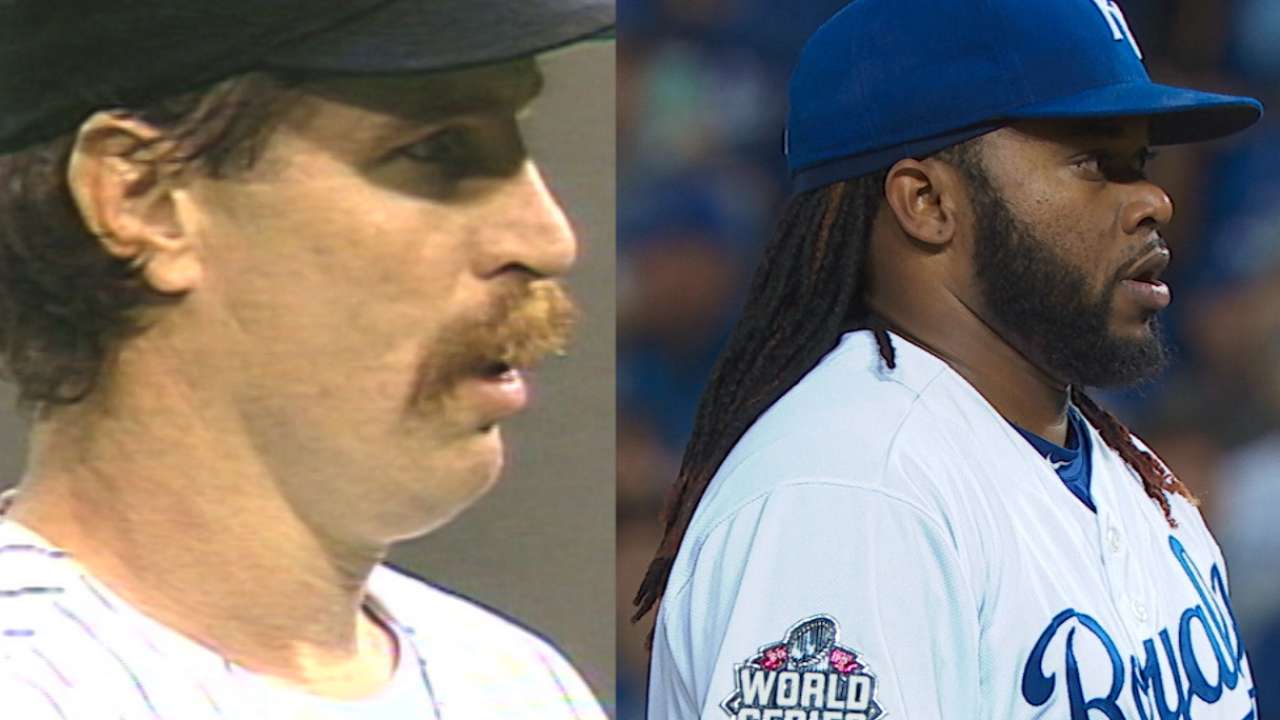 Zobrist's defensive versatility and professional approach at the plate were big additions for Kansas City, and he batted.303/.365/.515 with 10 extra-base hits in the postseason.
Players dealt: Brandon Finnegan, John Lamb and Cody Reed (Reds); Sean Manaea, Aaron Brooks (A's)
All five have pitched in the Majors, with varying levels of success. Manaea has displayed the most promise, as the 25-year-old owns a 3.84 ERA and 3.1 strikeout-to-walk ratio through his first 44 career outings. Finnegan and Reed are still young, but the former is out for the season after having surgery on his non-throwing shoulder, and the latter has posted a 7.15 ERA in 61 2/3 career innings in the Majors.
Takeaway: Cueto and Zobrist were both rentals who departed as free agents, but played essential roles in Kansas City's first championship run since 1985.
Other notables: In the NL East race, the NL-champion Mets and postseason-missing Nationals went in opposite directions after their respective acquisitions of Yoenis Cespedes and Jonathan Papelbon. The Blue Jays reached the postseason for the first time since 1993 after adding David Price and Troy Tulowitzki, although Price posted a 6.17 postseason ERA after an excellent run. Neither the Astros nor Rangers survived the ALDS after prospect-laden trades for Carlos Gomez and Cole Hamels, respectively. Landing Alex Wood as part of a massive three-team deal with Atlanta and Miami is paying huge dividends for the Dodgers two years later.
2014 Giants
Players acquired: Jake Peavy (Red Sox)
Peavy, who had a 4.72 ERA over 20 starts in Boston, posted a 2.17 mark in 12 outings down the stretch as San Francisco grabbed a Wild Card berth. The veteran tossed 5 2/3 scoreless innings in a Game 1 NLDS victory at Washington before scuffling in his final three playoff starts. A free agent after the season, he re-signed with the Giants.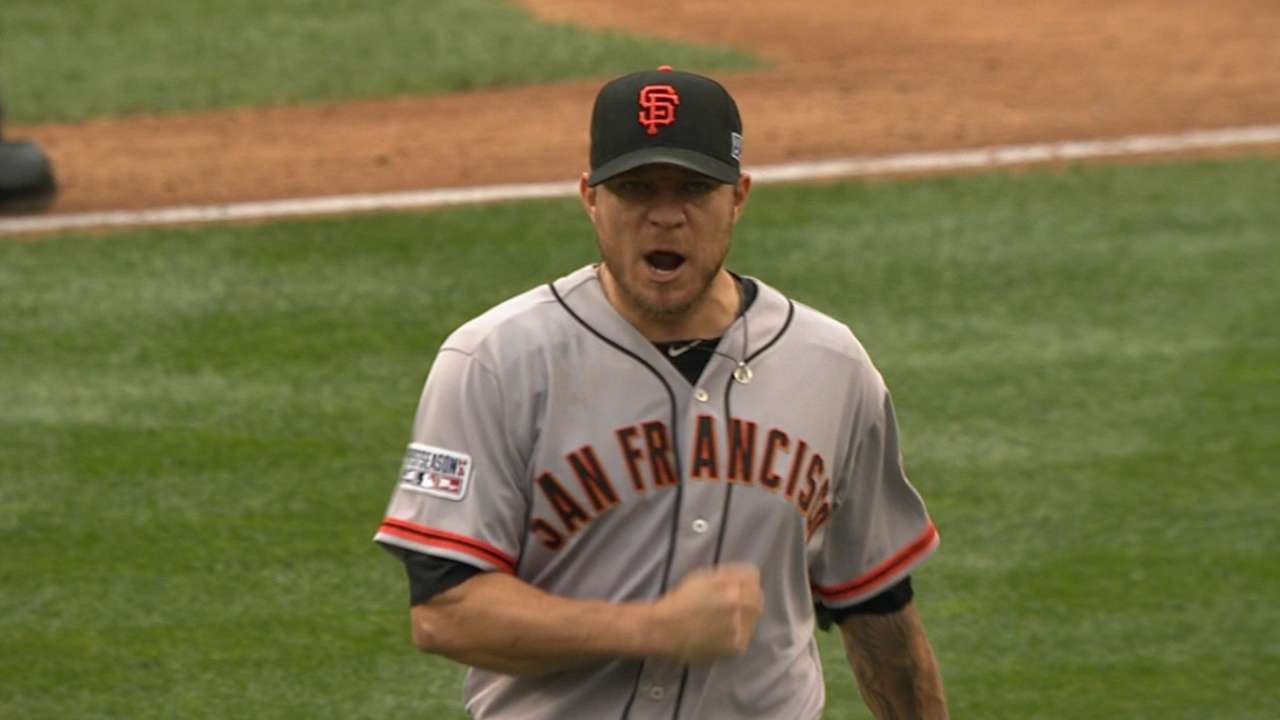 Players dealt: RHP Heath Hembree, LHP Edwin Escobar (Red Sox)
Escobar made two appearances for the Red Sox before going to Arizona on waivers last year. Hembree has been a solid bullpen piece in Boston, with a 3.27 ERA in 113 relief appearances there.
Takeaway: Though he fizzled in two World Series losses, Peavy solidified the Giants' rotation in the second half, with Matt Cain lost to injury and a struggling Tim Lincecum sent to the bullpen.
Other notables: The A's went all in on a pair of trades to acquire Jon Lester, Jonny Gomes, Jeff Samardzija and Jason Hammel, but surrendered Cespedes, Addison Russell and Dan Straily in the process, then lost a heartbreaker to the Royals for the AL Wild Card. A three-team swap to land Price didn't prevent the Tigers from being swept by Baltimore in the ALDS. Miller couldn't have done more for Baltimore, but the free-agent-to-be cost the O's Eduardo Rodriguez, then departed for the Bronx.
2013 Red Sox
Players acquired: LHP Matt Thornton (White Sox), RHP Peavy (White Sox) and Brayan Villarreal (Tigers)
Peavy posted a 4.04 ERA in 10 regular-season starts for the AL East champs and made a solid start in Boston's ALDS-clinching Game 4 win over Tampa Bay but gave up nine runs in seven innings over his final two postseason outings. Thornton, on the other hand, didn't end up pitching in the playoffs.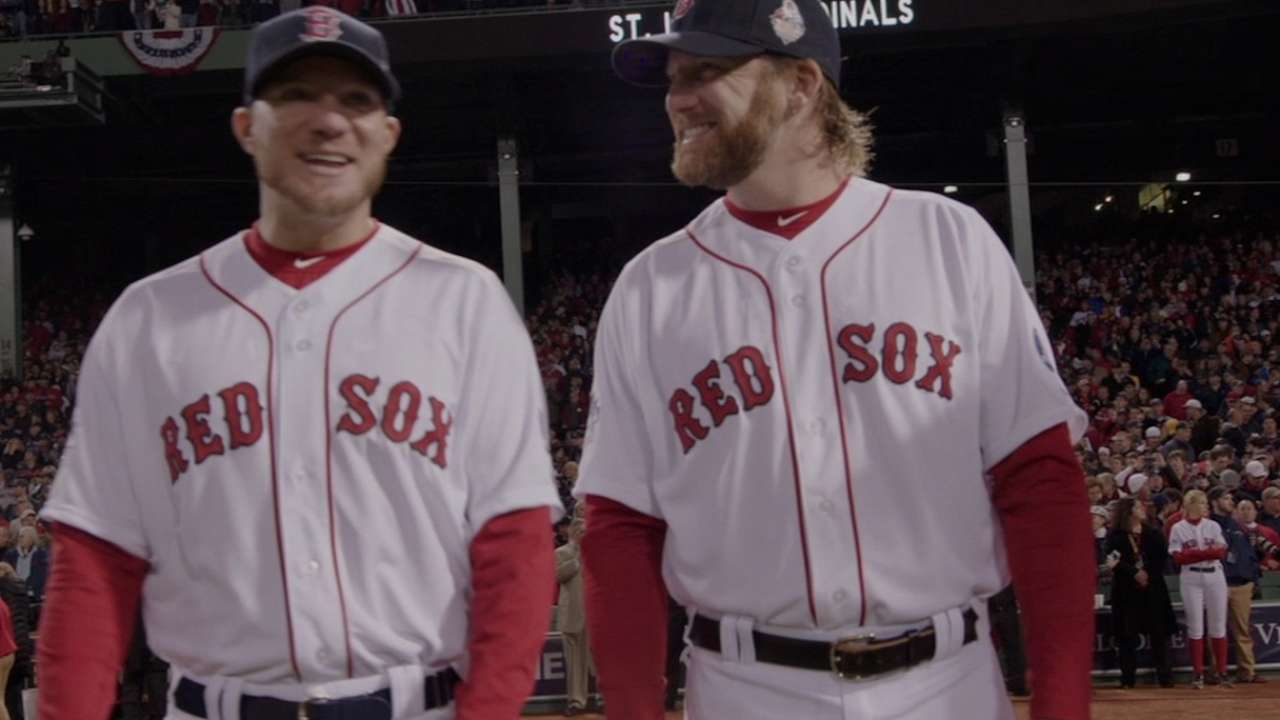 Players dealt: Jose Iglesias (Tigers); Brandon Jacobs, Cleuluis Rondon, Frankie Montas, J.B. Wendelken (White Sox)
Iglesias, hitting .330 at the time as a 23-year-old, is the only player who has made a significant big league impact since. But with Xander Bogaerts coming, the Red Sox had less need than most for a slick-fielding shortstop.
Takeaway: The Red Sox were neck-and-neck with the Rays at the time of the deal but wound up cruising to a division title as Peavy helped out a rotation that was without the injured Clay Buchholz throughout August.
Other notables: The Orioles (Scott Feldman) and Rangers (Matt Garza) made trades for Cubs starting pitchers that would come back to bite them, with Baltimore giving up Jake Arrieta and Texas Carl Edwards Jr. and Justin Grimm. Ricky Nolasco worked out better for the Dodgers, producing a 3.52 ERA in 16 games down the stretch.
2012 Giants
Players acquired: Marco Scutaro (Rockies), Hunter Pence (Phillies)
Somehow, Scutaro went from struggling at the plate in Colorado (.684 OPS) to thriving in San Francisco (.859) and was named MVP of the NLCS against the Cardinals after he went 14-for-28 in seven games. Pence actually scuffled down the stretch (.671 OPS) and in October (.521) but has remained with the club and played a major role in the 2014 World Series championship.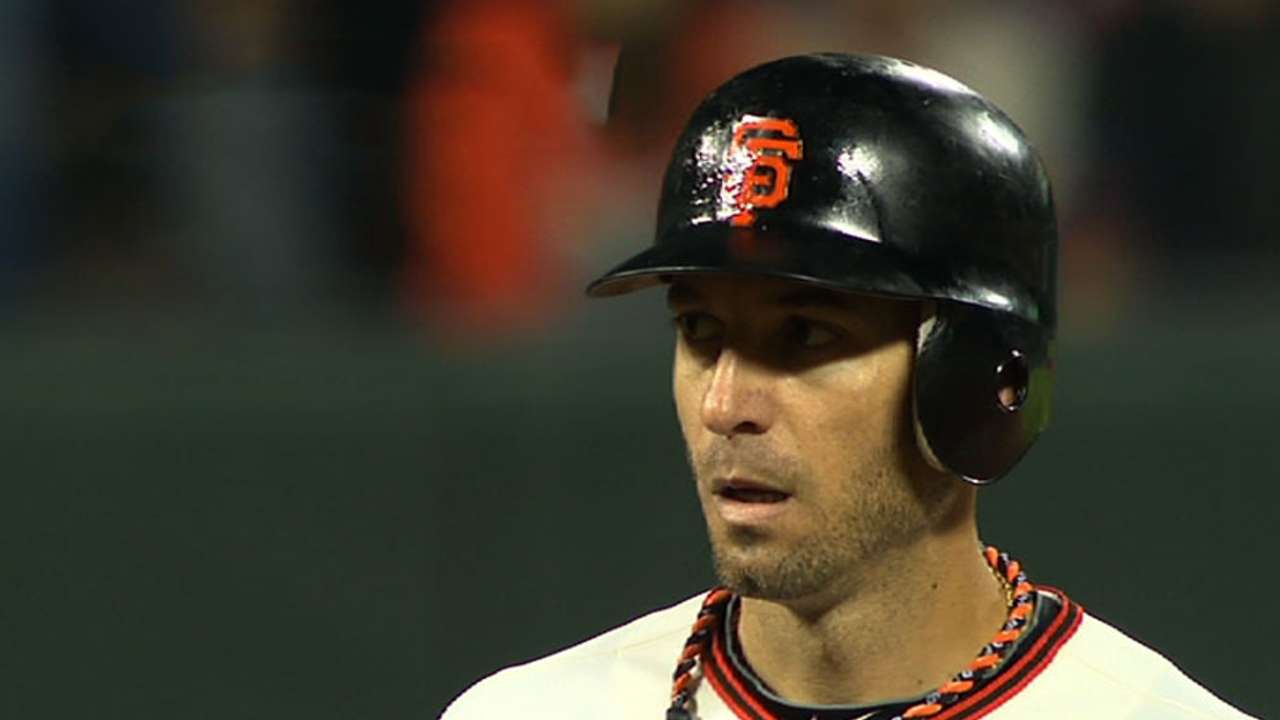 Players dealt: Charlie Culberson (Rockies); Tommy Joseph, Seth Rosin, Nate Schierholtz (Phillies)
None has produced significant value since the trades, although Joseph is the Phillies' regular first baseman this year, and Culberson's walk-off homer against the Rockies clinched the NL West for the rival Dodgers in '16.
Takeaway: Each of the Giants' three championship teams in this decade featured a surprise hero the team's fans will never forget. Scutaro was that guy in '14.
Other notables: The Angels traded a package that included Jean Segura to Milwaukee to get pending free agent Zack Greinke, then missed the playoffs and saw Greinke sign with the Dodgers. L.A. also fell short despite the addition of Hanley Ramirez, but Ramirez was a big part of division-winning clubs the next two years. The Yankees and Deadline acquisition Ichiro Suzuki were swept in the ALCS by a Tigers club that picked up Anibal Sanchez and Omar Infante.
Andrew Simon is a research analyst for MLB.com. Follow him on Twitter @AndrewSimonMLB. This story was not subject to the approval of Major League Baseball or its clubs.