Red-hot rook Devers playing like grizzled vet
Just 20, Red Sox 3B enjoys 1st 4-hit game and impresses manager, mates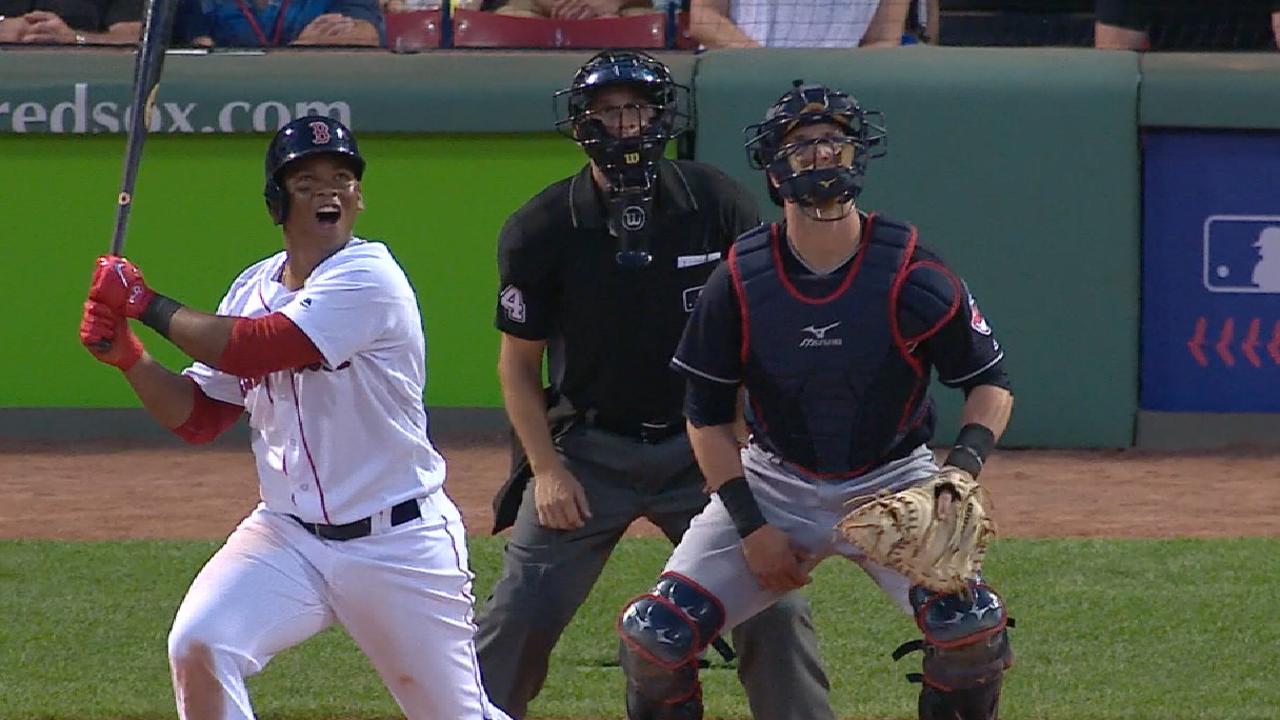 BOSTON -- Maybe the reason the Red Sox didn't go out and get an impact bat before the non-waiver Trade Deadline expired Monday is because they already plucked one from their farm system a week ago.
Rafael Devers celebrated his one-week anniversary in the Major Leagues on Monday by going 4-for-4 with a double and an RBI that helped lead the Red Sox to a 6-2 victory over the Indians.
Through six games, it is arguable which is more impressive: The results (10-for-24, two doubles, two homers, 1.231 OBP) or how smooth the 20-year-old Devers looks at the plate.
He is making admirers out of players who have already made All-Star teams.
"It's great. We just kind of sit and admire his work," said Red Sox right fielder Mookie Betts, who had two hits and three RBIs in Monday's win. "Even though he's young, he still kind of shows -- I can't say us old guys -- but us guys that have been around a little bit, he kind of shows us how to do it. Just enjoy. I thoroughly enjoy watching."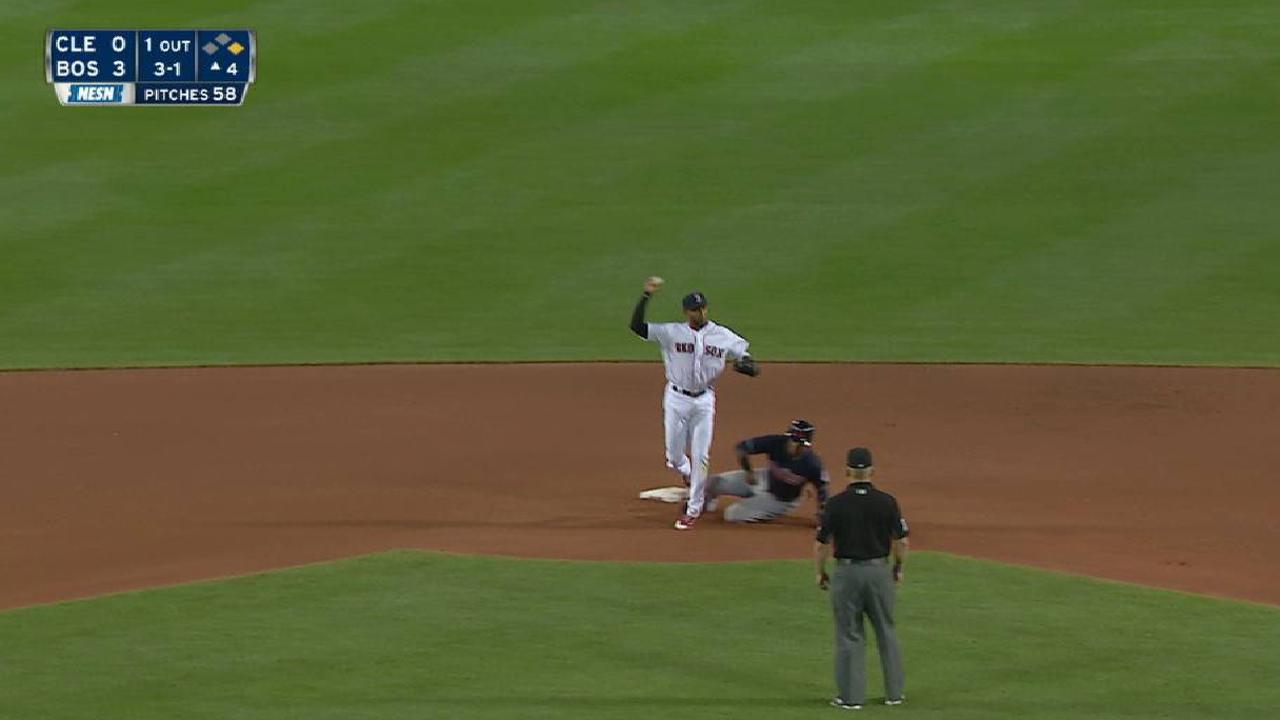 You can't seem to wipe the smile off the baby-faced Devers these days.
"Yeah, everything's been very surprising," said Devers. "I knew it was going to be different, but I didn't think it was going to be this different. You see all of these superstars on TV, and you hope to one day be able to meet them. To be able to meet them and say I'm their teammate is pretty cool."
With the sporadic way Boston's offense has produced since the All-Star break, the instant offense from Devers could not have come at a better time. Before Devers arrived, the Red Sox hadn't gotten much production at third base this season.
"I'm just focused on making contact," said Devers. "Sometimes out there I'll close my eyes and make contact, and wherever it goes, that's where it goes."
Devers is obviously good at the modesty card in his postgame interviews. But he is drawing rave reviews from his manager and teammates for his technique.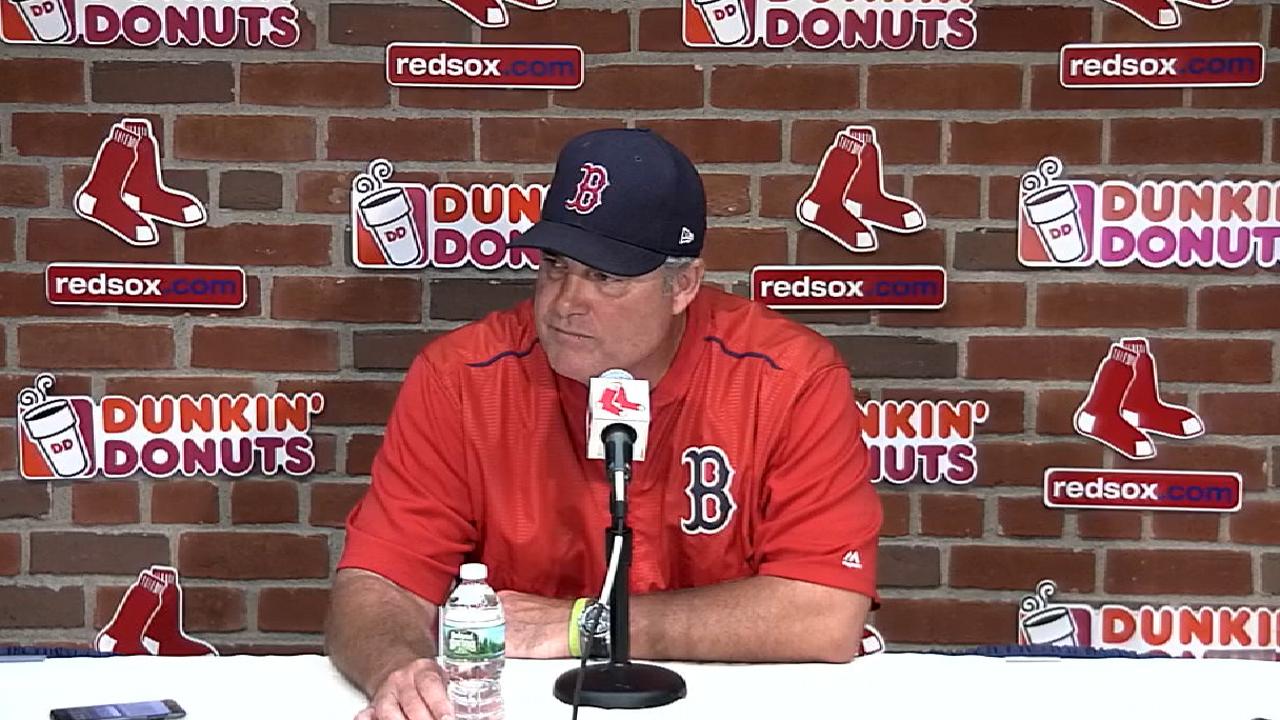 "You know, it's not only encouraging to see, but the way Raffy's gone about it here for the week or so that he's been up, just very relaxed, trusts his hands in the batter's box," said Red Sox manager John Farrell. "He's got great bat-to-ball skills and a lot of bat speed."
There's also a calmness about Devers -- both in his demeanor and the way he hits -- that has allowed him to have immediate success.
"You look at the body language in the box, he's not in a hurry, he's not in a rush, you don't see him lunging out to try to manufacture bat speed to combat velocity," said Farrell. "At this level, we didn't know when it was going to happen."
What is allowing Devers to adapt so quickly to the highest level of baseball?
"His at-bats are just great," said Betts. "He's in control in all of his at-bats. He swings at good pitches. He's hitting the ball all over the place so they don't really know where to play him. I think that's just definitely his best quality."
After hitting Devers eighth or ninth in his first five starts, Farrell moved him into the sixth slot for Monday's four-hit performance.
"Like I said the other day, I just play wherever they put me," said Devers. "If today I'm sixth, then that's fine with me. If another day I'm not, then that's OK, too."
Ian Browne has covered the Red Sox for MLB.com since 2002. Follow him on Twitter @IanMBrowne and Facebook. This story was not subject to the approval of Major League Baseball or its clubs.